I hope everyone had a fabulous weekend – mine was, and just happened to include a lot of vintage knitting! It was rather action-packed, with a rushed departure from Kent to get to orchestra in London on Friday night leading to one of the best weekends I've had in a while.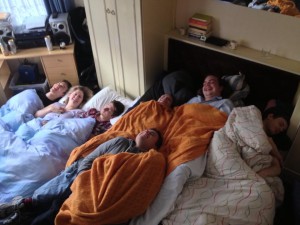 We had orchestra Friday night and stayed the night with one of JS' friends. On Saturday we had been intending to go on the London Eye and to the cinema – but it was too glorious a day to spend in queues and inside. JS did a quick search on a Timeout London app and found a vintage market about a half an hour walk away, so we spent the day in a very vintage neighbourhood. More on that later. Saturday night saw a big party, followed by a lazy Sunday culminating in a string quartet gig dinner and staying the night with another friend. Who says I lead a quiet life?! (My activity level at the moment is classed as 'sedentary'. Pffft.)
Vintage Market
The vintage market was in Crouch End, which is apparently a really crafty and vintage part of London. It was the furthest north in the city that I've ever explored, and the walk was rather exhilarating. Some of the architecture belonged in another country, and the fact that there were hills, a palace and lots of niche food places, antique shops and vintage boutiques made me feel like I was on holiday somewhere foreign!
The market itself was in a hall – we've never been anywhere like it! I follow a blog by a girl called Sadie, Sadie's Wardrobe, and her style has always really inspired me. This market is where you would find her. Vintage furniture, huge old sewing boxes, a Victorian corset, coupled with costume jewellery, toys straight out of the 50's and the most wonderful stash of women's magazines had me in heaven. I was so happy – and despite having vowed not to spend any money, I came away with a book on wool and three magazines from 1958/59. You'll be hearing a lot more about these in the future!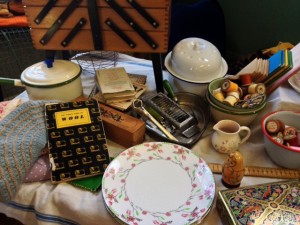 Once we'd feasted our eyes on the treasure trove of stalls, we went to a cafe called "The Haberdashery" which was recommended by a Jamie Oliver app. It was amazing – really crammed and covered in sewing paraphenalia, from massive wooden cotton reels to wall-mounted Singer sewing machines. Tea-cups were used for soup and coffee was served in bowls. I kid you not – each tea-cup was a different vintage pattern, and soup in a tea-cup is the ideal quantity. I was in seventh heaven.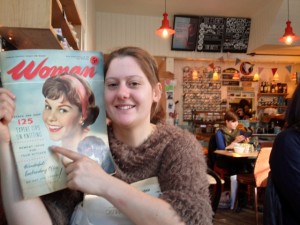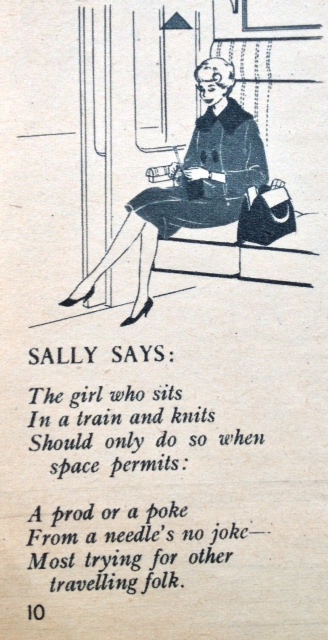 I finished up a couple of projects this weekend; watch this space!
I'm now sitting in Starbucks, about to go explore the haberdashery in Morley's Brixton for one last time, and heading to orchestra again tonight. I've done a lot of music recently, and am feeling fairly inspired today. Who knows what is going to hit you next!?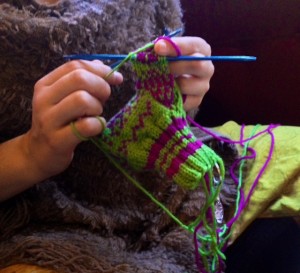 Just to remind you, the Giveaway for Romney Marsh Wools Hand & Body Lotion finishes this week – get yourself in for a chance to win!
Much love,
Corrie xx