I mentioned last week that I had commissioned a new logo from a designer. I've had my first mock-ups back, and they look absolutely fabulous! It forced me to reconsider my colour-scheme. I have always associated the colour green with Plutonium Muffins. I asked the question randomly on Twitter and Facebook, and got a huge response that I wasn't expecting:
@RMWK A gorgeous deep purple (and steel blue from OH)
@fionatrotter1 Silver
@drbarbstweets Bright Red
@tixyvix Green
@EveofInsanity Silvery Purple
@suntraptweet Blue

Dan L: Green. Everything radioactive glows green.
Bec L: Purple
Les T: Purple
I'm sure some people must have missed this…so, I put the question to you. What colour do you associate with Plutonium Muffins?
The new logo will be ready soon, and I'm really, really looking forward to getting it up. I can't wait to make this feel a bit more real, and although it's gone a bit further than I ever thought it would, I'm so happy it is where it is.
As I say, I've always associated green with them — how is this for a Plutonium Muffin?!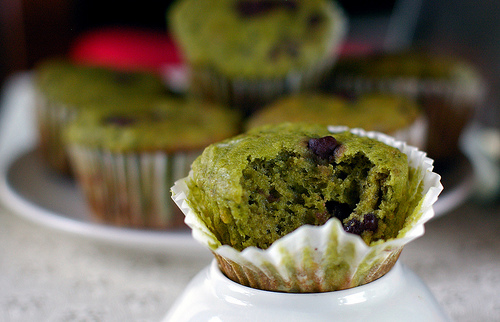 I'm a bit concerned that people may have doubts about the word "Plutonium" though – I don't really want to associate myself with negative nuclear stuff, but it's an historic thing that Grace and I thought up. Do you think it would be worth changing the name to Plutonian, or is it not really an issue? I've been panicking about this. A lot.
I don't want to get into my views on nuclear, as this isn't the place for it, so no haters please. I'm not commenting on it at all, just the name I've chosen for my knitting blog.
I would love to know what you think?
Enormous amounts of thanks, and much love,
Corrie xx