Don't tell JS…but I bought some more yarn and needles. Before you all look at me accusingly (I know I have a huge stash), it was necessary! Way back when, or about two weeks ago, I said that I was going to be knitting some mittens for TJB and Sleepy.
Sideways
I'm well into the mittens for TJB, which were the pattern "Sideways". I'm knitting them with a gorgeous yarn, which has got the most mesmerising colours in it. The colourway is "Ultimate Mix" in Patons Colourful Twist – the mittens will match the "It Looks Like The Sea" Hatthat I made for him last year, as it's from the second ball I bought for that project.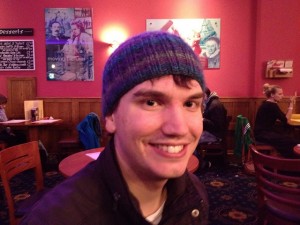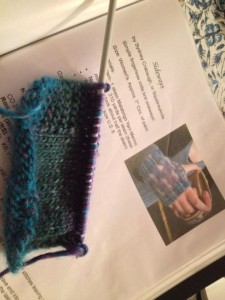 I only have half of one of these to go before I need to sew up and finish, so I had to start thinking about my next project.
Something Floral
Sleepy chose "Something Floral" for his mittens, and he chose some Artesano Superwash colours that he wanted me to do them in. However, Tommy and I have come down to Devon for a mini-break with my family* and stopped at Hulu, a yarn shop in Modbury, to have a browse. Oh. My. Goodness. I should not have gone in. Vicky has got the most amazing lace-weight and four-ply skeins that were hand-painted in Chile.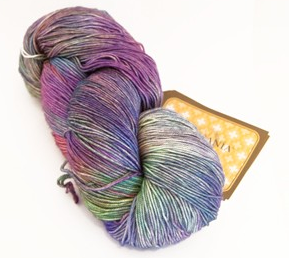 My fingers were absolutely itching to buy them – but after a lovely fondle, I decided I couldn't afford it. I made my way out with some in-the-leftovers-bin Debbie Bliss slightly-more-than-four-ply that was in the colours Sleepy wanted, and some bamboo 2.25 mm dpns to replace my horrible aluminium ones which are bent and disgusting.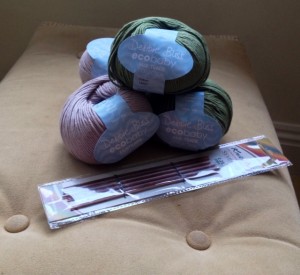 The Debbie Bliss find was serendipitous. I was about to leave without any (shock, horror) but then I noticed the bargain bin…the yarn is the perfect colour, slightly more than the required weight (which is good as Sleepy has big hands) and it's also Fairtrade and ecological. Ideal!
So, a successful day of shopping and driving (seven hours!), and Tommy and I have already been for a walk on the beach, had his bone stolen by Jet, one of my labradors** and are now staring out into the sunset while blogging! What a life.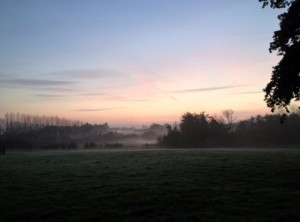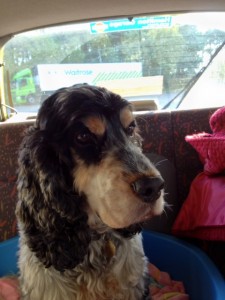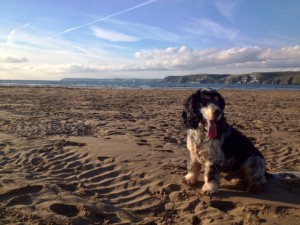 Is there a skein of yarn that you would absolutely love to get your hands on?
Much love,
Corrie xx
Notes
* We had a family death over the weekend. I say this merely so you understand if I seem slightly less buoyant than usual.
** Jet and Digger are the dogs I grew up with. My gorgeous Digger was sent over the rainbow bridge over the summer, but Jet is fighting fit.