I've been working on my #WIPCrackAway project – which is what the Icon Dress now is! #WIPCrackAway is a knit along which is being hosted by Louise of the Knit British Podcast, and Nic of the Yarns from the Plain podcast. Go and check it out – if you have any WIP's from before the 1st of September, you could be eligible for a prize if you finish it by the 1st of November! The chat thread is here this week.
#WIPCrackAway
I started the Icon Dress on the 29th of June this year, and it is such a big project that I need my goals to get me through it. I wrote these out in my paper notebook, but I think it is time to digitise this thing, so I will put it up on the Ravelry page for the project, soon. I'm still trying to find my pattern, which is…somewhere! It may still be in storage.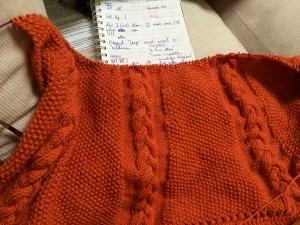 I took the Icon Dress on our roadtrip when John and I headed into the wilds of North England and got a lot done – to the tune of about three inches. The #WIPCrackAway KAL has really helped me in terms of motivation – it only started two days ago and I have already done four inches. Exciting progress! I've stopped reading while knitting on it as my efficiency improves drastically when I don't read, and am currently working my way through Time Team. You can get ALL the episodes on 4oD!
There has been a bit of a question regarding the yarn – someone at Loop thinks it is alpaca, but the ball band says it is merino… The yarn is John Arbon's Knit by Numbers DK. I have sent them an email to double-check, because the person at Loop has opinions that I trust!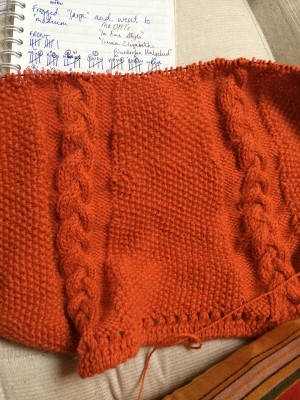 I love this project – it's nice and simple, and it's quite addictive to keep knitting 'until the next decrease'. I'm still not a quarter done on the first piece, though. My knitting time is now laced with guilt because while I'm off work I feel that I should be doing 'productive' things – it is now midday and I have already made up the guest room, changed our bed, hoovered and made a steak and ale pie which is currently in the crockpot…so I feel like it is about time to settle down with another episode of my favourite archaeology programme and crack on.
The big box of things waiting for me to list them on Etsy is staring at me from across the room in the meantime – I'll be launching that soon, so keep your eyes peeled!
Much love,
Corrie xx