My main WIP this week is the Towersey Shawl. I don't have long to write this blog-post as I'm about to go to Wonder-Gran's house to help her fix an old chair that is a bit of a family heirloom.
Towersey Shawl
I haven't had much time for knitting – I did manage to get started on the Towersey Shawl, and have been picking the knitting up when possible while I've been at home. I watched "The Choir" and "The Great British Bake-Off" (which I now want to watch all the previous programmes of) last night, and did a fair amount then.
I'm absolutely loving how the colours are blending. The photos don't really show a good indication of the colour – the birds-eye-view image with the roses is very, very blue, while some of the close-up photos are more muted.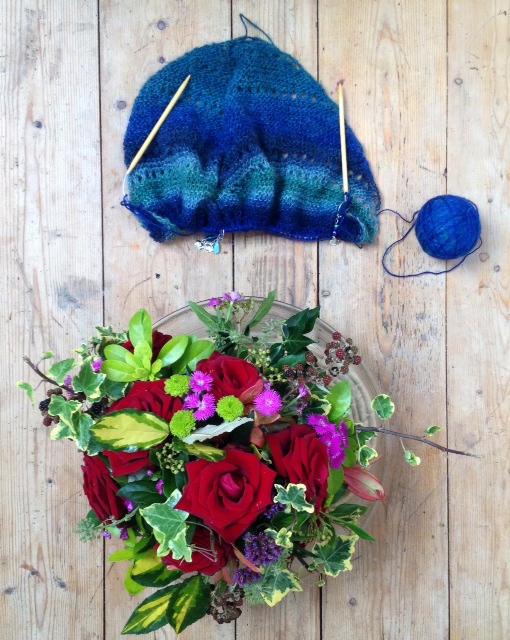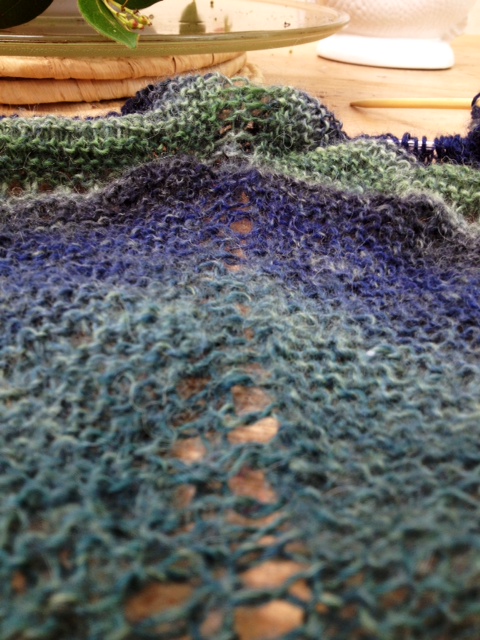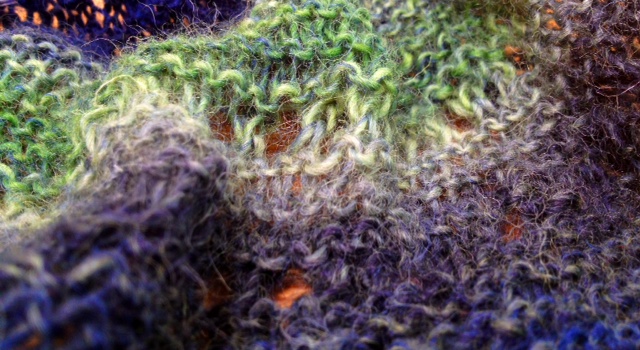 This is the first shawl I've ever knitted. It's a kit from Knit 'n' Caboodle.  I'll give a better review next week, whether this is my WIP or FO. At the moment, I haven't made many mistakes – but I did have to restart THREE TIMES because I wasn't using stitch-markers at first. I then decided to put in some stitch-markers, and have managed to get to a relatively large amount of fabric without too much trouble.
The eyelet rows which will show up better when I've blocked are very handy for hiding clumsy mistakes on my part!
It's really cold in Devon today, and I can hear the rain plummeting into the passage outside. I'm about to go onto Dartmoor, and am hoping to visit a Tavistock yarn shop in order to find some gradient yarn for a KAL. If I can't find gradient yarn pre-dyed, I'll buy some undyed and get it coloured myself. I was very enthusiastic about spinning the yarn, but I realise now that it isn't going to happen. Details about the KAL on Ravelry. I have until October 1st to find the yarn, so I'm not too worried.
Anyway, I'd better rush, I'm now late!
Much love,
Corrie xx