I've finished knitting the Towersey Shawl! I need to decide what else to move on to when I finish – I have a sock kit, and I also have my big tub full of Cheviot fleece which I need to card and spin. This week, I've also washed half an Oxford Downs fleece to start dying it for a huge felting project I'm planning.
The Towersey Shawl
So, the Towersey Shawl is pretty much completed, apart from blocking, which I plan to do tomorrow. At the moment, it's sitting in the windowsill looking pretty while I contemplate wearing it. I'm not sure if I'm going to keep it for myself – as much as I love it, I just don't know if I'm a shawl kinda person! I might stick it in the box of presents for emergency occasions.
I love, love, LOVE the way the colours came out. It really appeals to my sense of geometry – if I fold the corners in a certain way, I can make each band a continuous strip. The light greens are so gorgeous – these photos are better than the previous lot, which don't really show the colours so well.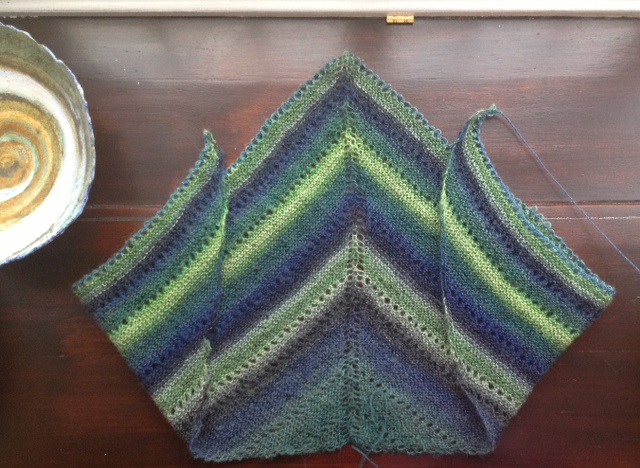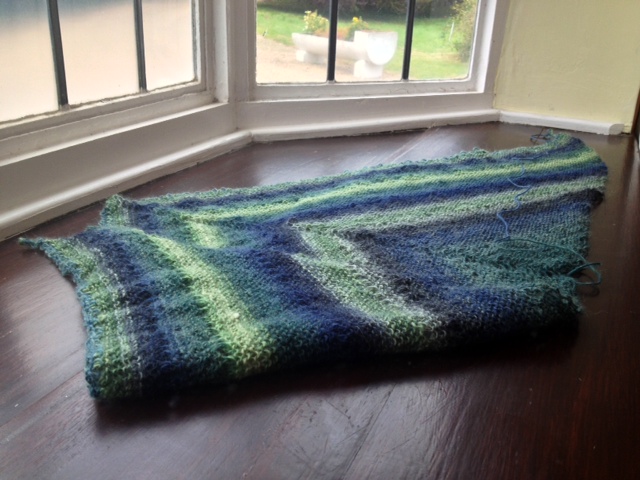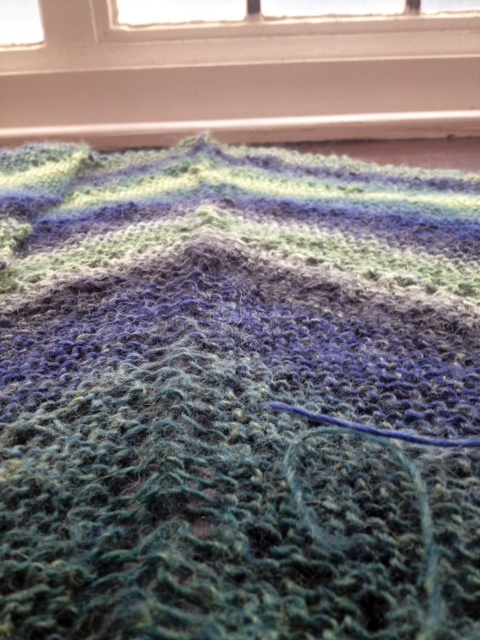 I'm going to review the Knit 'n' Caboodle kit when I've blocked and dried it. If you keep watch, you may find a giveaway related to this project in the near future!
Fleeces
I've been carding my Cheviot fleeces, a process I started last week while I was in Devon. I'm in Kent again, and unfortunately my rolags got squashed on the journey home, so I have to start again. I think I have two more than in the previous photo. I don't like carding the Cheviot wool as much as the Oxford Downs fleece, it's harder to form the rolags. Anyway, the wool is much cleaner and hopefully will be better with spinning.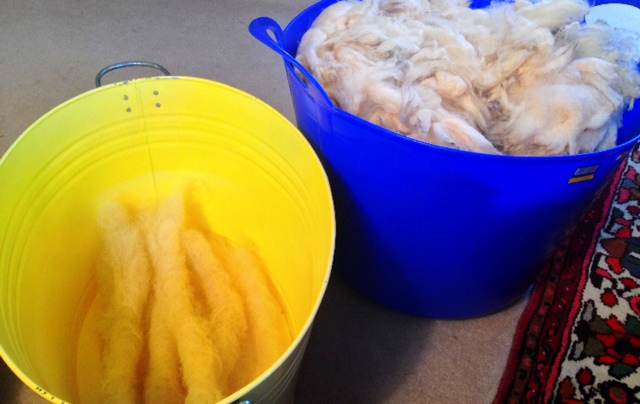 I have been wanting to wash half an Oxford Downs fleece for a while so that I can get dying it. Wonder-Gran commissioned a wall-hanging off me, and I have decided I'm going to use the Oxford Downs fleece as I don't like carding it in preparation for spinning.
I had to make a bag that I could use to hold the fleece and lift it out of the water easily. It's very heavy when it's wet. I got to work on the bag and finished it – JS' mum was not impressed and thought it wouldn't work. I'm really pleased to have proved her wrong! Haha. I think I may make more of the bags which are smaller so that I can dye the fleece easily and then use the bags as 'dispensing' units once it's dyed.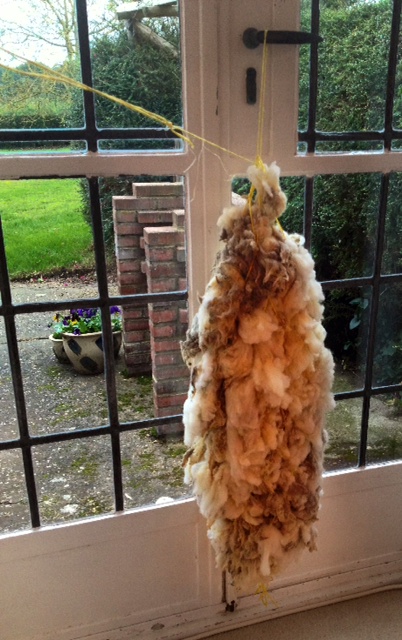 Has anyone got any experience with felting non-merino wool?
Much love,
Corrie xx