I went to the Weald of Kent Craft & Design Show in Penshurst Place last August and while I was there I bought a starter kit to knit a pair of socks. It has long been an ambition of mine to knit some socks, and I'd been putting it off for ages. I had a mental block about turning the heel and the Kitchener Stitch…well, anyway.
Stripy Socks
I started knitting these about two weeks ago, and am extremely pleased to say that I have completed one sock and am currently in the process of turning the heel on the second. I've been shocked at how quickly they've knitted up – I've really enjoyed being able to sit and have a go on them while I've been at the pub with a couple of friends, or even stuck in traffic.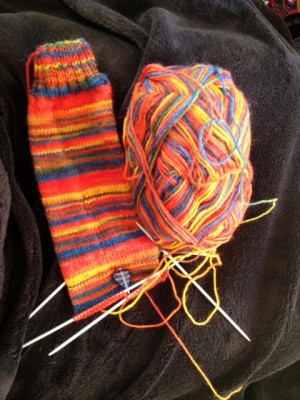 Turning the heel turned out to be nothing like the traumatic experience I expected it to be, and even though they turned out a bit square, the toes on the first sock were not as bad as I felt they were going when I was actually doing it!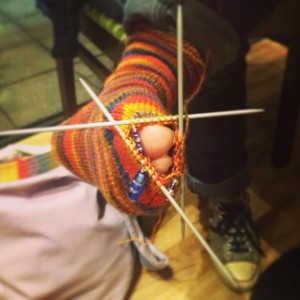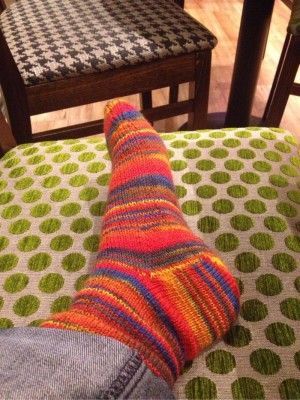 The pattern is called "Free Simple Sock & Gift Pouch Pattern", designed by Sue Morgan. They have a warning on them, which has turned out to ring true; I am now an addict.

I'm extremely sorry to say that I gave the leaflet that the company I bought the kit from away to a lady who was asking me where I got the kit from when I was knitting in Costa. I have absolutely no idea who the company was, and I intend to go back to the Weald of Kent this May to find out if they are still there!
I think I will have more than enough of the yarn leftover to make another pair of socks – the pattern does include the gift pouch, but I simply don't want to make one!
Have you ever knitted socks? Do you have a favourite pattern? I'm going to move on to more exciting patterns soon and I was wondering what I ought to start on next!
Much love,
Corrie xx