My life for the last few days has consisted of a rhythm of work, knit, sleep; work, knit, sleep. I have been working flat out to complete my September Resolutions – not necessarily because they are resolutions, but because the events for which two of the three items are for are less than a week away. Eek!
I haven't done any spinning at all – I even had a nightmare about it last night, where JS suspended my spinning wheel from the ceiling because he said it looked better as decoration up there than as an un-loved piece of crafting paraphenalia! It was only a dream, don't hate him, he made me lunch…
Recap of Resolutions
So my September Resolutions were:
Make Wonder-Bro's birthday pressie
Make a wedding pressie
Finish purple roving
I'm doing OK, but not fab, given that the wedding and birthday are in less than a week apiece. When I'm not working or sleeping, I'm knitting. I kid you not. I have sore muscles in my hands, and I am literally spending every available second thinking about what I have to do.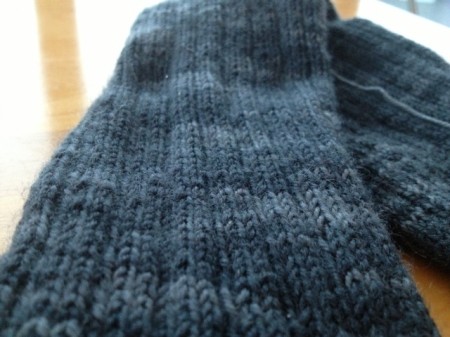 Some photos, trying to be really subtle as I don't know whether or not the relevant people read my blog. I really like how they came out, it remains to be seen what the final objects are like!
Podcasts
While I've been madly knitting, I've been listening to loads of new podcasts, loads of which were recommended to me by a friend at my new Knit Night at Loop. I listened to "Commuter Knitter" this morning and I absolutely adored it. I will be adding that to my list of regular listens!
Do you listen to podcasts? Which ones? I'm curating a list at the moment, and I don't seem to be the only one doing it because loads of the people I've read or listened to recently have been doing the same…I'm in good company!
Much love,
Corrie xx