Upon moving to Devon aged ten, one of the first people I met was a kindred spirit with a love for creativity, music, baking, and above all — randomness. Throughout our friendship, we went through a number of stages; from cycling across the countryside singing stupid songs and eating a lot of sugar; to eating £1 worth of penny sweets singing in the playground at 2am each time she came to see me; to, by far the longest-lasting tradition, Friday night Chocolate Brownie experimentation time.
On the hunt for a new chocolate brownie recipe every week, having to make important decisions about life, love and the future, and deciding that we didn't want to be adults, the idea for a cafe on Pluto was born as a result of her applying for a job at the Canadian Muffin Shop (and getting rejected). What would this cafe sell?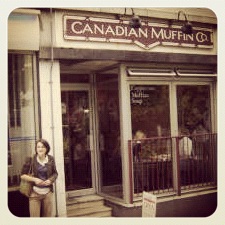 Plutonium Muffins, clearly.
I've had to move on from this rather exciting dream of a suitable way to escape the harsh realities of real life — but the way I was inspired to embrace life by her and her advice was a large kicker to starting this website. Hopefully, I do her credit!
In memory of Grace, my 'other' me, 1989 – 2006.