I cast on my Dr Who scarf the other day. You have No. Idea. how excited I am about this project, although it has resulted in a little bit of an RSI relapse. I'll be talking about that later, so hang fire, although if you would like to read about the original RSI problem, that post is here.
Dr Who Scarf
The yarn I am using for my Dr Who scarf is Cascade 220 Superwash – the whole story about this choice can be found here, so I won't go over that again. The actual colours that I'm using are:
Pumpkin Spice 1920
Mocha 818
Butterscotch 853
Camel 1961
Burnt Orange 823
Marionberry 880
Gray 816
The only place I could find (in the UK) that would easily ship these to me was Wool Warehouse, and I was so excited when the yarn arrived. There is so much of it that I can literally fill my arms with wool – every knitter's dream, right?!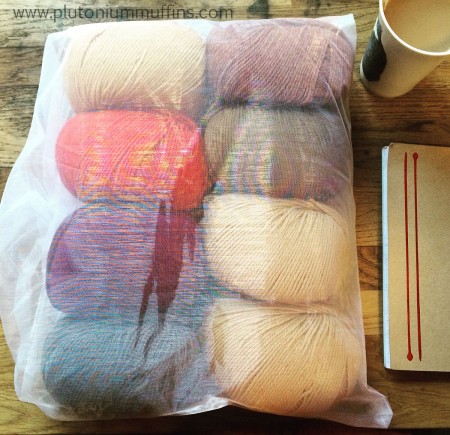 I thought I would do myself a favour, so I worked out exactly how much knitting there is to this. There are 66 stitches in each row, and 1,044 rows in the original scarf. That is 68,904 stitches in total. I'm going to write that out in case it's not long enough for you: sixty eight thousand, nine hundred and four stitches.
This was not doing myself a favour. I've done 40 rows so far (2,640 stitches) and I'm only just 3% of the way through the scarf.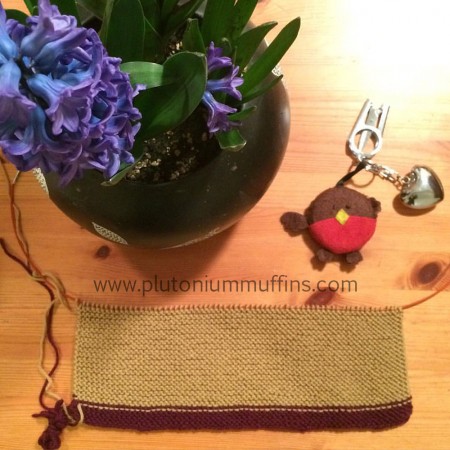 The ladies at my Knit Night at Hulu were all really excited about the knitting, which was lovely. They all had a good fondle of the yarn, which was absolutely hilarious! It is incredibly soft, and doesn't make my teeth go on edge when I touch it. By that, I mean that with my rough farm hands, sometimes when I touch yarn it makes me shiver as the fibres catch on my skin, a bit like the old fingernails down a blackboard trick. Not so with this, it is lovely and soft, and the names make me think of Christmas and my favourite flavours of Starbucks coffee.
Even better than all that, I'm loving working on it. I am really missing John at the moment and when I work on the scarf, it makes me feel a little closer to him. I know, that's disgustingly saccharine, but there we have it. I am really, really loving garter stitch at the moment, and it's John's favourite stitch.
On the note that I have reached the Holy Grail of knitting with a partner – he knows what his favourite stitch is! – I shall depart, probably for the weekend. I've got so many exciting projects on the go at the moment and computer time just doesn't feel as fun as knitting time does!
Much love,
Corrie xx
---
I want to join in with Five on Friday, so here are four other good things that have happened this week:
Chase passed his puppy training class and is now on to the Kennel Club "bronze" obedience training!
I listed new fibre in my Etsy shop.
Knit Night at Hulu was really fun, and I got new fabric for cross stitch. I've talked about it over here.
We had guinea fowl eggs for breakfast the other day. A bit strange (their shells are really tough) but tasty!
---
Shared with: Crochet Addict