I'm going to put it out there – I love most things minty. Mint is the plant I've most often tried to grow (and hence, killed). Give me a mojito with loads of mint, I'm happy. Pulverise some mint leaves in a pestle and mortar with sugar, sprinkle it over sliced pineapple, the perfect dessert. I won't go so far as to say I love toothpaste…but you get the idea!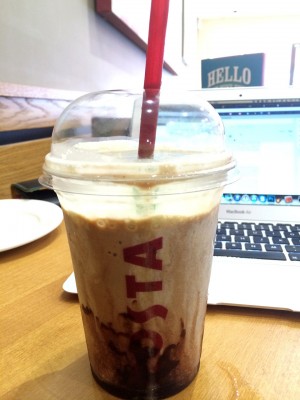 Mint has become the beauty product I most often use, too. I don't wear a lot of make-up (I'd be surprised if you meet me with anything more than mascara and eye-liner on, if that) but I do treat myself to little beauty treatments. Read on…
Minty Feet
I'm going to encourage you to take out half an hour this weekend and try some TLC on your feet.
When is the last time you had a pedicure? I don't mean a £1 a minute full-on foot treatment in a salon, I just mean a simple sit down and taking care of your nails and everything in the comfort of your home?
I started doing this when I was at university as a way to wind down when walking huge distances on student finances, unable to afford the bus, and getting sore feet as a result. Just soaking your feet in warm water is wonderfully relaxing. Just a few added ingredients and tools can make the experience feel like a real treat.
"If you have feet, walk! If you have wings, fly! Whatever you have, use them! Don't let them to rust!" – Mehmet Murat ildan
I've researched the most cost-effective ways to go about this, the 'best' ways to make your feet look pretty, the easiest way to get rid of dead skin (yuck) and how to best apply nail-polish. I've looked up all the methods – some included a lot of mouthwash (really!), others required purchase of equipment costing hundreds, some needed you to have millions of types of nail polish for just one application. I've honed my technique over the last eight years with emphasis on simplicity, and it's so quick and easy that if I don't do it every few weeks, I feel as if I am not taking care of myself properly.
Equipment Required
The most basic things you need are a basin that both feet fit into comfortably (which is water-tight) and a towel. In a pinch, all you need is the basin, if you don't mind getting your floor wet!
That's the most simple – if you're going to spoil yourself a littl, here are a few other things you can invest in:
Foot soak – I always buy mint foot soak, you can get it from most chemists super cheap. Alternatively, you can use a tablespoon of honey mixed with a cup of milk, or a handful of mint leaves and rock salt, or a big spoonful of bicarbonate soda. My fave DIY option is honey and milk – Cleopatra used it, why not me?
Foot scrub – a cream-based scrub with exfoliating particles to help get rid of imperfections. My favourite one is an own brand one with mint, calendula and apricot seed as the exfoliator. You can use a sugar or salt scrub too, there are tons of recipes out there for handmade exfoliating scrubs.
Pumice stone or other dead skin remover – I have a range, pumice stones, a couple of foot files and a ped-egg. I use whichever one comes to hand first, but if you don't want to do the yucky skin removal bit, just leave these out. The pink set shown in the below photo came from the pound shop and included the polish spacer, file, a scrubbing brush and nail clippers.
Moisturising cream – I usually use foot specific cream, but anything that isn't too oily is great.
Nail clippers (you may as well…)
Manicure sticks for pushing back cuticles.
Polish if you're going to decorate!
Method
Here are the handy steps then:
Fill the basin with warm water – remember it may overflow when you put your feet into it. If you have a foot soak, mix it in while you're filling the basin, otherwise just make sure it's a good temperature. I recommend it being as hot as you can stand it – I've found this results in them being the most soft and relaxed. If they're very uncomfortable, you could use iced water which is also good for relaxation, but more of a sports therapy than a beauty one!
Put your basin somewhere you can be comfortable and soak your feet in it for as long as you like. I normally sit for about 20-30 minutes (knitting, in case you were wondering) until the water starts getting tepid. I find this uncomfortable, so move on at this point, but you could soak your feet all day and all night if you really wanted to…they wouldn't come out look pretty for the first hour or so, but at least they'd be well softened!

I just use a washing up basin which I bought in a pound shop about five years ago. I only use it for this purpose as I don't want my feet to soak in harsh chemicals, and don't want washing up to be done in foot water! I used to use a bath filled to foot-level with the relevant temp. water, but it cools much quicker and is much less comfortable. In case you're wondering, I'm in the garden sitting in my rocking chair doing some knitting!

Remove one foot and dry thoroughly. If that's all you want, put some skin lotion on it and enjoy your relaxed foot. Repeat.
Otherwise, attack the foot with your pumice stone. The warmer and softer your foot is (i.e. the longer you've soaked it), the easier it will be to remove unwanted bits. When you're done, take your exfoliating scrub (a sugar scrub is also great for this) and rub it all over your foot, giving yourself a good massage. This will help smooth the skin out. Pop the foot back in the water and repeat with the other one.
Soak for a few more minutes, then thoroughly rinse the scrub off. If you are wanting to paint your nails, this is the time to do it – make sure they are shaped to your liking and use a manicure stick to push back the cuticle. Paint using your preferred method and let it dry.
Once your foot and/or nails are thoroughly dried, rub in some moisturising cream, repeat and enjoy!
It looks ridiculously short written down like that, but that really is all there is to it. The more you do it, the more you'll figure out what you like and what you don't. With summer coming, you can expose your feet knowing you're caring for them appropriately – and if you don't like baring your feet, at least you'll know your handmade socks are being used by happy feet!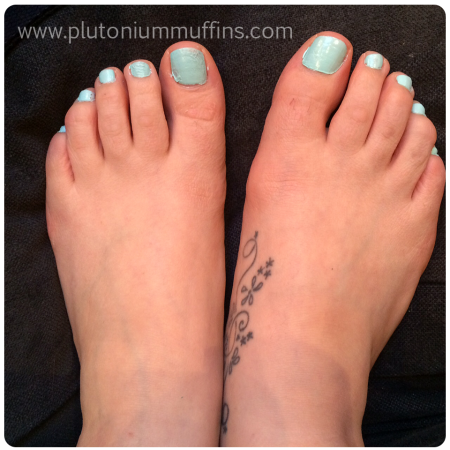 Do let me know if you have any other suggestions for me to try. This is taking a bit of a step out of my normal comfort zone (this is a knitting blog, not a beauty column) but something I truly enjoy, so I don't mind sharing with you!
Much love,
Corrie xx