Merry from Patch of Puddles has introduced me to the Childhood series of blogs. This is basically blogs which invite people to post a photo that represents childhood to them.
Childhood
If you've read my "About Me", by now you will know that I grew up in Africa. The picture that I am going to add is already on that page, but never mind – here it is again.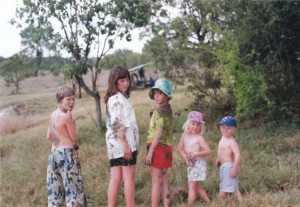 This photo was taken in Zimbabwe when I was about 8. My brother threw a handful of mud at me (he is on the left) and before long we were involved in a full-blown mudfight involving the two of us, a friend and our two young cousins. This was typical of our childhood. We were allowed the freedom to go get dirty, run around and do whatever we wanted while our parents took care of everything else. We lived in a gorgeous country where health and safety didn't exist, and we were able to just do things like this.
(Incidentally, this was around the time I was knitting scarves for all of my teddies!)
We had no idea what would happen to our beautiful country in just a few short years, when Robert Mugabe started the Land Reform. Within two years of this photo being taken, the land of my childhood didn't exist anymore. We were lucky – we had the funds to get out, and we did. Zimbabwe deteriorated into poverty and the condition that many other countries in Africa are in.
WorldVision
In West Africa, children are losing their childhood before they have a chance to enjoy it. Hunger and poverty are robbing them of the chance to go to school, smile, play, see their siblings grow up, expect their parents to always be there. I was lucky enough to be able to move to England, and while things were difficult in terms of money and settling into a new culture, at least I could go to school, turn on a tap to drink some water and buy a portion of chips when I felt peckish.
WorldVision have until the 30th August to make the most of their matched funding from DFID. Every single £1 will be doubled by the government. It's a great time to donate some money and know it will go to funding long term projects that will rescue lost childhoods and put hope into the future of West Africa. We need to raise awareness and get people putting just a few pounds into that fund and make the most of the matched funding.
What you can do. Blog!
Find a picture that says childhood to you, from your childhood or your own kids and blog it. Add words about what childhood means to you if you wish.
Add it to the bloghop on Merry's page (as I have a WordPress blog which will not allow me ot have the blog hop here).
Make sure you tell people about the matched funding opportunity at DFID and include the link
https://www.worldvision.org.uk/giving-forms/single-gifts/*/giftId/62/
We're trying to double the impact, so tag two people to join in. You don't have to wait to be tagged to join in though.
Tweet, Facebook share, Pinterest, G+ and use the hashtag #LostChildhood if you can.
All entries will be pinned to the WorldVision Pinterest Board and the best entries will feature on their blog too.