You haven't seen my dragonfly yet because I was trying to stick with the knitting and spinning theme, but I'm super proud of this one and can't resist showing it off! The kit was one of the DMC 2015 Collection, and came with a 14 count Aida fabric and the flosses required to complete.
I'm back in Devon and very aware that it is just a week until Christmas. I'm less excited about the day itself than I am about the start of a new year. I have so many big plans for 2016!
Dragonfly
I started the project on the 26th of September, something I remember because I was on my way to London to meet John's new niece! I'd had it for months, going around in my bag with me until I finally found the will to start it. Once I was started, that was it! I finished it just over a month later, on the 31st of October.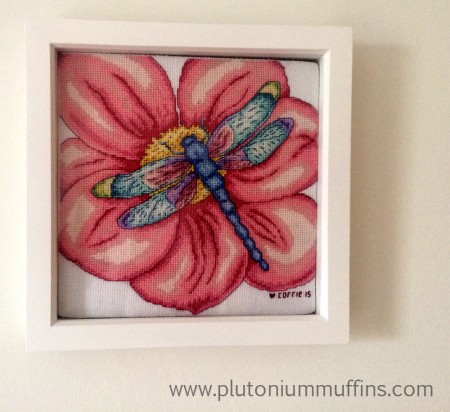 I washed it using Soak, the wool wash I adore, and didn't quite manage to get rid of all of the marks on it. I debated using a non-wool detergent, but was a bit unsure of it as I hadn't tested the threads with it, so I just left it. Stitchers have the same problem that knitters have, with respect to colour running, and even though knitting is slow, stitching is even slower!
Last weekend, I finally framed it. I used 5mm mount board from Hobbycraft, and the lacing method of stretching the fabric around the board. It took me hours to do, but I was pleased with the overall result, and for my first 'properly' framed finish, I'm really happy! The dragonfly now hangs in my room and I am absolutely delighted with it.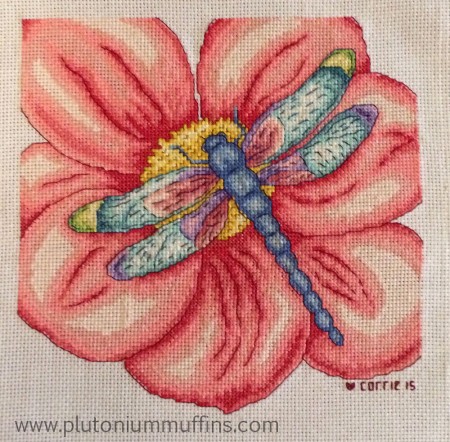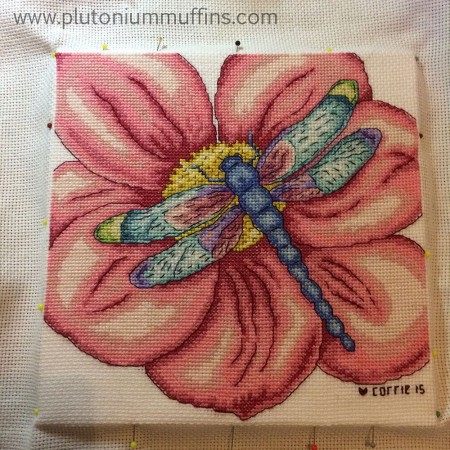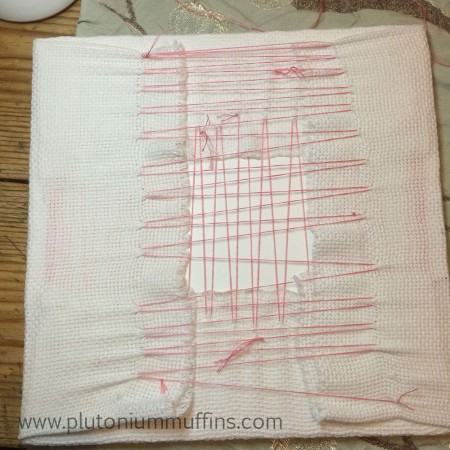 I loved the project – the colours were great, it wasn't too complicated and would be good for an intermediate stitcher, there were no fractional stitches, and the shading is absolutely beautiful. I will treasure this forever.
Much love,
Corrie xx
This slideshow requires JavaScript.