It has now been nearly two weeks since I visited Renee in the East London Knit studio in Hackney Wick, London. I'm thrilled to be sharing some photos and information with you – please do go and find out more about the company on the East London Knit website if you would like to. 
East London Knit
My journey to Hackney Wick (the first ever) was on a very cold day towards the end of September, and I had the fun of wearing my first hand-knits of the year! Of course, as I walked through the streets looking for the studio, the sun came out and it warmed up substantially – typical. I had stripped down well before I got to the train station, and enjoyed a ten minute walk before I found myself wandering down streets looking for the studio.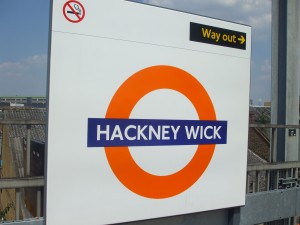 This region was prone to flooding before the addition of canals and channels to control this; as a result, it is peppered with charming waterways that made me feel as if I was in Paris or Munich (the only other places I associate with canals, which tells me I need to travel more). An industrial zone until after the war, the whole area was redeveloped in the 1960's, and has an almost abandoned atmosphere as you walk through the streets.
Little flourishes of creativity are everywhere you look. There is evidence of graffiti everywhere, including an intriguing area where someone has poured paint on the road, and walked in it barefoot to create an explosion of footprint. As I walked down the final road, I observed a photographer painting the buildings with his camera. The most exciting things were the 'abandoned' warehouses crammed full of artistic types, with everything from painters to sculptors; architects to…knitters.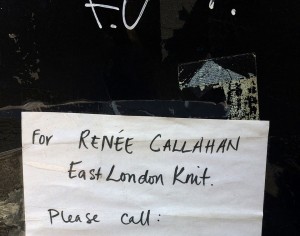 Walking into the East London Knit studio was a bit of an other-worldly experience for me. Anybody who likes yarn will like the studio, regardless of the fantastic samples and bits of equipment scattered around; the walls are literally lined with yarn. Renee has organised the cones into colour, and it provides a pleasing backdrop to four massive industrial knitting machines that were located right in the middle of the room.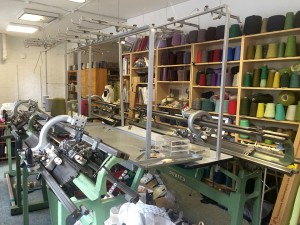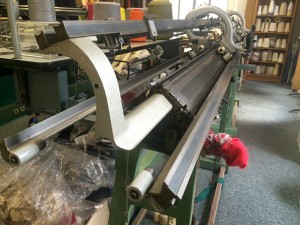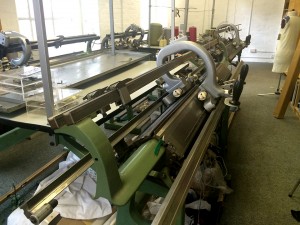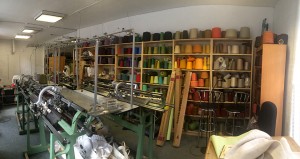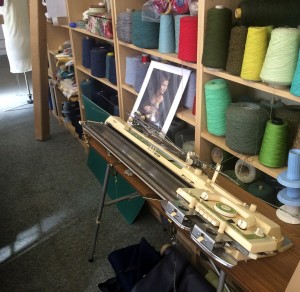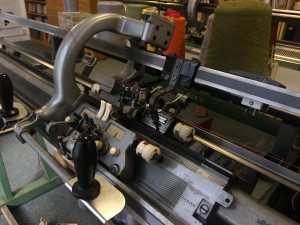 I was given a tour of the machines – from the finest gauge which produced fabric that can only be produced on these intensive knitting machines, to the larger gauges which take heavier weight yarn and produce fabric that could be knitted on a domestic knitting machine, or indeed by hand. With a domestic machine also on display, as well as a number of samples on mannequins and coat-hangers, there was plenty to look at.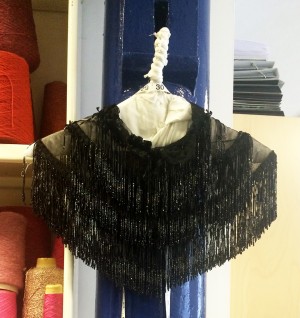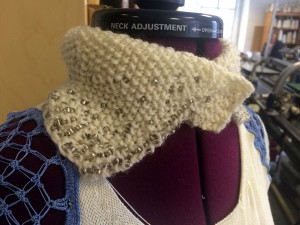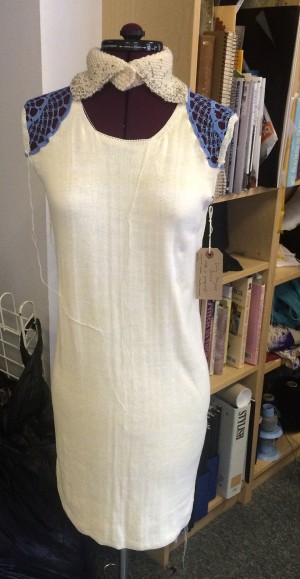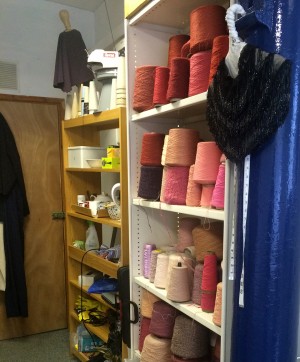 There were linkers abound, magic machines which allow for professional and fast finishing, as well as this display which I found incredibly intriguing, with all the wires and metals bits poking out like a frozen fireworks display. The mystery unravelled a bit when I was taught about the purpose of these mysterious items; they were simply weights to add some gravity to the knitting and allow the fabric to form properly off the bed of the machine!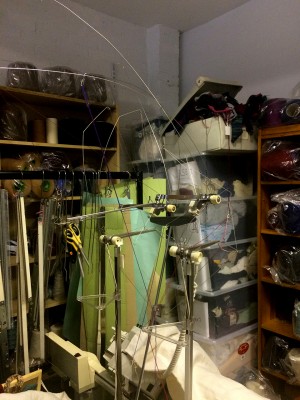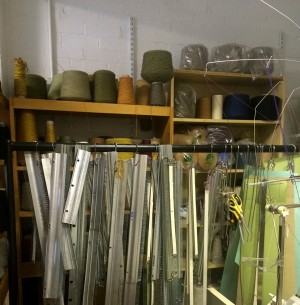 We discussed the way that Renee works, and how East London Knit products can be acquired, and when we had talked till we dropped, we went out for a coffee. Returning to the studio allowed me to appreciate for a second time the artistic atmosphere of the streets; I don't know if it was just me and my excitement about seeing a knitter and friend in an environment I am so not used to, but I felt that there was cauldron of creative potential bubbling around me.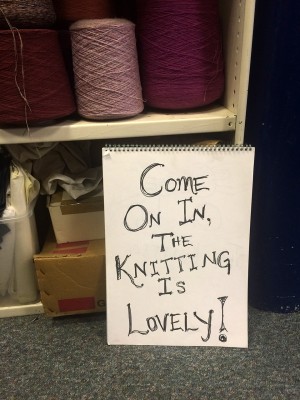 Just before I left, Renee showed me her latest hand-knitting design, and asked for my thoughts on the name. In my mind it brought up images of cranberries and ice, and later on in the day/night (fuelled by an ale) I thought of red wine and champagne sorbet. I decided I must text Renee this idea – at two in the morning! Ooops.
The pattern has since been released as "Frost and Flame" and is something I am always going to think of fondly.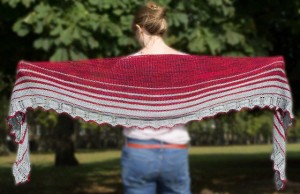 I had a wonderful time and am so grateful to Renee for taking some time out of her day for me. Don't forget to find out more about what she is doing and keep up-to-date with her blog!
Much love,
Corrie xx