I spent my weekend exploring the Stitching, Sewing and Hobbycrafts Show. I've already shared everything Bloggers Workshop in my first post on this topic here. You can also see my haul on YouTube here!
Now it's time to show you one of the best things of any show – meeting people and exploring amazing things.
Exploring the Show
House of Zandra
Some of the stuff I loved most was among the things I bought. One of these included a purse from House of Zandra. The felt animals here super unusual, with colours, shapes and embellishments straight out of a Tim Burton film. I was blown away by them, especially two purses that I was asked not to photograph to put on the Internet as they aren't currently online. This is one of the things I bought; I will show you the finished product when I'm done!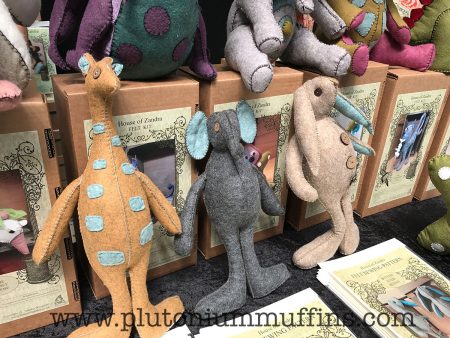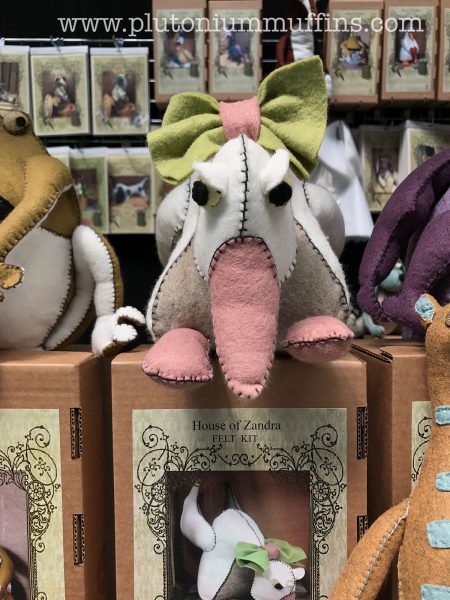 Inventors Asylum
I was intrigued by Inventors Asylum, an incredible company who combine craft with technology. The company started off as a way of educating children while exploring tech and craft. They've just moved to a new premises in a garden workshop, which sounds absolutely lovely. Ricky and I were both struck by their incredible rust dyed fabric, which has to be seen to be believed, especially the beautiful quilt.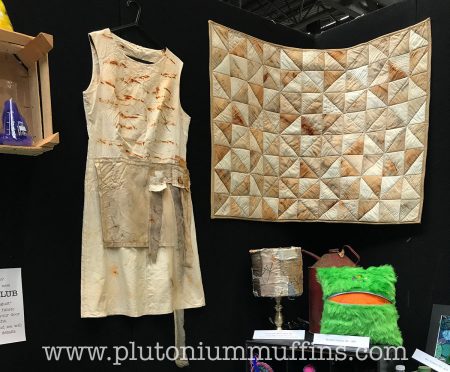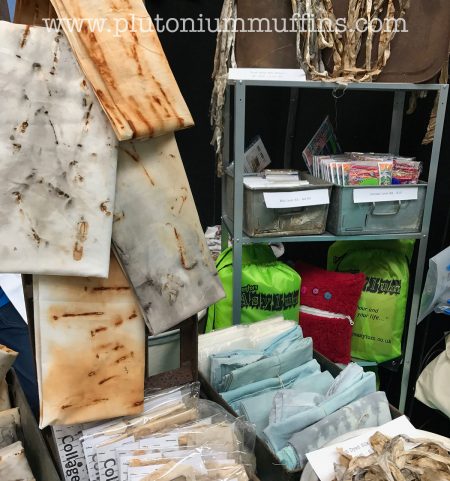 Toft Alpaca
I'm currently madly into crochet, and dragged Ricky past the wonders of Toft so we could chat to them and see their display, which is always lovely. One of their kits is at home waiting for me to get started on it, and I wanted to see the project in person. I'm desperate to get my hands on Edward's Menagerie and Edward's Menagerie: Birds, but am forcing myself to wait until I've finished my kit. They did give me a little card with patterns for a snorkel and flippers to add to my hippo. I love to imagine a hippo exploring an underwater world with prescription snorkel (their eyesight is notoriously bad)!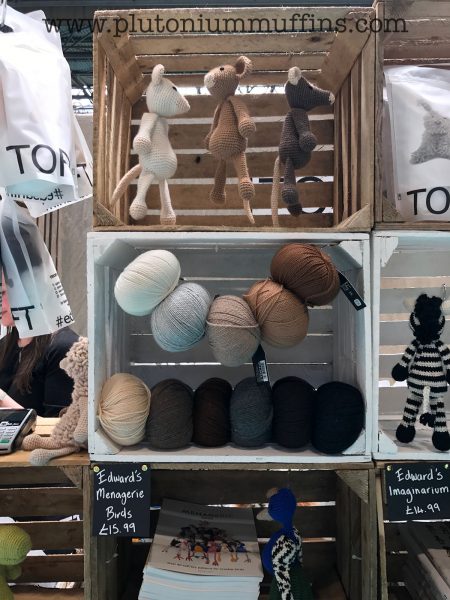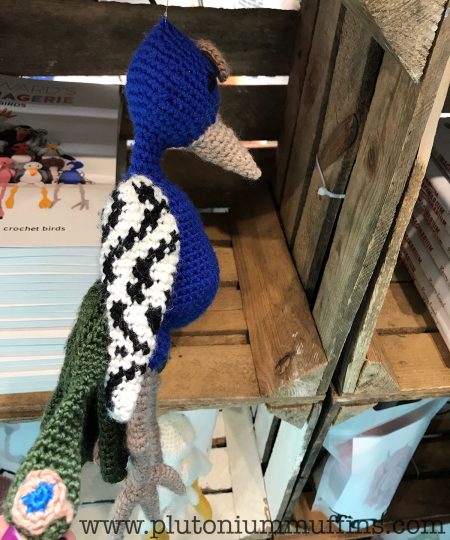 Exhibitions and Lectures
As well as retail stalls at the show, there were small exhibition spaces and chances perfect for exploring to see innovative ways of doing things and stunning samples from creators. A knitted beach greeted people walking into the show, which had everything from an octopus to a rock pool, to a bottle of pop knitted out of plastic yarn! Ricky told me it was knitted and I absolutely did not believe him. It was truly impressive, if not entirely watertight…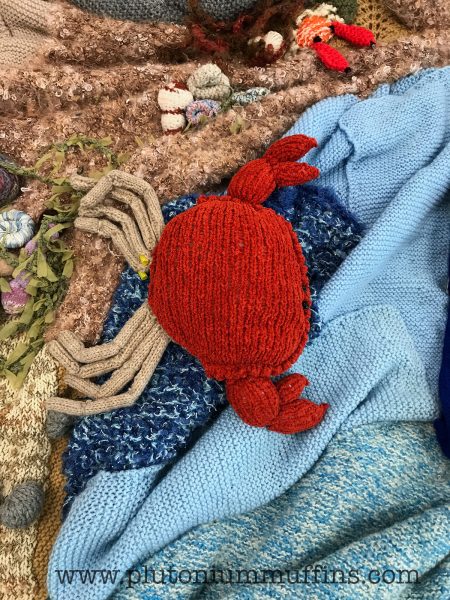 Val Hughes
I managed to catch one of the lectures given in the afternoon with Val Hughes. Val is a felter who, given my current obsession with all things felt, I absolutely couldn't miss. I met a fibre artist at Wonderwool Wales who for the first time (to me) described herself as an artist and not a crafter. Val was another of those whose work sits in the art side of arts and crafts. Each unique piece has a story, a unique inspiration and a name. Remembering the names of her Alice in Wonderland collection of dresses won me her book! I was absolutely thrilled. I'm going to be exploring some of the techniques she teaches in the near future, stay tuned!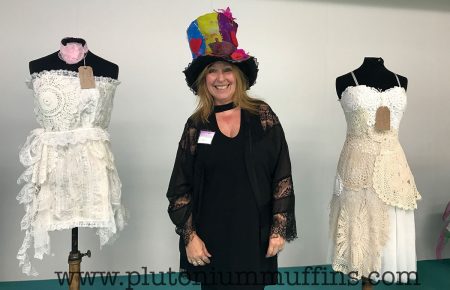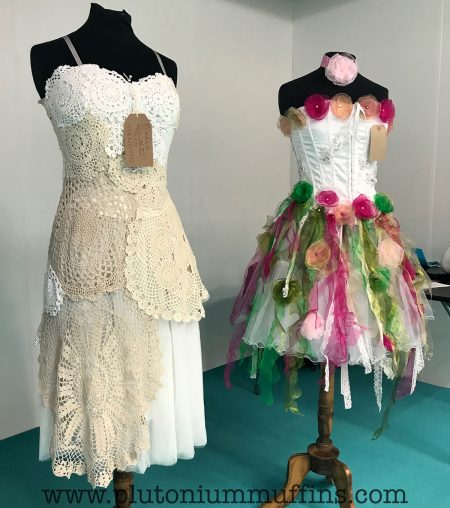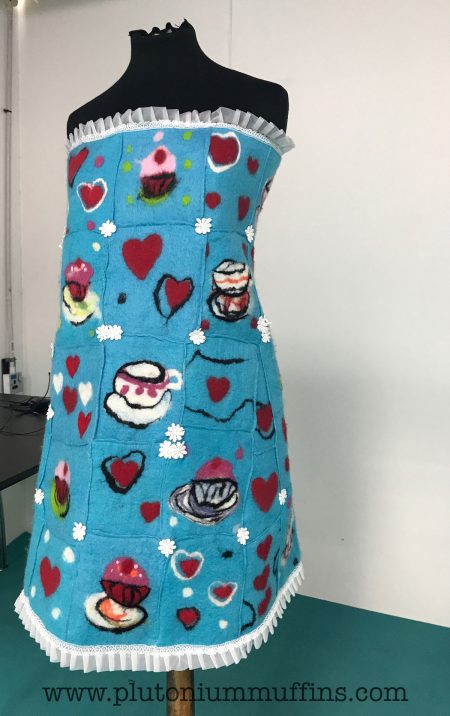 Richard Box
Richard Box was another painter whose medium happens to be the wonderful world of all things fibre. While training as an art teacher, he happened upon freehand machine embroidery and the work that he now produces is absolutely stunning. One of the best things about it was the progress panels he had in his booth, showing how a piece of fabric starts out with bits of colourful scrap scattered over it, and with varying amounts of machine embroidery becomes beautiful landscapes and life-like hares. The depth of colour and dimensionality each of these panels has is beyond anything a photo can show you, and this is very definitely someone to look out for if you want inspiration with your machining. Check him out here.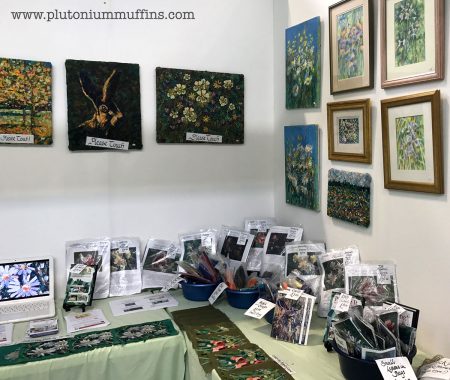 Polymer Clay Guild
One of the most jaw-dropping things I saw was at the stand of the Polymer Clay Guild, in the form of a necklace and miniature food. The flowers that make the necklace up look so life like that you feel if you touched the petals they'd yield to you. You can almost imagine how silky they would feel. This was made by Fiona Abel-Smith.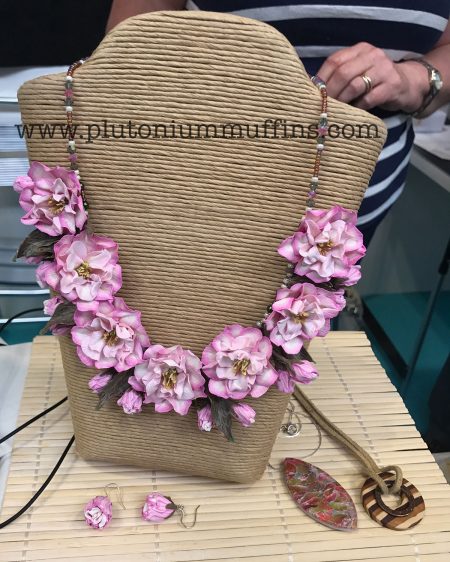 The food was also so small it almost boggles the mind. The cart in the front of the three is an astonishing 48 times smaller than real life! Allan Marshall, the creator of these, was tasked by his wife to make 1:12 items out of paper. An engineer, he was convinced he could do better and he proved his point! I couldn't get my face physically close enough to the work to make it big enough to appreciate. I spent a disproportionate amount of time here looking at it!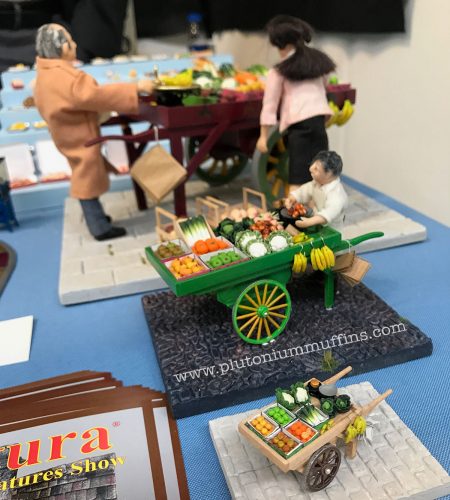 The polymer clay guild, among more stunning creations like these, can be found here.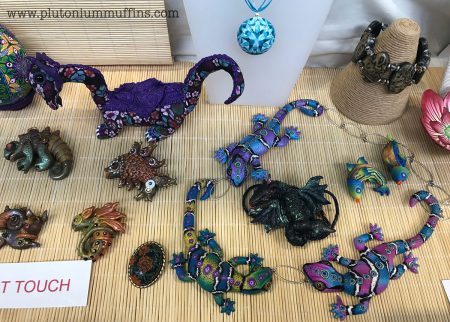 Jenniffer Taylor
The last thing that I did before heading off to a night in Coventry with Beth, was finding and chatting to Jenniffer Taylor. Jenni has just brought out "Girl with a Sewing Machine", and I'd been itching to get my hands on it after watching her discussions about it on social media. It wasn't on my list of things to buy! However, she was wearing a version of the "Dunga Dress" sewn out of pairs of old jeans and we had a lovely discussion about the dress. Many of the patterns in the book are based on body measurements rather than patterns, something I always battle with; so I had to have it.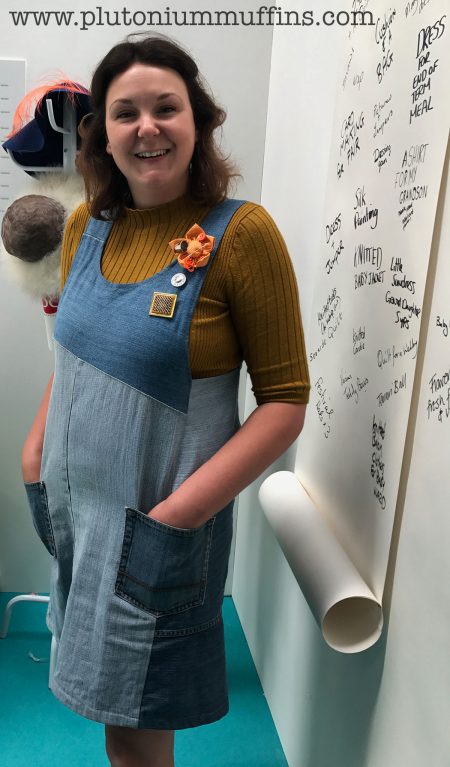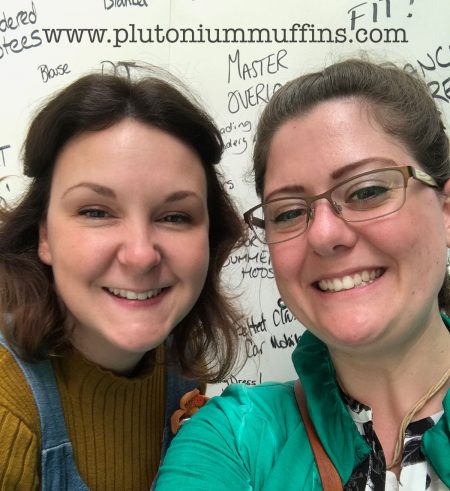 To summarise!
There were so many things at the show that it would be impossible to talk about them all. I've mentioned the majority of things that I really wanted to mention, but I want to encourage you to go to this show if you feel the urge to. I'm sure I could have kept exploring for days and still not seen everything I wanted to.
There was plenty of window shopping to keep us occupied, and we both spent hours admiring cross stitch designs, quilt samples, the various artworks on display at the show, and the excellent variety of vendors. One of the things about the Stitches, Sewing and Hobbycrafts show that I really enjoyed was that it wasn't too big. It took up most of a single hall at the NEC, but no more than that. I often find that it's very easy to get overwhelmed by stand after stand of similar products, but that wasn't a problem here.
I didn't take many photos of designs and artworks because of the problem with intellectual copyright. Those that I did take were all with permission, and I hope you all understand why they're limited!
I hope you've enjoyed this mammoth post! If you have any questions or would like any contact details I should have put all the links in..! I fully recommend the show and I am looking forward to the next one.
Much love,
Corrie xx