I'm just popping in to say I've just uploaded the latest Farm Friday video, and I think it's a corker! Mainly because it has footage of a zombie invasion on the farm, but I also introduce the guinea fowl to you 'properly' for the first time.
Zombie Invasion
While I'm on the topic, I'd love to know what else people want to see from the farm! As it's a relatively small farm, things tend to get a little repetitive, so I would love to start taking some requests from you. After all, zombie invasions don't happen every weekend.
The zombie invasion was part of a stag do that my brother put on for one of his best mates, who is getting married next weekend. Bro has spent months and months and months making silicone masks, and with 11 to paint on Saturday, I was certainly kept busy!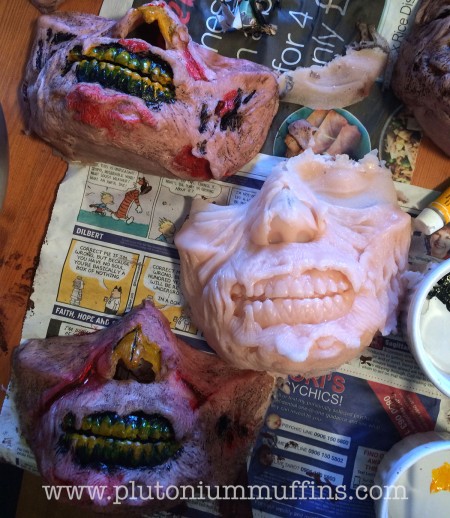 I used acrylic paint to do this, which wasn't the best choice. Trying to paint a hydrophobic material with a water-based paint was…not clever. I didn't have any other option, however, and they lasted for the event itself, which was good enough! I think the plan is to take the masks that were not taken as souvenirs, clean the acrylic off them and use proper silicone paint to repaint them. You might see them on Etsy at some point…what do you reckon!?
The zombie face was modelled on my brother. Now you know who I share my looks with! Haha.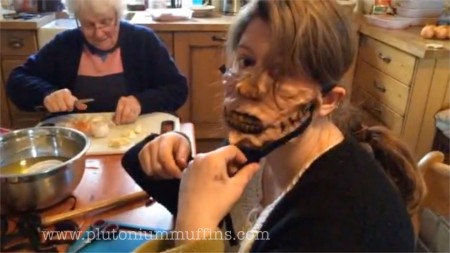 John is down for the weekend, so I'm just about to take him to meet the lambs for the first time (you know I'll be filming…) and up on the moor with Chase. We also have some studio cleaning to do. Now that spring is here, I'm planning to go into the studio a lot more regularly. I am going to be learning to use my knitting machine properly this spring!
Have a lovely weekend! I'm hoping to be able to pick up my knitting needles again, depending on my wrists.
Much love,
Corrie xx