I have a gift hamper to tell you all about today, and oh my goodness it's a good 'un. I've broken this post into three parts. You'll get one today, one tomorrow, and on Wednesday, the summary – all of these with a giveaway for one of these incredible hampers. Come back then to find out more!
On to chocolate. You heard right – chocolate!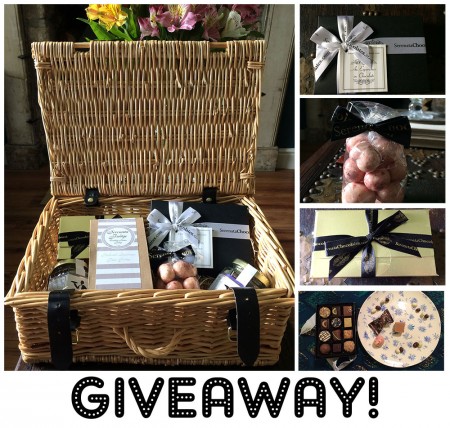 Serenata Gift Hamper
I was contacted by the wonderful people at Serenata about a month ago, offering me a hamper to review and giveaway on the blog. At first I was hesitant – Serenata is a flower company, primarily, and I couldn't figure out how my readers would appreciate what they have on offer. However, they do have some great gift hampers, and after I had a look at the selection I realised that something crafters on my social media networks are always talking about is chocolate. (And wine, and gin, and yarn….too bad they don't do a hampers for the last two…) I'm not much of a drinker myself, and good friends don't let other friends drink and knit…so I decided to go for the chocolate one!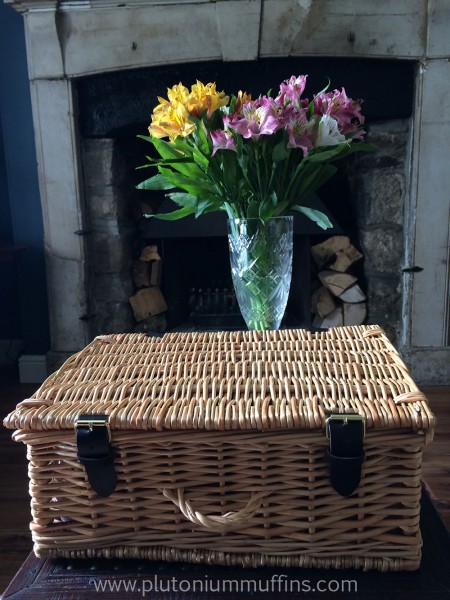 Of course, I couldn't manage an entire hamper myself, and in a week where we had my entire family under one roof and friends from the States, we all had good fun testing chocolates and giving our opinions! Before I head into the detail, I want to talk about the hamper itself. It's a great size for small picnics, and as someone looking for homely storage for my craft supplies, this will be perfect in use in my studio. The fixtures are strong leather, very different to gift hampers I have had before – and I'm looking forward to using this to display yarn when we finish the chocolate!
The Chocolate
Opening up the hamper is a bit of a delight itself. I've already mentioned the leather fixtures, and the act of opening something where they haven't scrimped on the quality of the basket builds up the excitement for what will be revealed upon opening. The hamper is packed with goodies. You get six different boxes of treats, and we still have some left – despite having had over eight people nibbling over the last week.
This slideshow requires JavaScript.
The Dormen Chocolate Peanut
I don't know about you, but I normally shove (small) handfuls of chocolate peanuts in my mouth rather than tasting them individually. However, in the interests of Science, I decided everyone would try do this properly. I noted the reactions of five of us – here goes.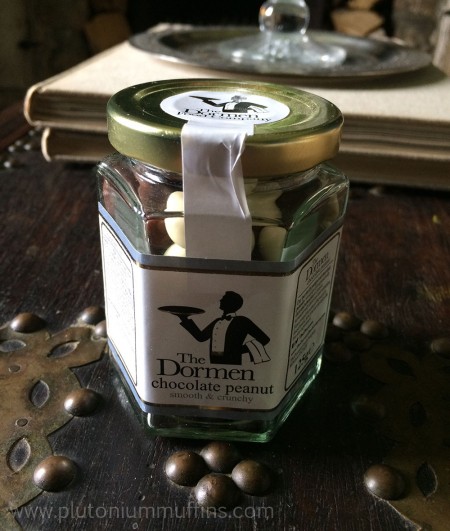 Mum – [white chocolate] "Light chocolate, not very sweet, which I like – but slightly bland." [milk chocolate] "Nice, crispy peanuts but maybe not sweet enough."
Dad – [white] "Crisp and light." [milk] "Has a better texture."
Brother – [white] "Not that impressed." [milk] "I prefer the milk chocolate."
John – [white] "Not blown away, it's not particularly strong." [milk] "It doesn't taste chocolatey and doesn't have much substance."
Corrie – [white] "It's peanuty, the chocolate is too thin." [milk] "Nice cocoa flavour."
You can see we weren't off to a very good start…to preserve my dignity in front of my parents, I didn't stuff a handful in my mouth to see what that was like, but I will keep you posted on that…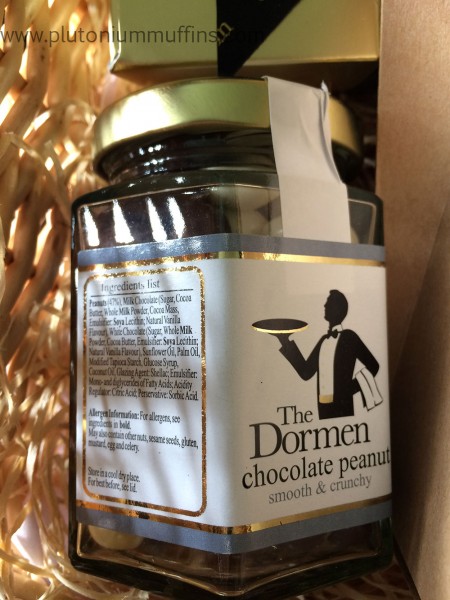 The Dormen Chocolate Raisin
We are all quite big fans of fruit, so hopes were higher for the raisins.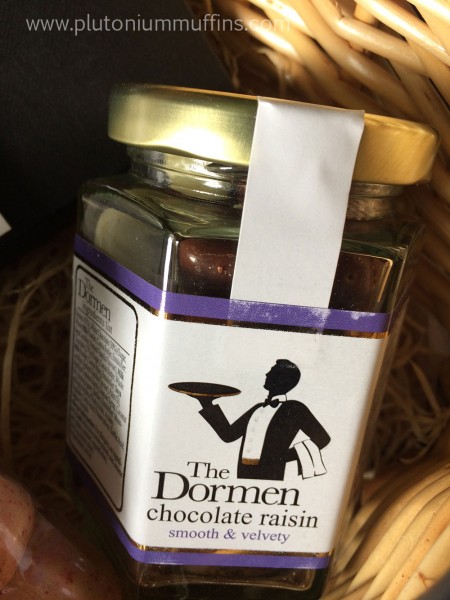 Mum – [white] "That's better. I like that." [milk] no reaction recorded
Dad – [white] "The chocolate is underpowered." [milk] no reaction recorded
Brother – [white] "Very nice." [milk] "I prefer the white, and I don't like white chocolate…I love that the raisins are nice and smooth, they aren't at all grainy."
John – [white] "Enjoyed that one." [milk] "Prefer the white. Darker chocolate would be nice."
Corrie – [white] "Sweetness of raisins helps the chocolate compared to the peanuts." [milk] "I would have these with rum! I like them."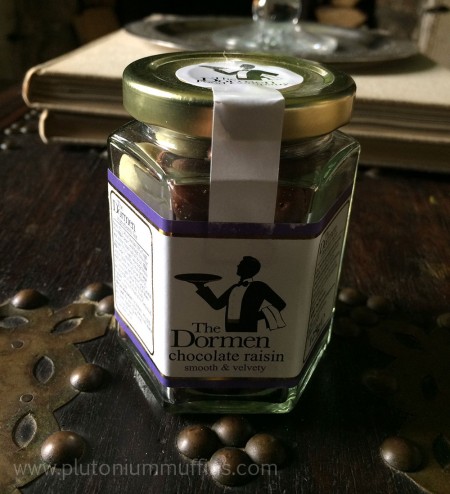 The peanuts and raisins both come in delightful little jars – ideal if you make your own preserves or anything, and also fabulous for storing 'bits and bobs' in. I'm definitely going to use them for jewellery findings.
There was more chocolate, but you would have to read over 2,000 words in one go if I posted all the reviews together – Part Two to follow! The best will come soon…
The Giveaway – CLOSED
It's not over…I am absolutely delighted to say that Serenata have offered one of you lovely readers one of these chocolate gift hampers of your very own! I am so thrilled to be able to offer you all this, and I think you will love it – so here's how to get your hands on one.
Head over to the Serenata website and check out their products. Then come back here and leave a comment saying which of these you would buy, and for whom! Bonus entries will be awarded to those of you who share on social media, provided you tag it with #plutoniummuffinschoc so that I can find your share!
The giveaway will run until the 21st of October 2015. You must provide me with your email address or another way to contact you in order for me to notify the randomly drawn winner and get their address. If the winner has not contacted me by the 31st of October, I will redraw. THIS GIVEAWAY IS NOW CLOSED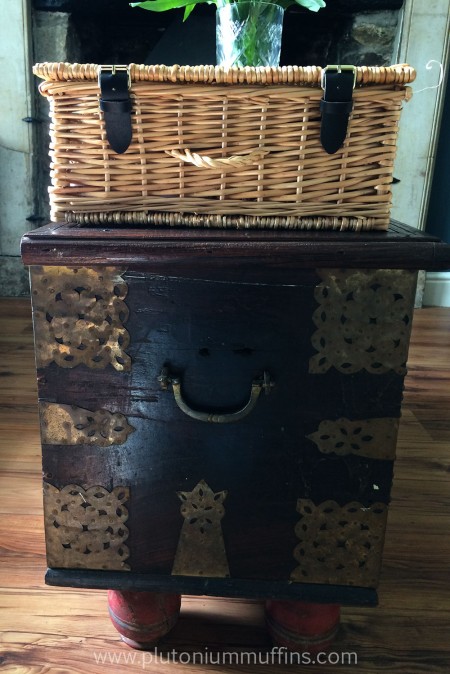 Unfortunately, this giveaway is not open to non-UK residents as there are complications with postage. Please do feel free to take part – I will draw International contributions separately and one randomly chosen participant will receive a little surprise from me in thanks.
I am so thrilled about this, and I wish you all the very, very best of luck – I'm kind of jealous! I wouldn't mind another one…
Much love,
Corrie xx