If you missed yesterday's Serenata giveaway post, I recommend you go and read that before continuing. I was gifted a chocolate hamper by Serenata, an online company that mainly deals with flowers – I've written a comprehensive review, and you can enter a giveaway to get one of your very own. Come back tomorrow to find out about the last few scrumptious treats!
If you already know what I'm on about – continue onwards! Please do not comment on this blog post to enter the giveaway – only comments on THIS post will be counted as entries.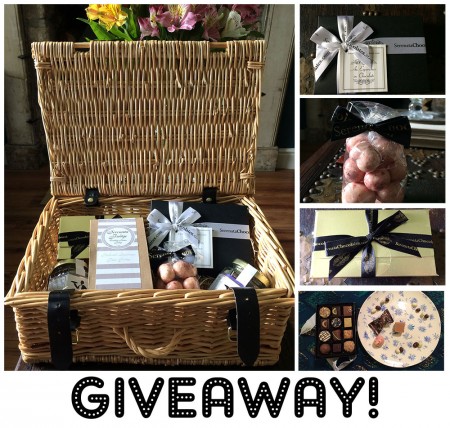 Serenata Gift Hamper
I'm going to continue talking about what is contained within the hamper – I've already done the chocolate covered raisins and peanuts.
 Crumbly Butter Fudge
With a better reaction to the raisins than the peanuts, we were off to a flying start. We went for fudge next – it's worth mentioning at this point that as a family, we don't eat a lot of sweet things, and although John and I are well experienced with fudge, I think that everyone else is a bit on the fence when it comes to this particular to this confection.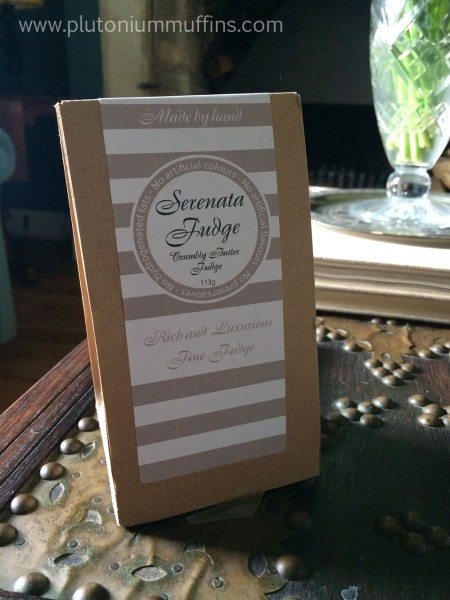 Mum – "That's nice, light and melts in your mouth. It has a bit too much sugar."
Dad – "It's buttery, light."
Brother – "It's too granular and sweet. I don't like it, but I really don't like fudge anyway."
John – "Mmmm. I like that. It's quite sugary, but not very creamy, although I'm used to Cornish clotted cream fudge. It's making me want to make and eat fudge."
Corrie – "Nice and crumbly. Balanced taste and texture, I love it."
The fudge comes in a cellophane bag, inside a cardboard box. It is lovely presentation.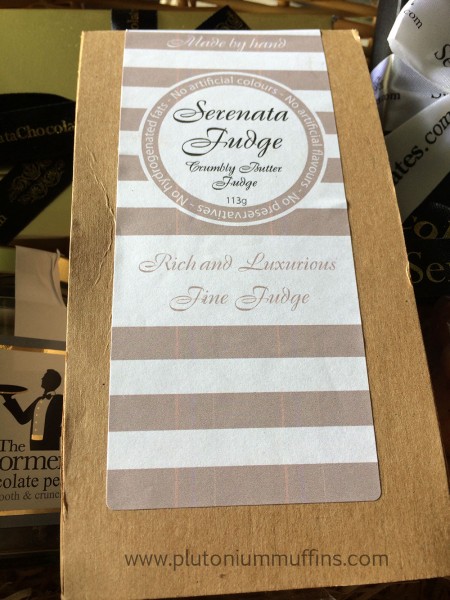 Freeze-Dried Strawberries covered with White Chocolate
We were a bit dubious about these. They have red blotches on them, I don't know if this is from the strawberry or decorative…they looked a bit alien and not at all like something any of us had had before.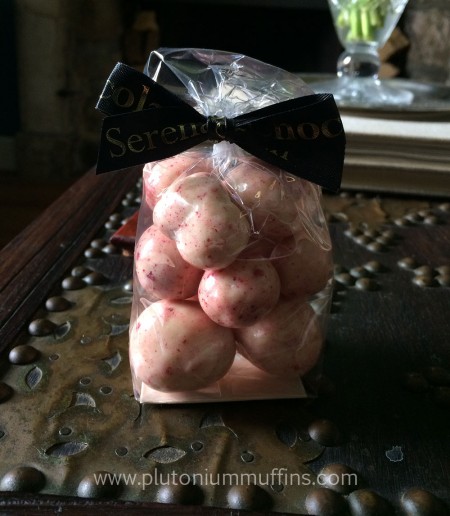 Mum – "Mmmmm! Interesting texture, very light. Lovely strawberry. It's like an explosion of strawberry in your mouth."
Dad – "Powdery but crunchy, it has a subtle aftertaste that I love."
Brother – "Best thing I've had so far. I'd buy these."
John – "Mmmm…that was delicious. I enjoyed the strawberry part of that. It was vibrant. I wouldn't want either alone."
Corrie – "Crunchy and sweet. They're nice, I love how concentrated it is."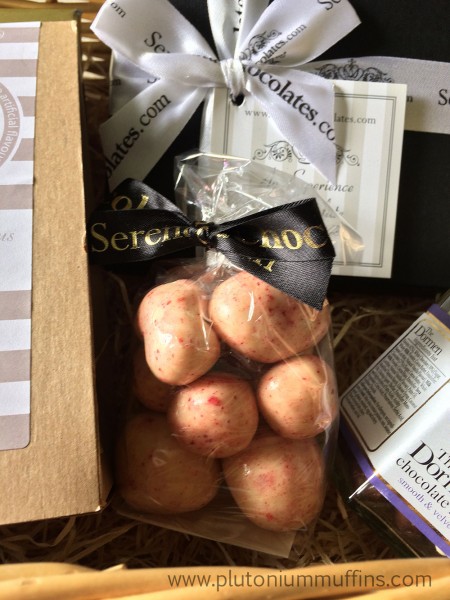 I would like to note at this point that John savoured the taste of the strawberry for at least a minute before telling me what he thought! We all thought the packaging left a bit to be desired – the strawberries come in a cellophane bag with a bit of ribbon around it, and although the ribbon is good quality, the whole ensemble looks a bit cheap. We were all very pleasantly surprised by how delicious this was!
Cocoa Dusted Salty Toffee Truffles
I was excited about these! Salted caramel flavours are definitely 'in' at the moment, and I subscribe to the combination whole-heartedly. They didn't disappoint.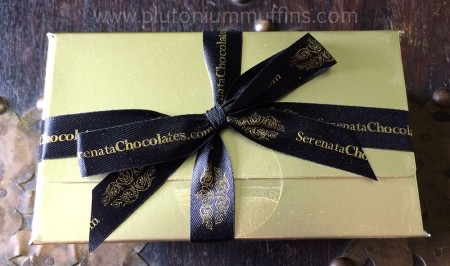 Mum – "They're like velvet with crunch! Love the hint of salt…they're very moreish! I don't like the bags though."
Dad – "Mmmmm….lovely contrast."
Brother – "I like the salty flavour but not the grain. I prefer plain truffle textures, I don't chew and the salt hurts my mouth a bit."
John – "This is the best one I've had so far. I'd have it with a good whiskey."
Corrie – "They're crunchy and kind of raw. I love them."
John – "Did you write down that you should have these with a good whiskey?"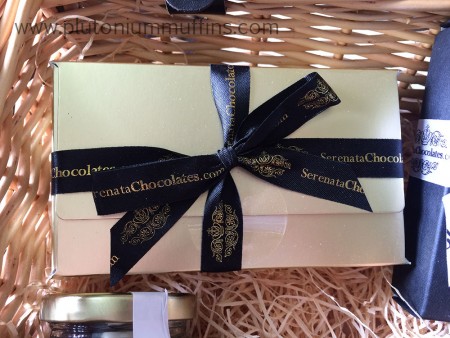 The box the truffles were in was lovely, but they were all individually wrapped. Presumably this is for freshness, but they wrapping could do with a bit of pizazz, as it made them look slightly cheap. These were delicious, delicious, delicious though. And yes, John did check a third time to make sure I'd noted they would be good with whiskey! (I concur.)
The Giveaway
I am absolutely delighted to say that Serenata have offered one of you lovely readers one of these chocolate gift hampers of your very own! I am so thrilled to be able to offer you all this, and I think you will love it – so here's how to get your hands on one.
Head over to the Serenata website and check out their products. Then come back to the blog and leave a comment on this blog post about the competition, saying which of these you would buy, and for whom! Up to three bonus entries will be awarded to those of you who share on social media, provided you tag it with #plutoniummuffinschoc so that I can find your share.
The giveaway will run until the 21st of October 2015. You must provide me with your email address or another way to contact you in order for me to notify the randomly drawn winner and get their address. If the winner has not contacted me by the 31st of October, I will redraw.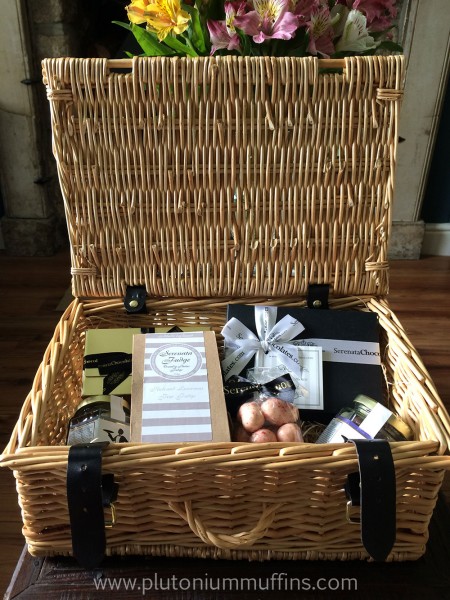 Unfortunately, this giveaway is not open to non-UK residents as there are complications with postage. Please do feel free to take part anyway – I will draw International contributions separately and one randomly chosen participant will receive a little surprise from me in thanks.
Good luck! Don't forget to comment HERE to ensure your entry is counted.
Much love,
Corrie xx