In the middle of last year I had a go at vlogging. I really enjoyed it, but very quickly realised my life is nowhere near interesting enough to document in that way, and the experiment got rapidly aborted. Along the way, however, I got myself into a bit rant about judgement, and discovered a few deep-seated feelings that I hadn't really realised were in me. The subject of this weeks giveaway post is therefore judgement.


(If you'd like to know more about my year of giveaways, head over to this post.)
Judgement and craft
I have a lot of anecdotes I could tell about being a crafter who is subject to the judgement of other people. It happens everywhere. On the tube (You're too young to be knitting), at work (…cool…), on the Internet (The way you are doing that cross stitch is wrong), even in craft shops (Why are you using that yarn for that project, the colours are awful). Every time it happens, I feel a small stab of annoyance at how judgemental people can be – especially when they don't even realise what they are doing.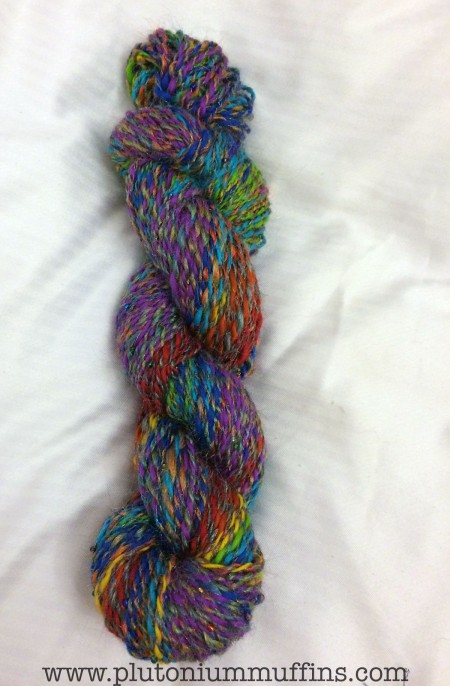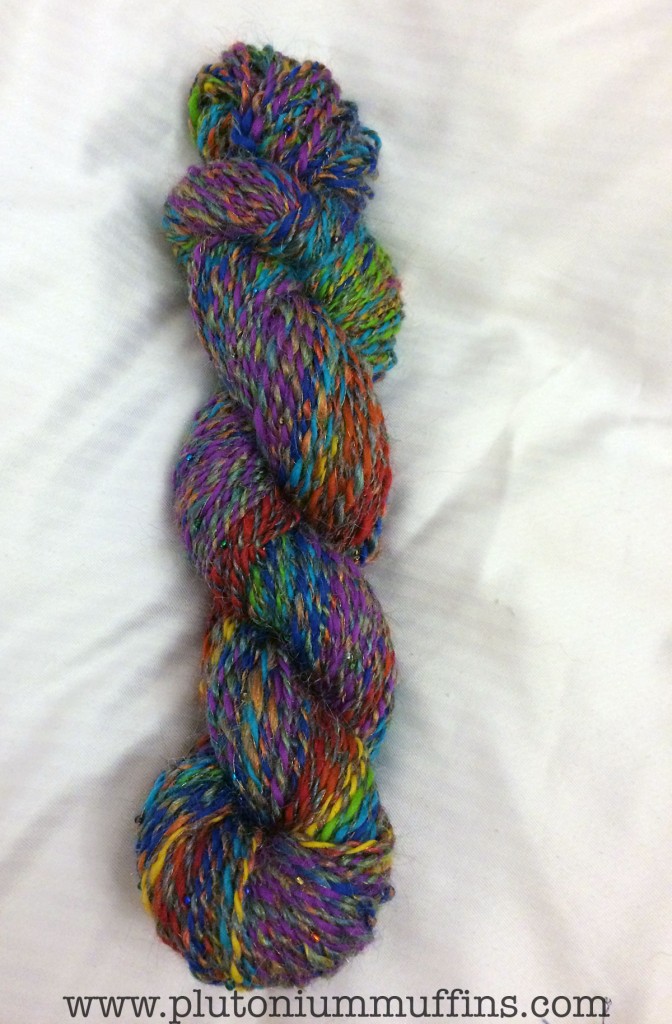 Here is one of my examples, which happened well over three years ago, and stung so much that I still remember it with the same little jab I experienced at the time!
Watermelon Sweater
For my 25th birthday I decided to give myself a present of yarn for a jumper. I had only knitted two for myself that point, and I wanted to expand my wardrobe and my knitting repertoire. At the time, I was living in an expensive part of London, earning quite a low salary, and living for bright colours.
I found a pattern in magazine where they were offering the yarn at a reduced cost if you ordered a specific type with a certain coupon code, and I went for it. I got neon pink, neon green and cream, and I happily knitted away until I produced this beauty.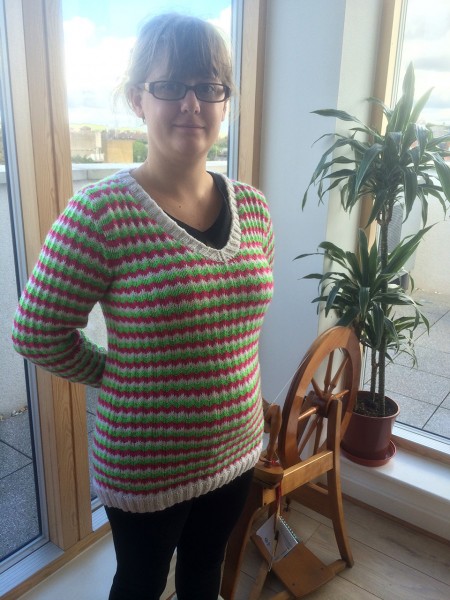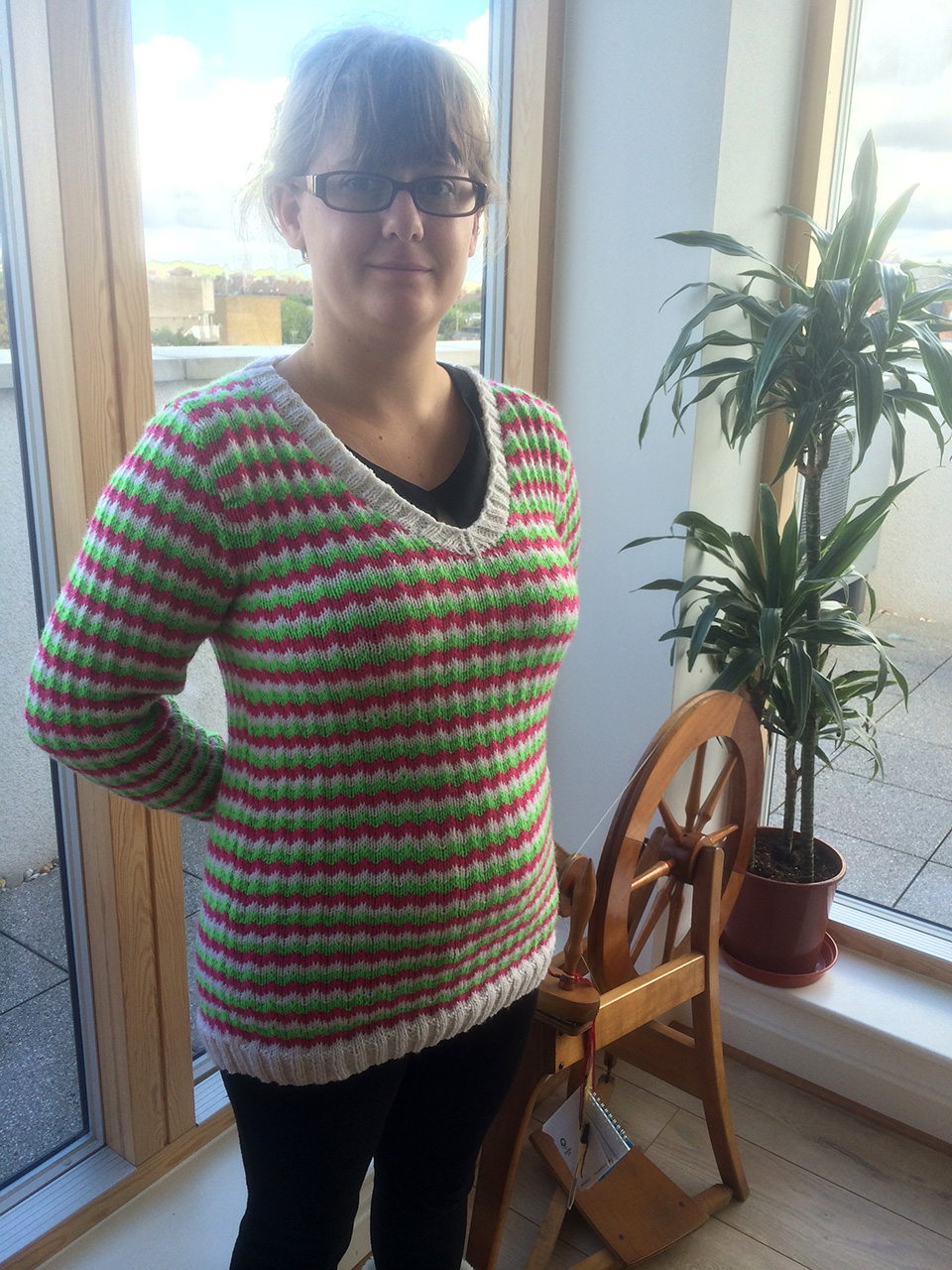 I still wear it regularly, and it still gets comments every time I do. I absolutely love it, but I am always slightly worried about wearing it in the presence of knitters. I still remember the comment I got when I was working on it during knit night at a shop in London and got questioned within an inch of my life over my colour choice and material choice. You see, this jumper was knitted out of a blend of acrylic and wool yarn, and was also from a 'mainstream' brand. The pattern came from a 'normal' magazine and wasn't from an indie designer known by the group.
With ten people listening in on the interrogation, I didn't want to give the honest answer of "I couldn't afford anything else", but the humiliation I felt at the time has stuck. The woman who was asking me these questions was someone I had really liked, and that was almost the most hurtful part of the experience. If she absolutely had to comment, I would have preferred she'd done it behind my back! I didn't go back to that knit night after that.
The worst thing is I'm sure she thought she was being helpful. I'm sure there was some logic of "if I give my opinion, this is going to come across as helpful and will be gratefully received". We don't always know where people are coming from or what their reasons for doing things are, and I always try to remember to tread carefully before speaking my opinions now that I've been on the receiving end of this 'help'.
Luckily, I wasn't put off. I carried on knitting and this experience, among with many others since, has helped me reach a place where I no longer care so much what other people think. When people start telling me what they think in a less than kind way, I try to remember that they probably don't mean it the way it comes out, and if they do, it's not a reflection on me, but rather them.
Judgement free zone
I'm here to say that Plutonium Muffins is a judgement free zone, and if someone ever passes comment on something and makes you feel bad about it, I'd like to to feel like you can pop over here for words of encouragement and some virtual cake. I'd like to know if there's something more I can do to improve the situation as well. I said last year that I'd like to do something to try improve the situation, which is why I've chosen this as a topic for my first giveaway of 2018, and I'm also going to keep working on it throughout the year.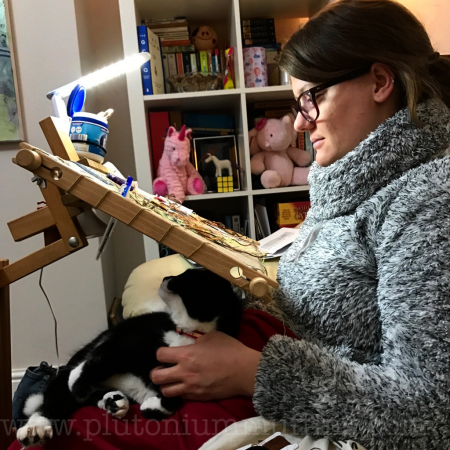 Is there something you'd really like to knit/cross stitch/make, but are too scared of what people will say if you do? I'm here to tell you to ignore them! Get yourself the materials in your fibre of choice and the colours that sing to your soul. Get your favourite drink and a really guilty pleasure audio book or TV programme, put on your slippers, stick your nose in the air, and go for it!
In the meantime (maybe while your yarn is arriving…!), leave a comment on this blog post to be in with a chance of winning a $5/£5 digital pattern of your choice. Full rules are here – the giveaway will close on Sunday the 14th of January 2018.
Much love,
Corrie xx