As promised in my post on Monday, Stitch Up is the first of the yarn shops Team Romney visited on the Great London Yarn Crawl 2014. Located in Wimbledon, the shop is a one minute walk away from Wimbledon Park tube station – and a lovely little haberdashery-come yarn shop.
Stitch Up
The owner of the shop, Sandie, studied fashion design at university, and after working in that field for years, decided to start up her little shop! Stitch Up is a delight from the moment you enter it, with the shelves on the walls stuffed with yarn, big racks of fabric to the left, drawers with yarn, notions on one of the walls, as well as two rooms with tables for workshops and pattern books.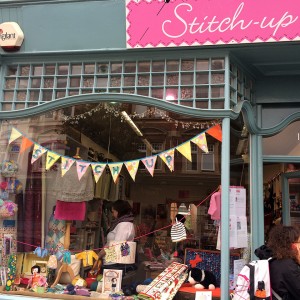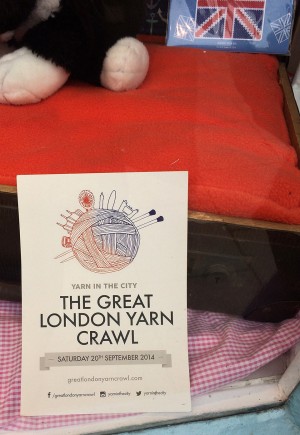 With a fantastic yarn selection, we could choose between Malabrigo and Rowan, Adriafil and John Arbon Knit by Numbers, Crazy Zauberball and Noro; it certainly kept everyone occupied for quite some time. There are some great photos of people on the team with their arms literally full of yarn! Some people were looking for 'stash enhancement' while others were looking for specific yarn for projects.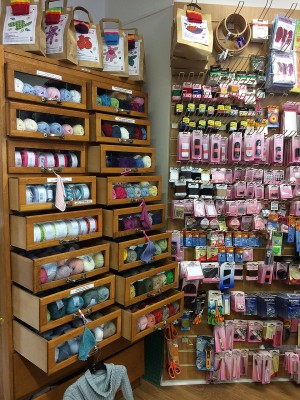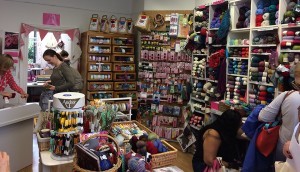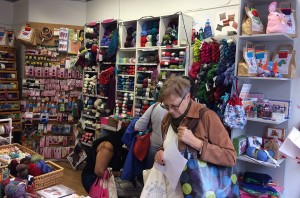 The Malabrigo was given pride of place, and I was drawn in to the display by the sparkling red of the colourway Ravelry Red. I have never seen this before, and although I was actually looking for some worsted weight Malabrigo to complement some yarn I already have in my stash, I couldn't help getting a skein for a bright red shawl. There was a fantastic selection – and because the shop is a bit off the beaten track, the Malabrigo fans of Central London don't manage to go and empty out the shop before it's even hit the shelves!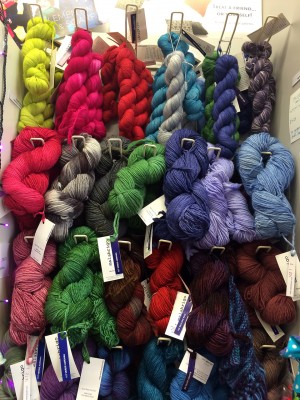 The John Arbon Knit by Numbers had only just come in stock, and I was thrilled to see the colourway that I am knitting Icon Dress in, with the right dye lot too! I did not purchase them there and then, but I will be going back as I do not have enough at the moment. Sandie was quite proud of the John Arbon and I do not blame her in the slightest as it is gorgeous yarn.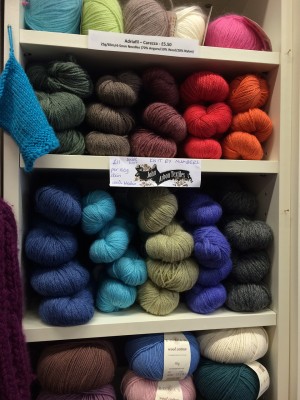 With the table at the back for workshops, we were treated to tea, coffee and biscuits. The room was the perfect size for workshops – not too big but not too small, and I imagine I would be very happy attending one here. There is a big list of what they offer in this link – and visitors are spoiled for choice!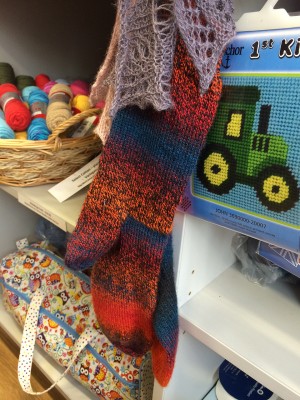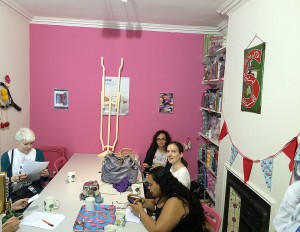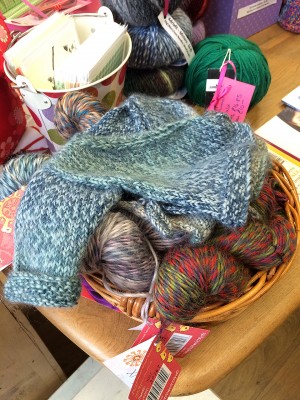 I had a wonderful time in the shop and thoroughly recommend a visit if you're ever in Wimbledon for the tennis, or are looking for something to take a day trip to. Next up tomorrow: Sharp Works.
Much love,
Corrie xx