The start of my Serenata giveaway started here – I recommend you go and read that before continuing. I was gifted a chocolate hamper by Serenata, and they have also offered to share the hamper with you, my lovely readers.
If you already know what I'm on about – continue onwards! Please do not comment on this blog post to enter the giveaway – only comments on THIS post will be counted as entries.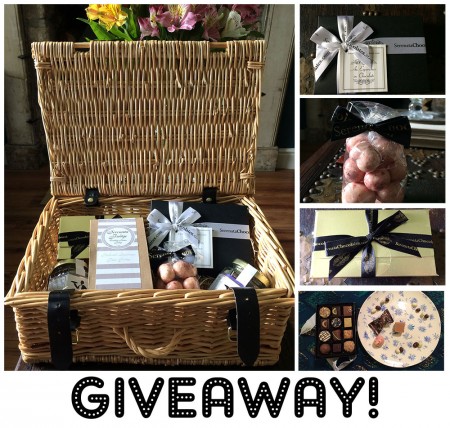 Serenata Gift Hamper
The reviews of the other chocolates can be found in part one and part two – I recommend you read those as well.
Premium Chocolates
I was most excited about these chocolates. We couldn't find a key to flavours and ingredients, however, which would have been nice – especially as a white truffle type thing that we tried had a liquid centre that went everywhere when mum, dad and I cut it into threes and tried to share it! (I know, you wouldn't normally share like that, but we only had one of each flavour to try!)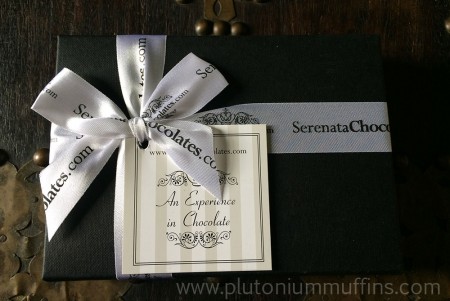 I can't tell you what we had, therefore, but here are the reactions anyway.
Mum – [white topped chocolate with sprinkles] "I can't talk, it's too delicious! It's kind of a milky mint flavour." [white truffle shape topped with coconut] "Lovely, the toasted coconut is great."
Dad – [white topped chocolate with sprinkles] "This needs a story. It has a wonderful aftertaste!" [white truffle shape topped with coconut] "It has an almost liquid centre! It's kind of salty. Lip-smacking."
Brother – [milk chocolate truffle appearance with chopped nuts] "I need more than one! It's very sweet, a bit too big, nice and peanuty."
John – [milk chocolate appearance] "Yummy yummy yummy! I like that a lot, it's like a super-charged After Eight. I need ten! No, maybe five…no, ten!"
Corrie – [white topped chocolate with sprinkles] "Fantastic blend!" [white truffle shape topped with coconut] "Mmmmmmm….the coconut is very strong."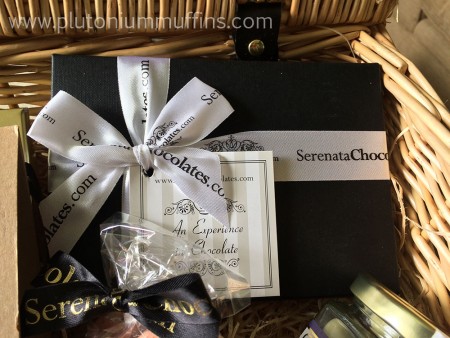 The box is nice and heavy, which is always a good sign! Wrapped with black ribbon and beautifully laid out, the chocolates look absolutely divine. I only got to try the two that mum, dad and I shared, because these went the fastest of all the treats. As a selection, it was grand!
The Summary
My dad and I both chose to have another truffle, while mum and my brother had a strawberry. John loved his supercharged After Eight, but if he couldn't have another one of those, he would have a strawberry. My brother said he might buy the truffles as well as the strawberries if they were available separately.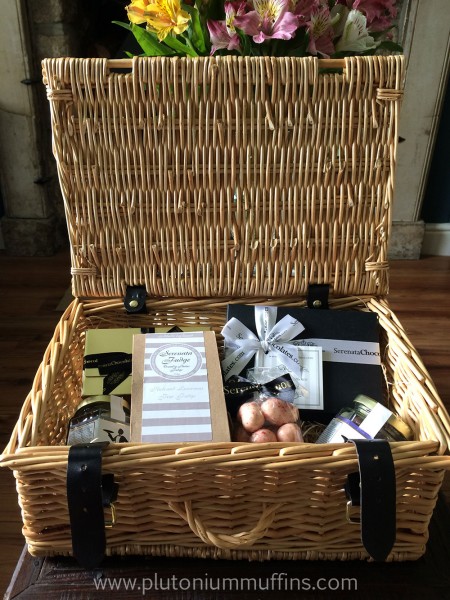 The verdict was that the truffles and strawberries were the best, with the strawberries the first thing to be finished completely. The box of chocolates were also brilliant, but harder to review because there were so many different flavours (about ten). The only thing I think we might all leave were the peanuts and raisins – but as I say, nobody tried the 'handful in one go' approach, which I think would yield different results.
The outer packaging was lovely, but the inner packaging could do with a bit more finesse. As an individual item, I would want the truffles and strawberries to be in slightly more 'expensive' looking bags, and the box of premium chocolates definitely needed a key. However, as an entire package, I loved loved loved the whole thing, and I am feeling ever so honoured that Serenata chose me to send the hamper to for review!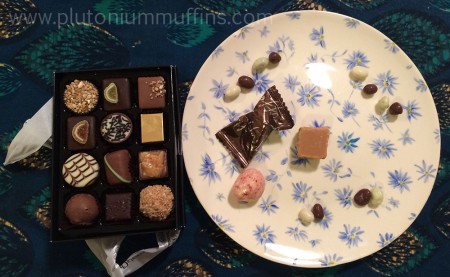 I can imagine sitting next to the fire of an evening, with a small glass of whiskey and a box of the truffles next to me, knitting in hand and something good on the TV…what a way to spend an evening that would be!
I imagine any of their other hampers would be great value – we were all surprised at the cost, which is very reasonable for the super quality (£40), and if I ever need to send a gift hamper, it will be an easy choice for where to go.
The Giveaway
I am absolutely delighted to say that Serenata have offered one of you lovely readers one of these chocolate gift hampers of your very own! I am so thrilled to be able to offer you all this, and I think you will love it – so here's how to get your hands on one.
Head over to the Serenata website and check out their products. Then come back to the blog and leave a comment on this blog post about the competition, saying which of these you would buy, and for whom! Up to three bonus entries will be awarded to those of you who share on social media, provided you tag it with #plutoniummuffinschoc so that I can find your share.
The giveaway will run until the 21st of October 2015. You must provide me with your email address or another way to contact you in order for me to notify the randomly drawn winner and get their address. If the winner has not contacted me by the 31st of October, I will redraw.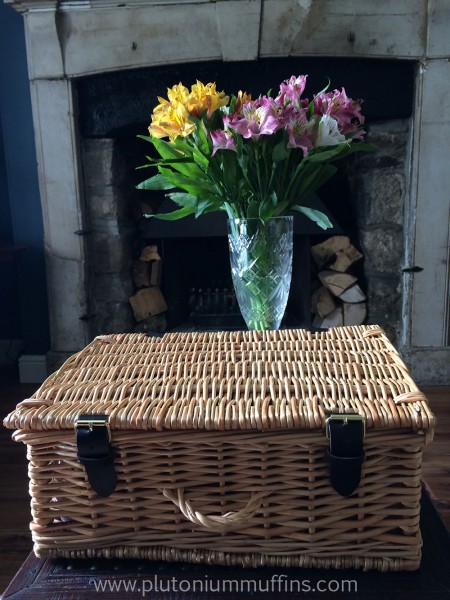 Unfortunately, this giveaway is not open to non-UK residents as there are complications with postage. Please do feel free to take part anyway – I will draw International contributions separately and one randomly chosen participant will receive a little surprise from me in thanks.
Good luck! Don't forget to comment HERE to ensure your entry is counted.
Much love,
Corrie xx