This Sunday saw me attending the Muse Connection: Volume One at Drink, Shop & Do in King's Cross. This was the inaugural event for The Muse Connection, a collaboration between Kate of A Playful Day, and Helen Stewart of Curious Handmade. For more information, check out their websites.
Before you head on to find out what we got up to, please note that tickets for the Muse Connection: Volume Two will be going up on sale soon. Keep an eye out for them – they will go quickly. You can sign up for notifications here.
The Muse Connection: Volume One
Drink, Shop & Do is a crafty cafe in Kings Cross, on Caledonian Road. To find out more about the venue and its programme of events, check out the website HERE. Suffice to say, it's an arty place with cake, tea and a beautiful building – perfect for a collection of yarn lovers.
I live very close to the venue – it started at 2:30 and went on till 5:30. I hung around outside because I was super early (I was on the phone to my gran in case you're wondering what I did) and when I entered at 2:20, the place was already packed. We were in a room right at the back, through the cafe, which had a huge disco ball hanging in it – brilliant for the party!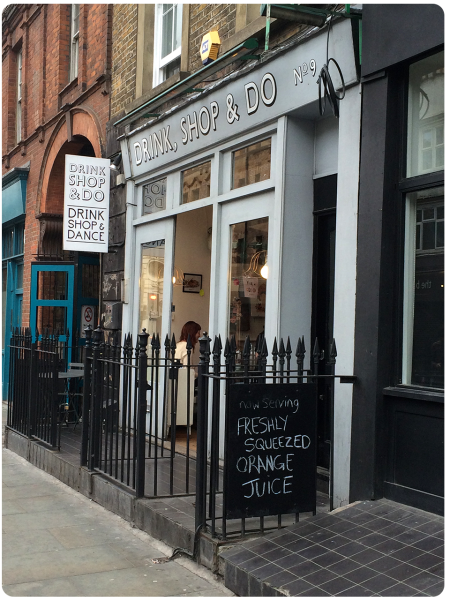 I sat on a table with the wonderful Irene, as well as two other ladies whose names I unfortunately do not remember! Disaster. One of them had a very cute little baby boy who was nine months old and adorable. He was very, very good and a pleasure to make silly faces at, haha.
After a while of simply sitting, knitting and drinking tasty tea, cake arrived! What could be better? Helen then gave a lovely talk on the theory of colour. It was fantastic – I recorded it on my phone, and unfortunately the sound quality was terrible. From my notes, I can tell you the most interesting fact I learned – in order to help you decide whether not certain colours go together in terms of their greyscale tone (or "value"), you can take a photo of the yarn together on your iPhone to check the contrast. This should be done on the monofilter. Handy tip!
When Helen had finished talking and showing us her samples (she held one up as an example of terrible colour-matching, but I would have matched the same colours and I don't think they were bad…clearly it's subjective!) we continued chatting.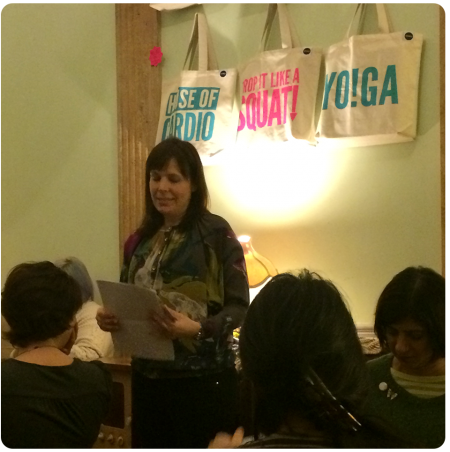 I may be wrong about when the cake arrived – it may have been at this point. I'm mentioning it again, because cake!!
We then had a yarn swap. Kate wrote a fantastic blog on hosting one of these – check it out here. I came home with a wonderful array of yarns, which I will do a separate blog post on later. Suffice to say, it was incredibly exciting and made me almost giddy. This was the only moment of the day I suffered any anxiety…which is a testament to the great atmosphere of the event, and the buttons that new yarn pushes when I see it!
Following the yarn swap, a lot more chatter and some more tea, Kate gave a closing speech to indicate the end of the event. This was also wonderful; very different to Helen's talk on colour theory, but just as inspiring. Kate talked about community, knowing who 'your people' are, as well as how we can all support each other in our creative exploits. I'll talk more about that in yet another blog post – but in the meantime, check out the Just a Card campaign.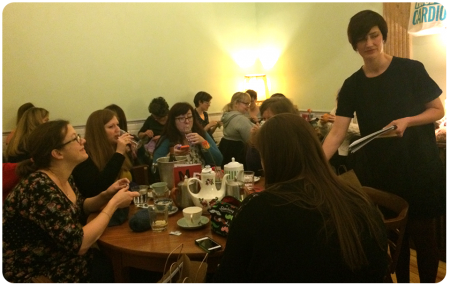 Many people started packing up and leaving at the stated end time – after a cup of coffee and turning the heel on a sock, I was well prepared to spend some time sitting with other knitters and chatting until late. However, with sore feet from two days of the Knitting and Stitching Show, and a busy week ahead, I decided to do the sensible thing and go home.
I am definitely going to go to Volume 2, which will be held in one of my favourite pubs…what a wonderful new community has been created, and I am determined to become a regular member of it. I hope to see you there!
Much love,
Corrie xx