I know I said I would post this finished object post about Naloa yesterday, but I didn't quite manage to get the photos done in the time that I thought I would! So it's a day late, but there we go. I also didn't get any photos of it on, as John was away and I'm not so good at full-body selfies!
I finished the shawl on May the 6th, making it just under two months from start to finish. I took a big break in the middle while I tried to get the heel on a pair of socks turned, but after seeing Reneé wearing hers during a lesson at Wild and Woolly I was inspired to get it finished!
Naloa
Just in case you've missed all of my discussions on this topic before, Naloa was designed by Reneé Callahan of East London Knit. After having spent many hours working on it and finally realising I had no idea why the pattern was called "Naloa", I decided to ask.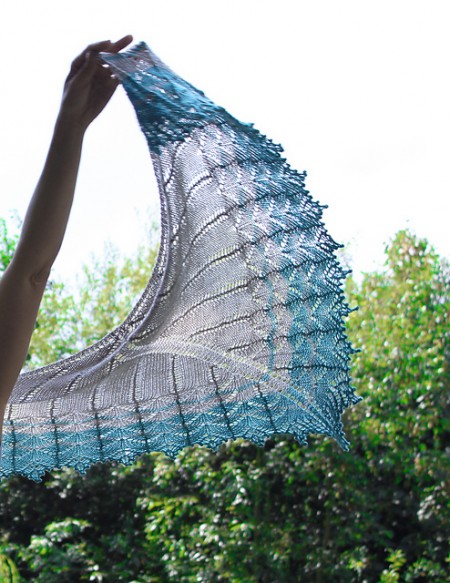 The Naloa shawl had a water-based inspiration and Kanaloa is the Hawaiian ocean god…a bastardisation of a deity name:) @plutoniummuffin

— EastLondonKnit (@EastLondonKnit) April 29, 2015
The pattern was released in July 2014, and shortly afterwards, Reneé and Linda of the Kettle Yarn Company had a knitalong. I missed this, as I did not have the required yarn and by the time I could afford to order it, the KAL was over! The pattern was designed in BEYUL, a 60% merino, 20% silk and 20% yak blend from Kettle Yarn Co – the colourways used in the original design were Yurt and Turqouise.
Yurt is the undyed version of BEYUL, and you can see from the original design that it is rather grey. This is due in part to the black fibres that are blended in the yarn. The colourway that I used, Electric Aramanth, is a very vivid pinky colour – but a certain depth is lent to the colour by the black fibres that you can see running through it.
As well as my BEYUL skein, I used a skein of Westminster, another Kettle Yarn Co yarn that I bought at the first PomPom Christmas party. This is a grey yarn flecked with spots of purple. As discussed in this post about colour theory, the two did not go together as well as I wanted them to; but I soldiered on anyway.
When I reached the second colourway, I realised I had a lot of the skein of Westminster left; by the time I reached the point at which I should have bound off, I realised I also had a lot of BEYUL. I spent a long time extending the original chart, and after hours of daft confusion and frustration, I managed to sort it out.
I finished the shawl with 27g of Westminster left (319 yards) and 7g of BEYUL (372 yards). I was a bit worried about how the different fibre contents of the two yarns would interact with each other – but they are fine, and the shawl is wonderfully comfortable! John compliments it each time he sees it, and although I haven't worn it out yet, I'm looking forward to having a stunning piece of knitting to show off at the next event!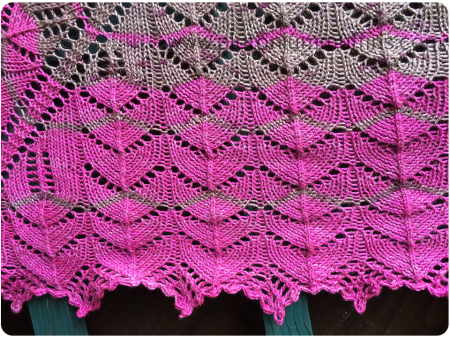 I'm super pleased with this, the pattern was perfect with no errors that I could find, and very easy to follow, and I cannot wait to start knitting with more KYC yarn and ELK patterns. I recommend this as an easy lace project – I wanted to do it as a warm-up to a Belinda Harris-Reid design, and it was absolutely perfect.
Have a great day!
Much love,
Corrie xx