I thought I would tell you about Foxy Loxy, the Joeli Caparco pattern that I knitted up and sent to New Zealand for Baby Oliver, the newest arrival to the family! I have not managed to get a photo of Oliver wearing the jumper (and I'm not sure if I would have been able to post it anyway, I'm not sure where the parents stand on sharing photos but if they asked me not to share it, I wouldn't). Anyway, I thought it's about time to do a finished object post!
Foxy Loxy
I met Joeli at Edinburgh Yarn Festival, first making the acquaintance of her lovely husband, then meeting her. I enjoyed having a look at her stall, and fell in love with two of her patterns. By this point, I had spent all of my money (I don't know if I ever mentioned I bought a loom?) and decided I would have to go withdraw a bit more from the Magic Machine so that I could knit the two jumpers that I loved.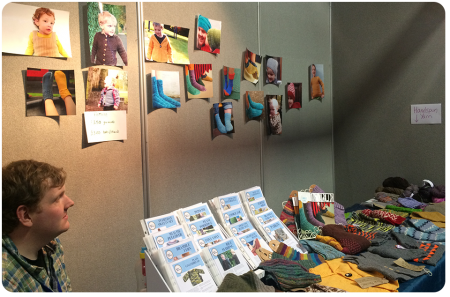 Joeli gifted the patterns to me when I found myself sitting next to her on the sofa in the Podcaster's Lounge – the wonders of Ravelry! When I asked if she would send me a PayPal invoice, she refused, and I am super grateful to her.
So, the pattern. Foxy Loxy is a colourwork jumper designed for small people from newborn to 5 years old. It's knitted in a DK yarn, in the round. I bought some Sirdar Snuggly in cream and a light brown, and got going. I used 3.75mm needles for the rib and 4mm for the main body of the pattern.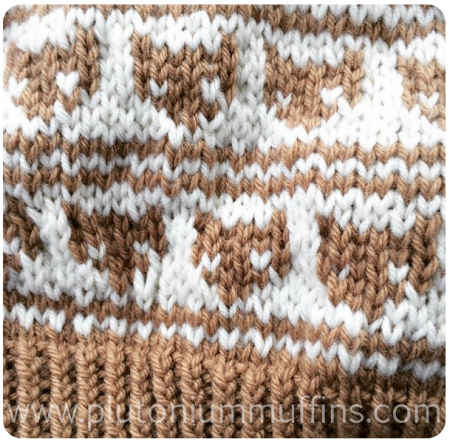 You can see how uneven my knitting is! This was version one, and I was having real trouble with the colourwork. I do stranded knitting with the main colour in my right hand, and the contrast in my left knitting continental. I'm not great at continental knitting (more on that another day), and the tension was unbearable. You can see how very uneven the stitches are in the bands separating the two rows of fox heads too.
I couldn't bear it. I got to the armpits of the jumper and ripped right back to the ribbing for round two. The second time it was much better and I got to the actual end of the jumper! However, I was weaving the stitches in the back every two stitches, as I was worried about little fingers getting caught in the floats on the back. This was a big error – when it came to blocking, there was just no give because the floats were caught in the stitches, so it didn't really even out. The pictures show just how lumpy my finished object is (and how there is a learning curve to using blocking wires).
This slideshow requires JavaScript.
I posted the jumper to New Zealand, and it arrived a few days after Olivery was born – but as it probably won't fit him for a good few weeks yet, I don't think it matters too much! I'm now looking forward to knitting the other pattern Joeli sent me, the Everyday Sweets Pullover, which was launched as an individual pattern at EYF.
---
Just as a side note – I posted a blog on the state of my mental health the other day and I just wanted to follow up. It would seem I jinxed myself by writing that I had had no panic attacks, and the last two days have been full of anxiety from an unrelated direction, complete with panic attacks and all. I've been working on Kelpie by Jared Flood – the rhythm of endless garter stitch has been providing me with a bit of a tonic to the anxiety! Thank goodness for knitting.
Much love,
Corrie xx