I took my wares from Coranda.com to a craft fair this weekend – we were at a folk festival and we managed to sell two toys! I was actually quite pleased about that – people I have told about it have been shocked that I only sold two, so I thought I'd explain why I was pleased about it.
I'd gone to the wrong place. There wasn't really anything on my stall that would appeal at a folk festival, apart from the Pixie Coat – and I'm doing them on commission only as the overheads on the sweaters are quite high. I need to sell at craft fairs where the emphasis is on craft – rather than, for example, a music festival where it's a sideline.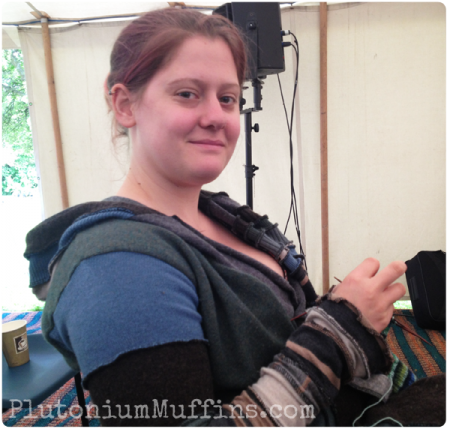 This doesn't put all music festivals off the radar – the one I'd chosen was just too small with the wrong target audience.
Things I have learnt about craft fairs
This was only the second fair I've been to, so I'm quite pleased it was a bit slow. I've learnt a lot about them – here are a few lessons that I've picked up.
Make sure you are well prepared. The morning of the Modbury Fair I was freaking out. This probably has something to do with my high anxiety, but there was a lot I could have done to make it easier for myself.
Work out how you are going to display your wares before you go. I was still setting up this weekend when I was trying to sell, and I wasn't at all happy with my set-up.
Take loads of change. Borrowing change off other stall-holders is not cool.
Take bags for people who want them. I ordered brown paper bags, but you don't have to go to all of that expense – recycled carrier bags from supermarkets are also fine. Not having them can be annoying for your customers.
Take photos! I have no photos from this weekend, so I have no visual record of how it went. I think this is really important, so you can review it later.
I'm sure there is a lot more that I can say, but I'll leave it for another time. I've got a commissioned pair of socks that I only have two weeks to make, and I need to get on with some pattern searching!
Much love,
Corrie xx