Saturday found me in Brighton with a group of Yarn in the City fans, for the Brighton Knit and Make Social! This was a mini-crawl to Brighton, with a few shops, some good knitting time and some great cake involved…
This weekend has been something of a Yarn in the City bonanza, as a group of us also ran the Nike Women's 10km in Victoria Park! I got a personal best, was rewarded with a glass of champagne and two new tote bags (because you can never have enough, right?), and John took me out for a tasty good lunch to celebrate. See you at the next one?!
Brighton Knit and Make Social
We all met at Brighton Train Station early in the morning and caused a ruckus on the concourse with knitting, shopping trolleys and a desperate need for coffee, amongst excited chatting. I was thrilled to meet some lovely new people, and also enjoyed seeing some old friends that I had not expected to see. After waiting for the last few trains to arrive, we set off on our quest with joy.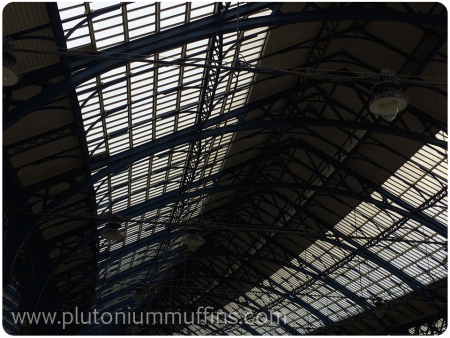 Brighton Sewing Centre
The first stop was the Brighton Sewing Centre, a lovely little fabric shop. With some of the brightest and most fun fabrics I've seen, as well as an amazing selection of machine and equipment, this shop was something of a revelation. There were boxes of buttons, reams of ribbons, row upon row of lovely prints, and I was sorely tempted to blow my budget without blinking an eye in here.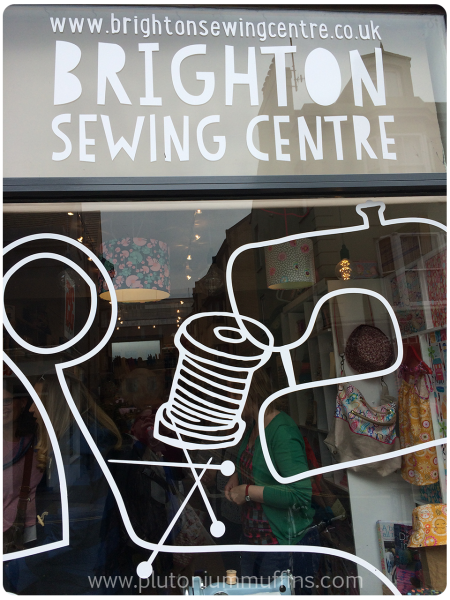 A demonstration of an electronic embroidery sewing machine meant that all of us (around twenty) wanted to have our names embroidered so we could enter a competition. I'm loving my little strip of fabric, which I am supposed to be sending off to enter the comp….the jury is out on whether or not I will do that!
I managed to be fairly restrained, and apart from buying some sewing machine maintenance bits and pieces (at an incredibly reasonable price), the only unnecessary purchase here was a meagre £2 worth of beautiful pink shell buttons.
This slideshow requires JavaScript.
Ditto Fabrics
There followed a quick walk through the streets of Brighton, squeezing between vintage jewellery sellers, sheepskin rugs, coffee shops, buskers, other visitors, and we arrived at Ditto Fabrics. Another fabric store, this also had an amazing selection of different fabrics. They were less whimsical than in the previous shop, but no less amazing because of it.
I spent my time in this shop pawing through the selection of off-cuts, emerging triumphantly with three lengths of linen that I intend to use for embroidery. The amount of time that I spent elbow-deep in fabric is indicated by the fact that I only took two photos…and not particularly informative ones at that!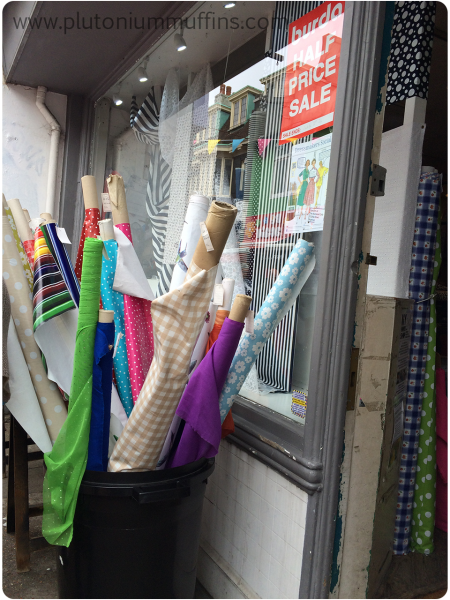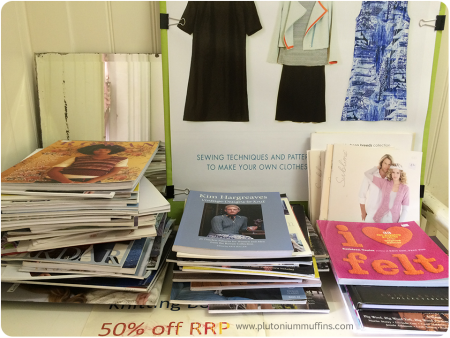 The rest of the group had a fab time here, with Alli buying a ridiculous amount of awesome fabric that I will not describe as it will go towards her outfit for this years Great London Yarn Crawl, so you'll have to wait until then to see it! Linda of Kettle Yarn Co also went slightly mad (in the best possible way), and we left her to it clutching bolts of fabric to herself while we wandered off for some lunch and knitting.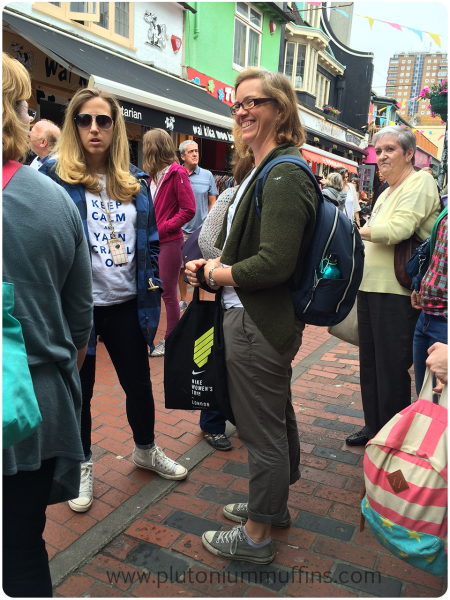 Lunch
Some brief backstory here; the night before was John's leaving drinks, and I had consumed rather more than my fair share of beer. As a result, energy and appetite were low. When lunch was suggested, I was initially going to stop and have a cup of tea, then wait for my stomach to settle…and then I walked past Cloud 9 bakery.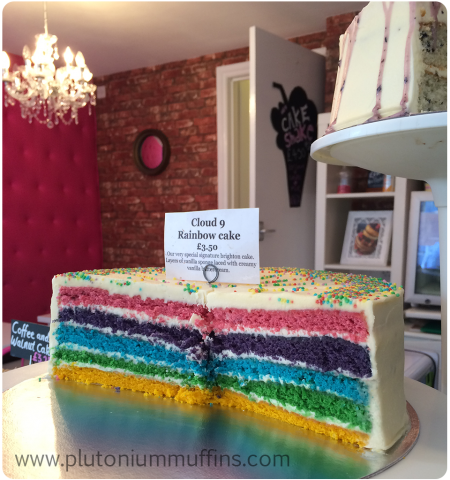 I don't think anyone is surprised that I bought this for my lunch. It was vanilla flavour, supercharged with sugar, and totally, totally delicious. Of course, it was also ridiculously rich and left me feeling that I had preferred my hangover to this particularly substance abuse, but cake.
We ate in the park outside the Royal Pavilion, which was absolutely beautiful, although there were a lot of seagulls trying to have a go at our food. We then sat for about three hours knitting (boy did I get a lot done…). Then it was off to…
YAK
Brighton's hub for the knitting and crochet community, YAK (short for yarn and knitting) is run by the lovely Kate. I have so, so much respect for what she has achieved. The shop opened in January 2015, and as well as having some rather exciting sounding parties of the launch type, also has an A-list of guests and teachers visiting from time to time.
I won't go on about the yarn stocked too much as the website is excellent – here are some photos though!
This slideshow requires JavaScript.
Once we had all had some time to peruse the shelves, Alli and Rachel announced the door prizes. These were sponsored by Erika Knight, Lioness Arts, The Uncommon Thread and Yellow Bear Wares, and won by a bunch of very deserving people. Danni, Ce and Claire of the last three sponsors respectively were all in attendance, and Claire had her Yellow Bear Wares wares set up for us to have a paw through.
This slideshow requires JavaScript.
I ended up buying two skeins of Life in the Long Grass sock yarn in the bramble and atlantic moss colourways. I intend to weave these, and am looking forward to showing them off when they've been turned into something beautiful. I had a lot of fun choosing the colours – I feel in love with bramble and spent a long time picking the solid colour to go with it. Suggestions ranged from lemon yellow to bright pink…I can't wait to see how it comes out.
I had a great time, and can't wait for the next YitC event. We had amazing goody bags sponsored by Fripperies & Bibelots, Soak and Porpoise Knits Designs (Rachel), and a great bunch of people in Brighton. YitC do a knit night in Clapham Junction on Wednesdays from 7 pm, which is great fun (although it takes me a ridiculous amount of time to get there) and I recommend anyone looking for a new knit night in London gives it a go.
Here's a quick heads up – the Great London Yarn Crawl tickets go on sale on the 1st of July, and sell out quick. You can sign up to their newsletter to find out when they're on sale, check out the website.
I hope to see you out next time!
Much love,
Corrie xx