Last week my WIP post showed my BRO socks as a mystery knit – I can now share them with you as he knows about them. Happy Birthday for yesterday brother!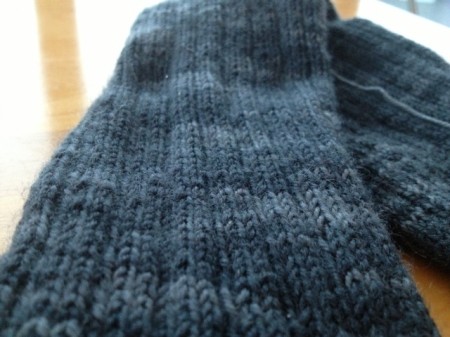 I'm writing this at 6:30 am and I'm feeling absolutely miserable today. I'm sure I'm coming down with a cold but I've taken so much Vitamin C, slept for hours last night (I was awake for one hour after work – to eat some dinner) and generally pretended I'm not ill and it seems to be staying at bay.
BRO Socks
I am once again using Regia 4-ply to make the BRO Socks. I love Regia sock yarns. I've said it. If you want to make me happy? Buy me some Regia sock yarn. Honestly. (I need two balls for a pair of socks! Heehee.) And if you haven't tried this yarn? Go and buy some. Now.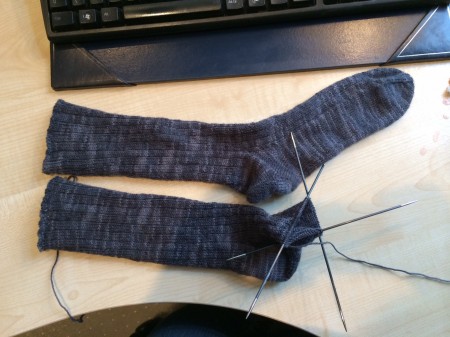 The pattern I'm using is Basic Ribbed Socks [free!], as I did for JS' Boyfriend Socks. This is a really great pattern that just churns out and is easy enough to sit at Knit and Natter, on the tube…in fact, this is the story of the socks as I sent him yesterday when I was 'fessing up to the fact that I hadn't finished them on time…
I have a pair of socks for you. Well, I would have a pair of socks for you if I hadn't unravelled half a sock because I had done it all wrong while at Knit Night.

So at the moment you have one and a half socks which have been to an Einaudi concert, an Ellie Goulding concert, a wedding, a number of band rehearsals for your little sister's trip to Brazil, on the tube to and from work for the last three weeks, Knit Night at one of the most famous of London's yarn shops where I met a man knitting socks for his wedding…

They sure are well travelled!
So that's it for these guys. They're my only WIP at the moment and I hope to finish them tomorrow or Friday at the VERY latest. (Monogamous knitting? Woah!)
What are you working on?
Much love,
Corrie xx