I started Capucine, a delightful bonnet-style hat, just after Hallowe'en when I had decided to knit an obnoxiously orange accessory. I cast on and was steaming away with it, when I headed off home for a weekend. This is a free pattern which you can download from Ravelry, and very easy and well-written if you want to try it out!
We went down for a wedding, so I took only simple projects with me in case of over-indulgence by mouth (of which there was plenty, it was a wonderful wedding). Beautiful bride Sal of Sal's Kitchen wore the most awesome wedding shoes I have ever seen – bright red Converse to go with her shrug!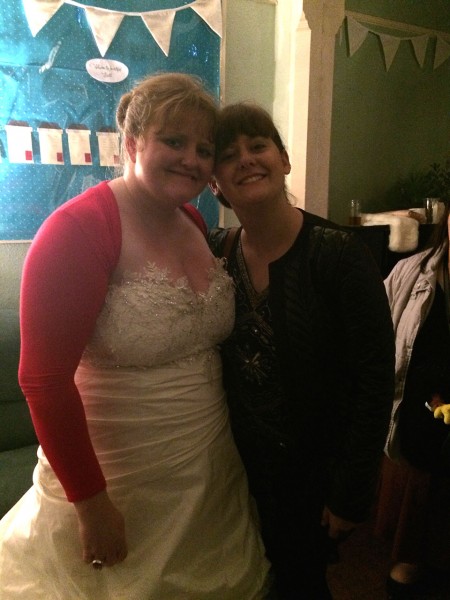 Capucine
I finished Capucine in a halo of hangover (are you surprised?) and just as I was getting ready to pack it away and take it back to London, I tried it on. I don't know if you've ever seen this pattern; I was inspired to knit it after Christine did it maybe a couple of years ago. We had great fun at Loop one Knit Night, with Linda of Kettle Yarn Co doing a wonderful job of modelling that hat!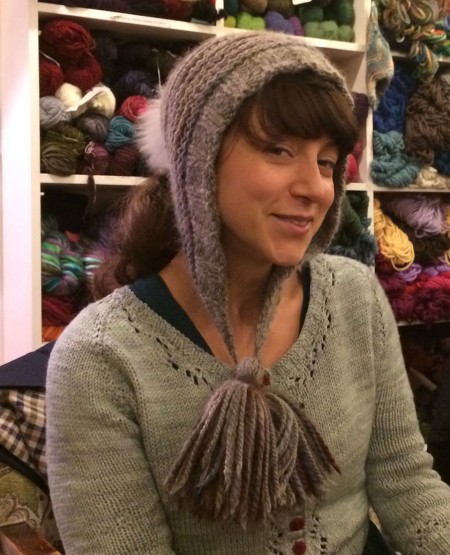 It turns out that John didn't like the style, at all. This was a bit disappointing to me – I wear my hair in a clip which means that wearing traditional hats are a bit hard to wear when I have my hair up. I have to make a choice between having my hair down and wearing a hat usually, and I thought this would provide the perfect solution.
At the same time, my gorgeous grandmother was visiting. This is the one who saw my Towersey Shawl and admired it aloud, prompting me to give it to her…she didn't really admire the hat aloud, as such, but just asked for it. A bit shocked, I agreed, on the proviso that this was to be her Christmas present – the hat never made it back to London with me!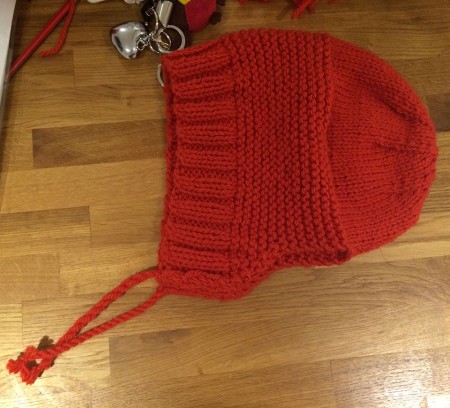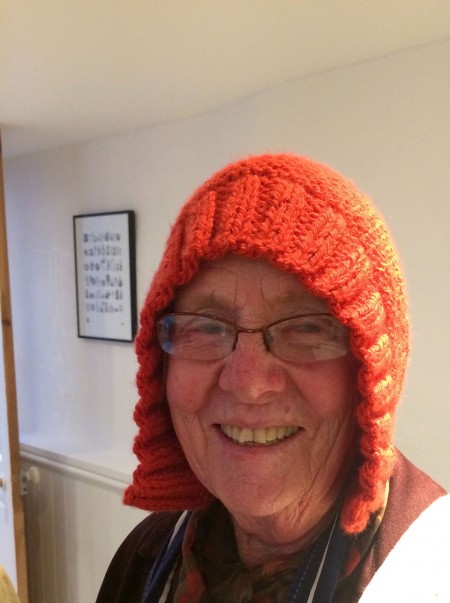 For Christmas, then, I printed out a photo of Gran wearing the hat and gave that to her. She assured me she loved the hat, but has found the back of her neck getting very cold when she has been trying to wear it. I now have it back in my possession and am thinking up ways to pick up stitches along the back to give it a flap so it will make her neck warm.
I think I'll probably do that sometime this weekend when I want some mindless garter stitch to get on with. I'm looking forward to it!
The yarn was King Cole Magnum lightweight chunky. It was very good value, but full acrylic and not a yarn I would choose to buy for myself again. I am falling ever deeper in love with natural fibres. I used about 1 and a half balls, so I expect by the time I've added a flap at the back, the yarn will be gone! That'll be about 240 yards.
It was a quick knit, and I'll definitely be doing another one! Unfortunately for John, I like it too much not to wear one myself.  I'm looking forward to having tidy hair and a hat I can wear too…
Much love,
Corrie xx