For Christmas a few years ago I got Sew! by Cath Kidston from one of my friends. I've made several projects from the book – but I hadn't yet tackled the giveaway as I never seemed to have the time! To explain, this book normally comes with the fabric pre-cut for one of the projects within the book – mine was an adorable little handbag.
As I have not been able to knit for a while, I got my sewing machine out last week and the bag finally emerged. It is, of course, a new project bag. I love it!
Cath Kidston Bag
The pattern was easy to follow, and I like the fabric. I probably would not have chosen something so obviously CK…but I guess there was no way of getting out of that! I have received many compliments from people, all saying "It looks like a Cath Kidston bag!" You know a brand has made it when…
It has been a while since I sewed on my machine, so the control of my seam lines went a bit awry and it's not exactly straight in places. It's all about practice…the only aspect of it that I'm very unhappy with are the button holes, which are extremely untidy. More care required…and more practice, right?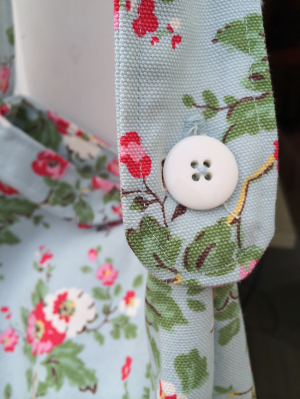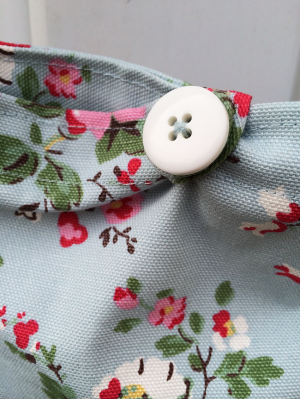 I'm now in the process of doing a Craftsy tutorial using a dress, and I've gone a bit Great British Sewing bee mad too…don't worry, sewing won't take over my heart, but I'm definitely enjoying diversifying my crafting a bit. Hopefully you will all be seeing me wearing dodgily stitched dresses and accessories soon!
That's it from me for now. Pippin has got his own blog so that Plutonium Muffins doesn't become a 'knitting and hamsters' blog, and you can check him out here. I can't resist posting one last photo of him for you all…look at that FACE!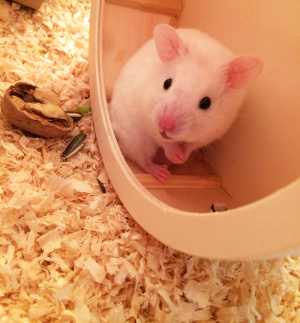 Much love,
Corrie xx