I want to tell you all about the Dragon Yarn, and I looked on the project notes on Ravelry…then noticed I have no blooming notes! So some of the figures for the yarn are inaccurate because I'm not unwinding the cake and rewinding it on my niddy-noddy to accurately find out exactly how much I have!
Dragon Yarn
This started out as 100g of Manos del Uruguay fibre in the Wildflower colourway (8931), as stated previously. I spun up the singles starting on the 1st of October 2014, using my Lacis Drop Spindle, bought at Hulu Crafts. When I decided to start spinning it again, I switched to the spinning wheel as the whorl on the drop spindle was too large for the weight of yarn I wanted to spin.
That probably sounds like Greek to you if you are not a spinner. Basically, I wanted to spin the yarn up so the single was relatively thin, and the weight of the bulby bit at the bottom of the spindle kept making the single snap before I could stabilise it. More practice needed!
It was a dream to spin up on the spinning wheel. I had to pre-draft the fibre to get the thickness that I wanted, and all-in-all the process took about nine hours. I have no idea if this is good or not – any thoughts? I navajo plied the single to preserve the colouration – and I absolutely love and adore this technique. I will be navajo plying ALL THE THINGS.
Having done rough measurements, I have calculated that I have about 98 metres of worsted weight yarn. I'm still doing cold sheep for this year – so I can't buy any patterns to knit it up into. I checked out my library and found the Bridger Cowl in there; I'm still as in love with the pattern as I was when I initially downloaded it, so it's a done deal!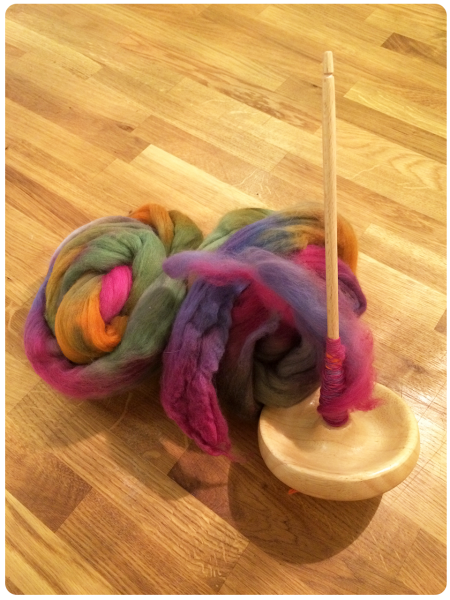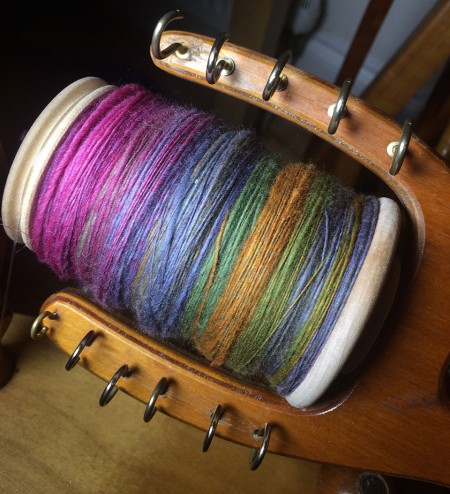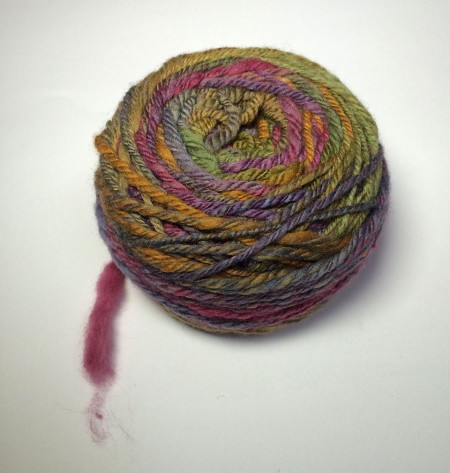 The yarn is wonderful and soft. I soaked it in the bathroom sink so that I could see if there was any colour leakage against the white porcelain – and there was, but not a lot. I'm sure the yarn will be colour-fast and this was just excess dye, although I will still be careful when I next wash it.
I'm looking forward to the cowl! England is cold at the moment and it will be nice to have another warm neck accessory…
That's all for now!
Much love,
Corrie xx