This post on Fabrications is long overdue – it has been nearly a month since I visited and took my photos! Located at 7 Broadway Market in London, this delightful little shop is full of a nice variety of yarn, general crafty things and lovely bits and bobs. John and I visited on a cold and wintery January morning, after picking up a cup each of warm apple juice (strictly speaking, you're not allowed to take drinks in the shop, but I was finished mine and John promised to sit on the sofa and not spill anywhere).
We'd just dropped Tommy the Dog off with John's sister, and I was excited to explore yarn for the first time since my "cold sheep" resolution kicked in.
Quick note before I continue – my email is no longer notifying me when I get comments! So I have to manually check it and I keep forgetting…so please bear with me if it takes me a while to get back to you.
Fabrications
I wouldn't call Fabrications a yarn shop, specifically – I had to go to the website to figure out what they call themselves, and I love the way they describe it.
Our 'Imaginerium' craft space is going from strength to strength!
The shop was opened in 2000, and has become a wonderful space for classes, exhibitions of various makers work, and a place for Barley to showcase her own work. Check out more about the history of the place here – it makes for interesting reading. The Imaginerium is actually a separate part of the shop, but nevertheless, it's a fantastic description.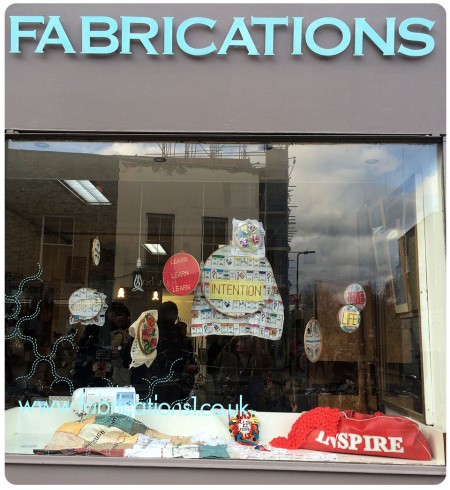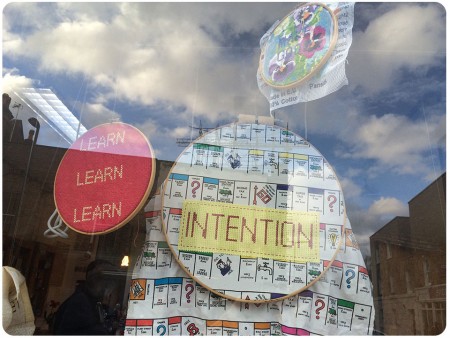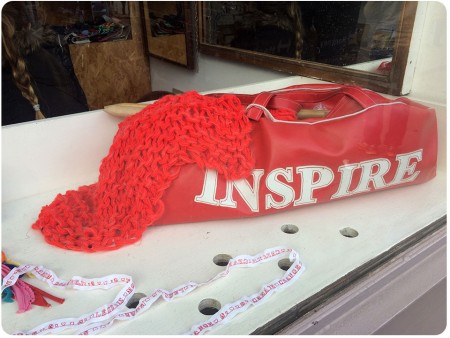 The shop is run by Barley Massey, who is a crafter and up-cycling expert – when I was visiting this specific time, she was in the process of darning a hand-knit sock with a darning mushroom! Every time we visit John's sister, who lives a five minute walk from the shop, we go in – past purchases that have made it home with me have included a drop spindle, some gorgeous cross stitch and a humorous card.
When we went in last month, it was nice and quiet and I got to chat to Barley for a while. Many of the items in the shop are directly from the genius of her mind, including the "Rethink" brand which enables you to see art in the 'things' of the world around you. The focus is on upcycling and eco-design.
With this focus, the products are unique. Along with "Rethink", a number of other Barley Massey products are available, and the collection is truly inspiring and delightful. From souvenir type cross-stitch kits to the incredible "Emotional Baggage" cards, you could spend hours investigating everything. Other artists are also featured widely – the Craftivist Collective always have a few pieces and kits on offer, and Kip & Fig also have a selection of products.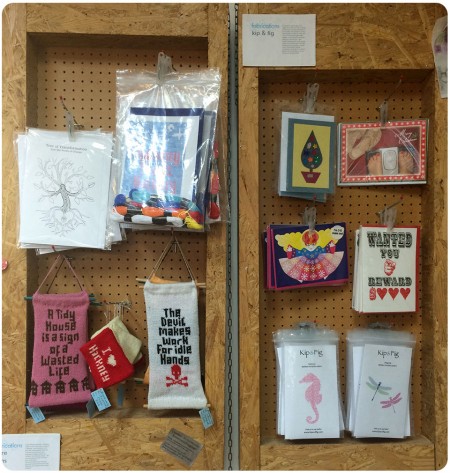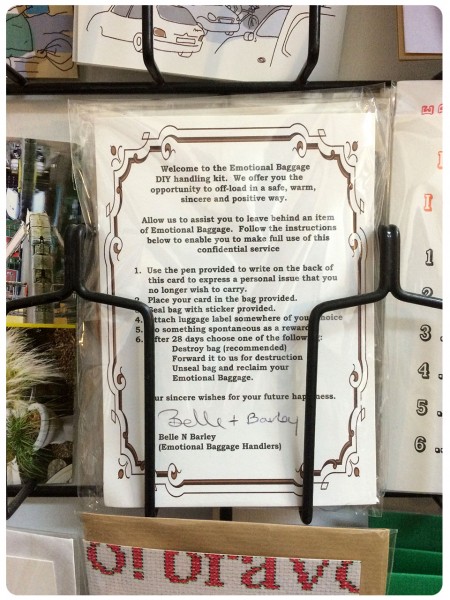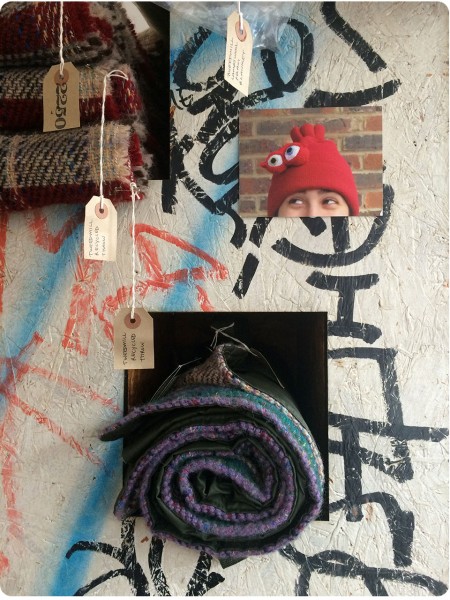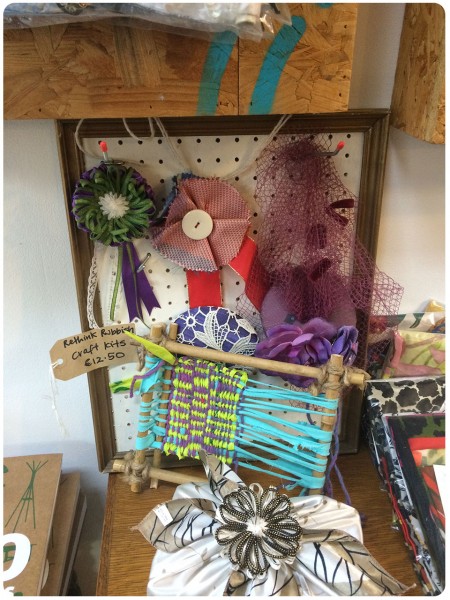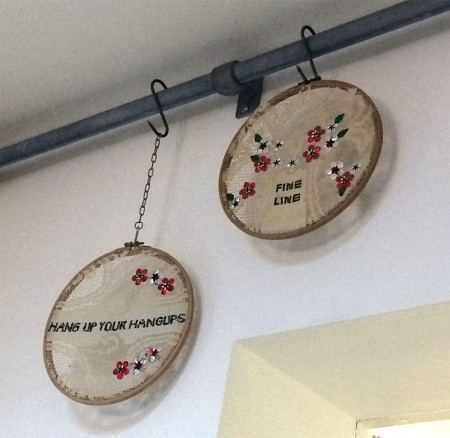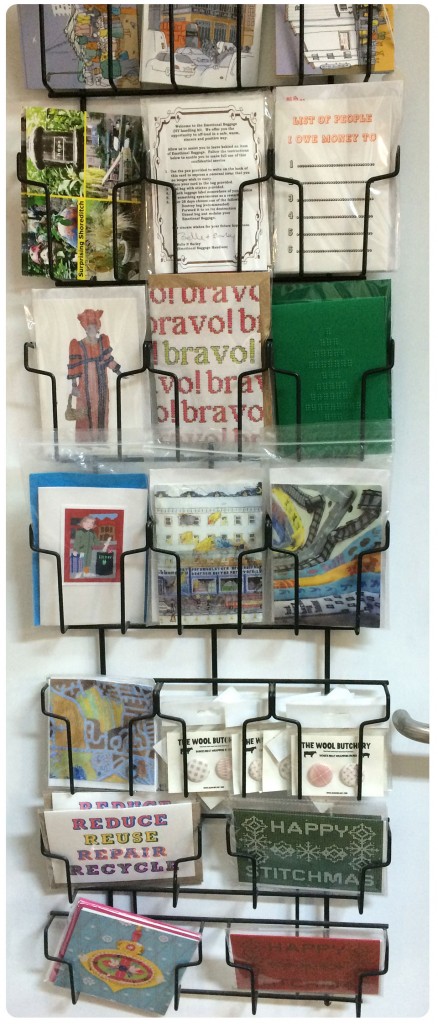 After you've feasted your eyes on all of this, there comes the yarn. In comparison to other, dedicated yarn shops in London, the selection is relatively small – but unique to the shop too. I was thrilled to find West Yorkshire Spinners yarn, the only other bricks and mortar shop I've seen it in apart from Sew In of Buxton. There was plenty of Debbie Bliss, and some great natural-coloured yarn in brands that I can't remember.
I seem to remember there was upcycled yarn as well, big balls of art yarn which would be great to make an adventurous project with. I didn't take any photos and it has now been so long since I visited that I can't remember…I'll have to go back and clarify for you!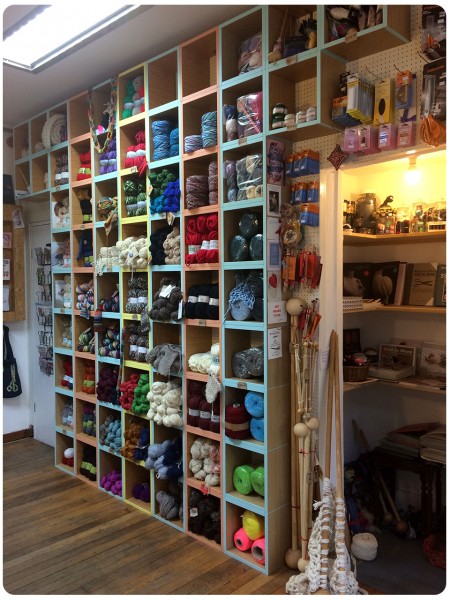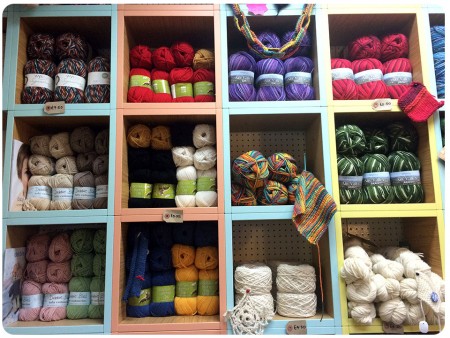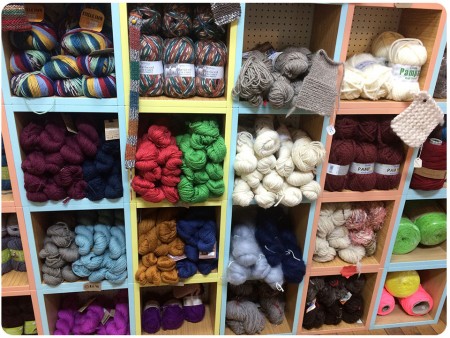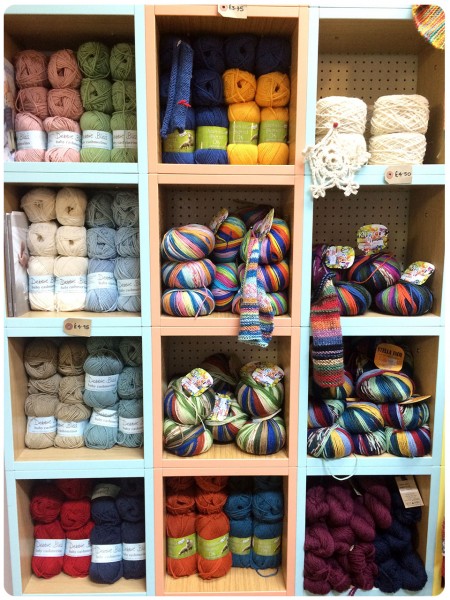 The cupboard under the stairs (definitely Harry Potter style going on) was full of books, notions and other accessories that can be used for various crafting endeavours – another treasure trove to be explored. The knitting needle selection is one of the best things in this corner – gigantic broomstick handle needles for some truly incredible big knitting.
I nearly fell off the wagon with my 'no new yarn' idea – my caveat is that I can buy souvenir yarn, and surely this visit would count…but I stuck to my resolution, I am pleased to say!
A quick enquiry about a photo of a cat brought forth the incredible Tommy the Cat, summoned with the promise of a few Dreamies. He cut an impressive figure, full of gravitas and happy to have a pat or two from me.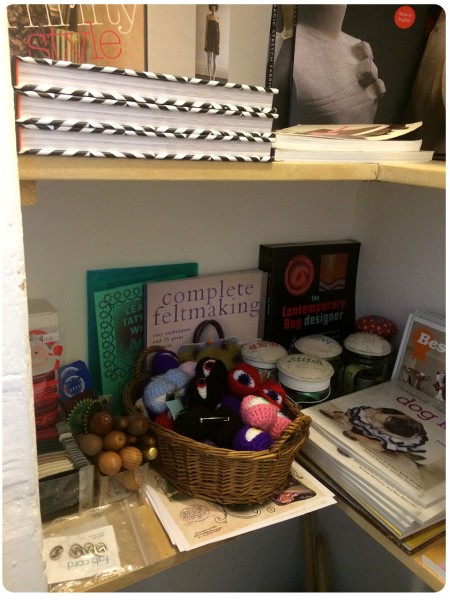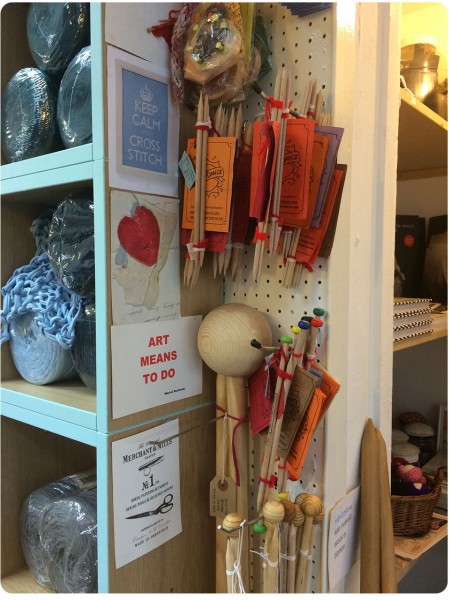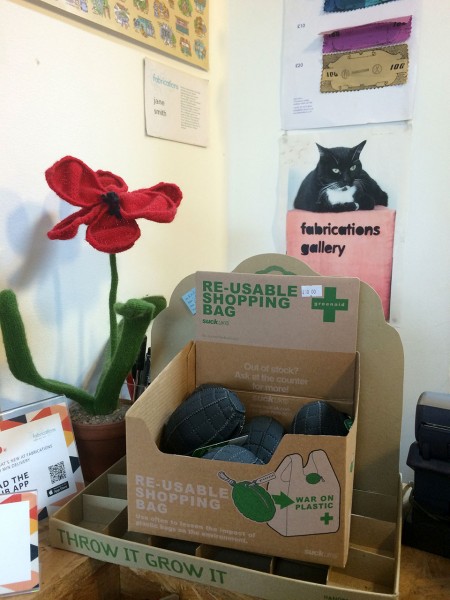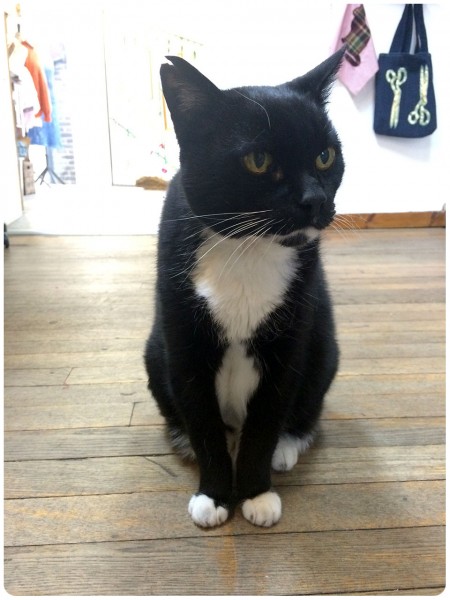 After I had taken my fill of photos, the shop filled up and I did not want to be in the way, so we headed out again. For up-to-date information on the events, workshops and education programme, you can head to the website here. Barley tweets from @barleymassey and you can follow the shop on Facebook over here.
I hope this has wakened your curiosity and you get a chance to go explore! Broadway Market itself is an amazing place to visit on market days, and well worth a wander.
Much love,
Corrie xx