I visited "Sew In" this weekend, a sewing and knitting shop in Buxton, which had a lovely yarn section in it. I ended up drooling over all the gorgeous yarns that they stock, and buying a few bits for some new projects.
We set out on a spontaneous weekend, where we just got in the car and drove North. We planned to stop for the night when we were ready, then carry on on Saturday and see where we ended up. We had two criteria – John wanted to go somewhere with a pool, and I wanted to go to a yarn shop! We were both satisfied, John in Breadsall and me in Buxton.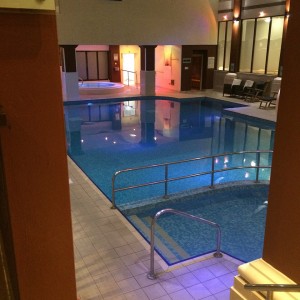 The Search for Yarn
I searched for "yarn shops in Derbyshire" and came up with a small number on Google. I searched some of their online shops, as I was looking for shops that didn't stock just your standard yarns (i.e. Rowan, Sirdar, King Cole etc), but some artisan yarn too. Sew In was advertising "Woolyknits" yarn, and as we all know after Episode One of the podcast, I have a thing for Woolyknits – we had to go!
The shop is *not* where Google Maps on iOS says it is. We drove into Buxton after saying the night at "The Bull i' th' Thorn" (which is incredible, if you're ever in Derbyshire I recommend this place) and parked at a car park near to where Google Maps said we should go to. We did not see the shop anywhere.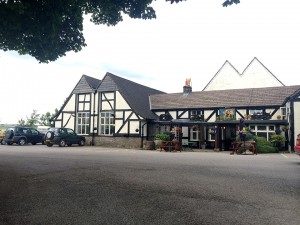 I knew it was open today (Sunday) because I had checked on Google, so we took a wander up the Buxton High Street and eventually found it. John installed himself in a next-door coffee shop (Springs Cafe) and let me have a browse.

Sew In of Buxton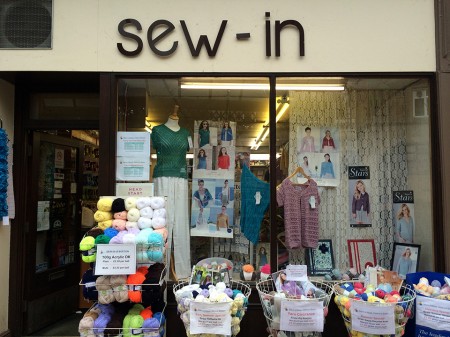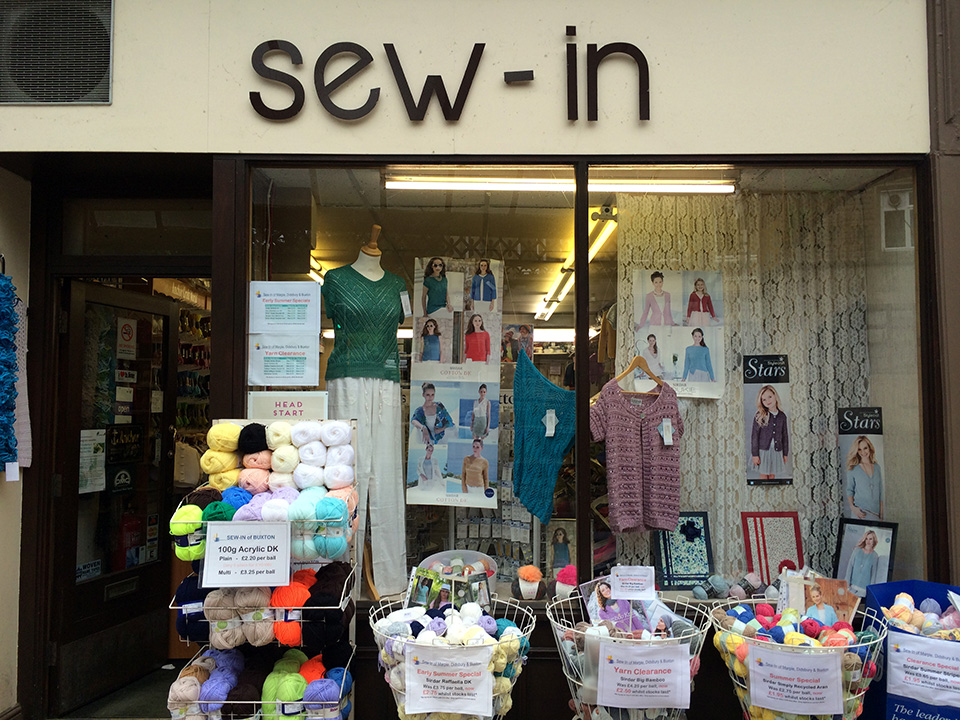 Sew In stocks a fantastic little range of yarn, ranging from your standard Sirdar, Debbie Bliss, King Cole, Rowan, Regia Yarns, Wendy and your typical 'fancy' yarns – i.e. pompom yarn and that ruffle scarf yarn stuff, with plenty more besides. It also has some artisan yarns from the bigger brands – hand-painted Rowan, some baby alpaca from Sirdar and really gorgeous Sublime lace-weight yarns. I was coveting enough of the Sublime to make this scarf, but I also wanted to get some souvenir yarn specific to this area, so I restrained myself.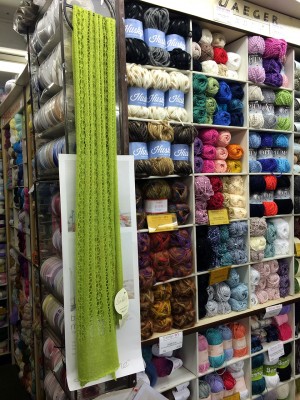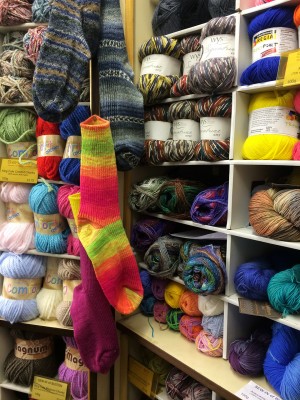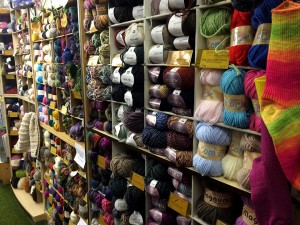 The thing that drew me most to the shop on Google was that they have a "Knit British" section, where they stock yarns that are local to the area. The West Yorkshire Spinners have a big presence, as do Woolyknits. Herdy also makes an appearance, and some of the local Rowan wools are also pointed out. Jarol and Wendy yarns are there too! They have leaflets talking about how fab it is to knit British yarns, and I was so pleased to find a shop that supports that particular part of our industry.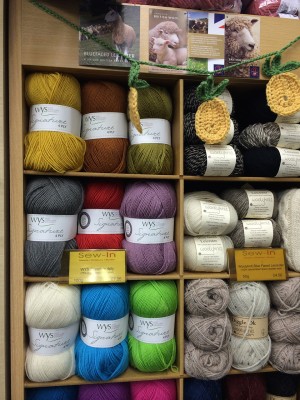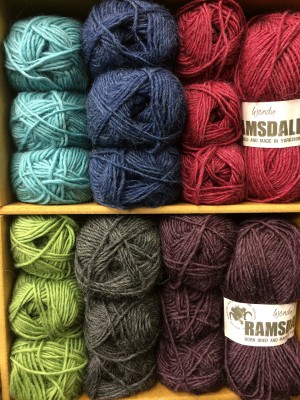 Unfortunately, I wanted a 4-ply for a shawl or a pair of socks, and the only suitable yarns were a blend of nylon and wool. The one I went for is 35% Blue-Faced Leicester, 45% some other wool and 25% nylon. They had some gorgeous solid colours, but I went for "West Yorkshire Spinners Signature 4 ply". It is made in Keighley, England and has tones of green, grey, oranges red, white and teal – all colours we were admiring while we were driving across the Peak District yesterday.
This will make a nice pair of socks, so I'll knit it up into something appropriate – probably vanilla socks so the colours come through nicely. I will make it into socks because of the nylon content – there was no pure wool in the British range in a 4 ply weight.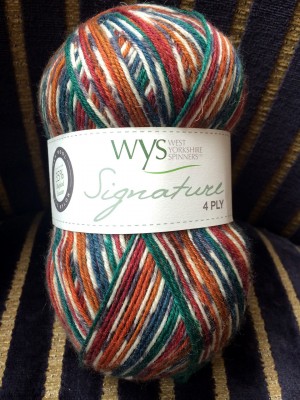 The rest of the British Wool was gorgeously dyed – the Woolyknits yarns were mostly natural colours, while the Herdy colours were gorgeous and bright, and they varied between double knitting and aran weight.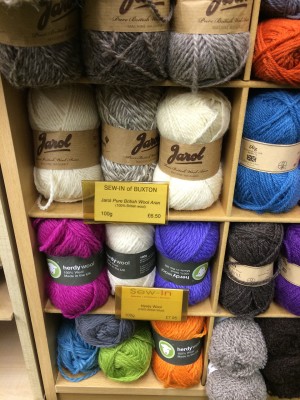 I did also want to get some proper souvenir yarn that I could make a big project with, so I decided to commit to two skeins of Rowan fine art hand painted sock yarn. These are a blend of merino wool, kid mohair, polyamide and mulberry silk, and I have 800 m total of it. I chose this particular yarn because it is made in South Africa – my preference would have been local, but I'm happy to support the South African yarn industry too, given my roots!
The colours were again chosen for those we'd seen as we crossed the Peak District. The first is shade 303, Waxwing, with burgundy, brown and purple, for the heather and soil we saw from the car. The second is shade 306, Lapwing, in shades of green for the hills and rolling fields.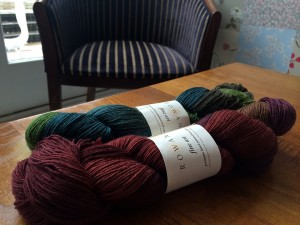 I'll probably make a shawl from this, and I'm debating doing another Hitchhiker. I have a ton of shawl patterns in my library though, so I'll have a browse when we get home and add that to my queue for the next few months! (I'm meant to be de-stashing, bad Corrie.)
The lady behind the till was very friendly, and we swapped some knitters stories – she told me she had run a yarn shop in Buxton which closed 20 years ago. She is now helping out with Sew In. Unfortunately I did not get a chance to chat to the owners, but I had a lovely time browsing and was actually quite restrained with my purchases despite having two new projects worth of new yarn.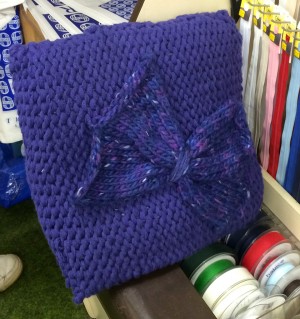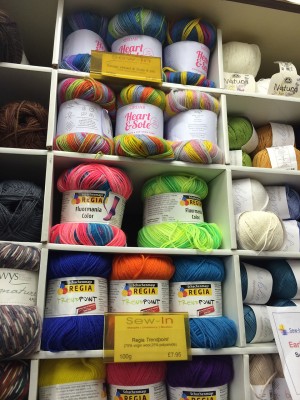 The Sew In website is here, and if you're ever in the area and looking for some lovely yarns to remind you of your visit, it's a fantastic place to go!
Anyway, that's it for now – I'm going to drink some Buxton spring water and go for a walk in the pouring rain!
Much love,
Corrie xx