Hurrah, the Zigzag Jumper is finished! I know I have been very quiet around here – I've been trying desperately to finish the jumper, and it's hard to blog and knit at the same time…
Additionally, John and I will be moving next week so there has been a fair amount of house-hunting and packing going on. I currently have just two projects available to me as the stash and the yarns etc have gone away into taped boxes – I panicked and bought some new yarn and needles so I could cast on some socks the other day, but I am resisting the urge to cast on as I want to finish some UFOs at the moment. I have picked out a glorious pattern for this, and can't really wait to start!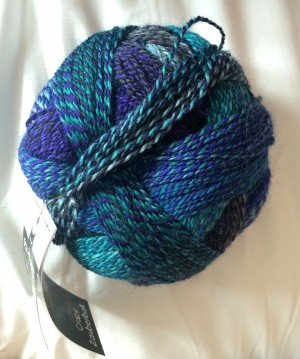 Zigzag Jumper
This has been a relatively fast project for me – I cast on on July 4th and finished today, August 30th. I can thank many hours of resting and hiding from depression for this, so at least something good as happened! The full story of why I decided to start the jumper was discussed in the first episode of the podcast – listen here – so I won't go over it again. The pattern is Zigzag Jumper by Linda Parkhouse.
This was so much fun to knit. I was going through rows and rows and rows at a time without really realising how much I had done. There's something extremely rewarding about a pattern with a lot of slipped stitches in it!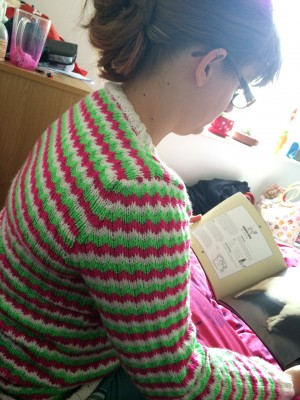 The jumper is very, very warm. I wore it today for a while but had to take it off because I felt like I was roasting – but I am so excited to have it that I keep wanting to put it back on again. This is no doubt due to the fact that the whole jumper has a double layer of yarn – it's not quite as thick as fairisle, but a beefy sweater all the same. It will be wonderful for the winter!
Just as a reminder, the yarn was Wendy Mode DK. I came under some criticism from yarn purists, who I will not name as they are lovely people, for using a yarn that has an amount of acrylic in it, which was rather frustrating. I am generally a natural fibre kind of gal, but at £20 for the whole sweater in the most obscenely brilliant colours, and also machine-washable, I have absolutely no regrets in buying the yarn. It may not have been as sweet to knit with, but that is surely my choice?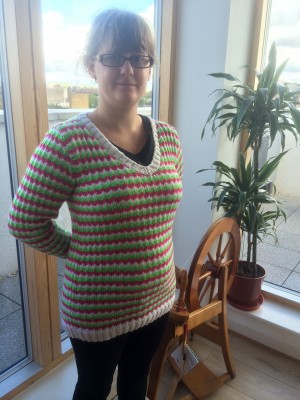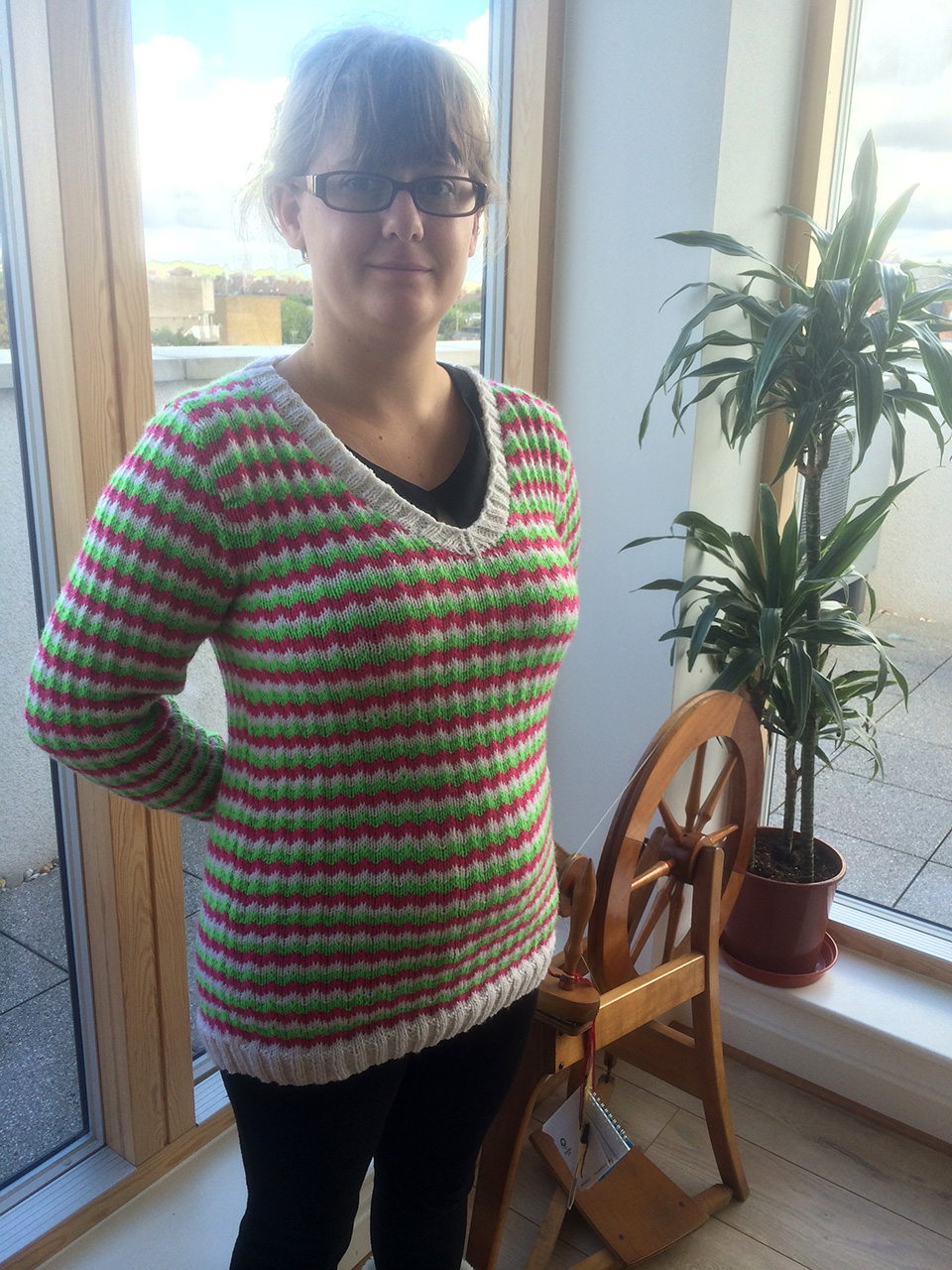 Anyway, the yarn itself is a tiny bit scratchy on the skin – I'll probably want to wear this without a top underneath it as it is so warm, so this may be something that I'll try improve when I wash it, by using a lot of fabric conditioner. That's my only major gripe – although it was quite hard to sew up the sweater using the yarn as the yarn kept snapping in my mattress stitch and I had to remember to tighten more quickly than I usually would. This is not a big deal.
I adore the colours (and so do most people, John is still calling it the Watermelon Sweater which is almost certainly what it will be rechristened now that I have finished it) and I am so glad I've had a bright project to keep me going through a few tough weeks. I would recommend this pattern to anyone who wants a bit of crazy in their lives – you can obviously tone down the colours, but it's a quick knit and easy enough to be TV knitting or similar.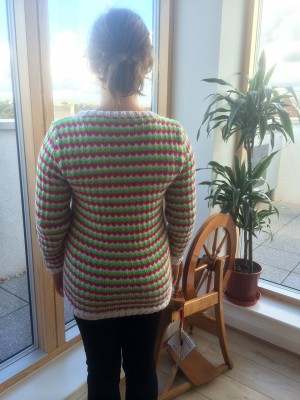 Podcast News
I have been wanting to record the second episode of the podcast for weeks, and I have all of my prep ready, show-notes written up and a rough draft of the structure – but I'm struggling with mental health rather a lot at the moment and spending a lot of time when I would normally be doing normal people things – i.e. going to work, cooking, eating, washing – in bed. As a result, doing any 'extra' projects has been a bit beyond me. I am hoping to record sometime next week! But as it will be moving week, this may be a little difficult – so just stay tuned and listen to some of the excellent podcasts with recent episodes below if you have never heard of them and would like some knitting/crafting chatter while you work.
Shiny Bees Podcast
Knitmore Girls
Knit British
Caithness Craft Collective
So, that's it from me! I've tried to make it a bumper blog-post as it has been so long since I blogged, and I definitely achieved that!
Much love,
Corrie xx