I briefly mentioned "Gas, Dust and Billions of Stars" in a blog post last week, but I thought I'd do a post dedicated specifically to this galaxy scarf, with the added bonus of the written out pattern! I called the personal project "The Force Awakens", but the pattern is going to be "Gas, Dust and Billions of Stars" because I don't want to get involved in any copyright issues. So without further ado!
Gas, Dust and Billions of Stars
My gran gave me a ball of unidentified acrylic yarn last year, with an exciting range of colours – a black base and a load of colour additions that reminded me of nebulae, galaxies and space. I decided I wanted to knit a scarf with it, and on the way to the cinema with my family to see "Star Wars: The Force Awakens", I cast on and got going!
I love the scarf – it was worked on in the cinema, on top of an ancient Iron Age hill fort and whilst bowling with John's family. The colours are fab, and it's nice and warm. You want to knit one for yourself? Here's the free knitting pattern!
I decided to call it "Gas, Dust and Billions of Stars" because the yarn so reminded me of those fabulous pictures of galaxies that you see coming out of the Hubble telescope. Am I crazy??
Free Knitting Pattern

Equipment
Yarn: 100g double knitting yarn (I used an unidentified ball)
Needles: 5.5mm
Crochet Hook: 5mm
This list is just what I used, feel free to find your own. I used 5.5 mm needles with my double knitting yarn because I really liked the drapey feel of the fabric it gave. This uses up the yarn more quickly than it would be otherwise, which is why my scarf was a bit narrower than I would usually make it.
Gauge is not necessary for this project.
Skills required
Cast on, knit stitch, dropped stitch*, chain stitch** (crochet), cast off.
The Pattern
Cast on 39 stitches (or a multiple of five stitches minus one, i.e. (8×5)-1 = 39).
Knit every row until your scarf is long enough, or you have just enough yarn left for a cast off. Every time the urge takes you***, put in a dropped stitch section.
Dropped Stitch Section
Row One: Double wrap every stitch
Row Two: Knit every stitch, slipping the second loop from each double wrapped stitch off the needle
Cast Off Row
*Bind off four stitches, chain 2 and drop the fifth stitch.* Repeat from * to * until you have four stitches left, BO these four stitches.
Each of those dropped stitches can then be manipulated so that you create a run of dropped stitches throughout the whole scarf.
Weave in your ends, give your scarf a gentle blocking and enjoy!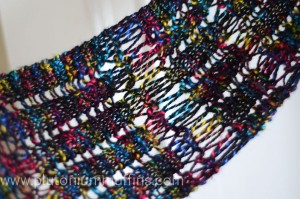 You can also find the pattern on Ravelry, where you can download a PDF of it.
Much love,
Corrie xx
* My simple way of explaining a dropped stitch is that every time you wrap your yarn around your needle to create the next stitch during your knit stitch, simply wrap it around once more before slipping the stitch from the left needle on to the right one. On the way back, knit just one of these strands, dropping the second strand off to create a dropped stitch effect.
** A chain stitch is the most simple crochet stitch, created by inserting your crochet hook through your previous stitch, hooking the working yarn and bringing it through the hole.
*** Sometimes the need to triple or quadruple wrap my stitches took me. A few times I did the dropped stitch section several times in a row. Sometimes I double wrapped half the stitches in a row and continued simply knitting the other half to create an asymmetric area of dropped stitches. Have a play and enjoy yourself!
Shared with: iKnead2Knit, Crochet Addict, Gracey's Goodies, Yarn Fanatic Party, Oombawka Design Crochet, Yarn Along, Frontier Dreams, The Winthrop Chronicles