If you've been following the blog for any amount of time, you'll know that I love John Arbon Textiles. I did a nice big feature on them on the blog in January, I knitted the Icon Dress in Knit by Numbers yarn, and I have made a point of heading over to see them at as many of the festivals as I've been to in recent years. I've got to know John and his lovely wife Juliet as people to have a chat with and say hi to when we cross paths, and I'm so excited to be able to continue this association in the future!
John Arbon Goodies
I won't talk too much more about the company, but I do urge you to find out a little about them – either through my blog or their website. I will mention that there is a Mill Open Weekend on the 16th and 17th of May. I intend to head down and spend some time getting to know the mill and the John Arbon family a little better, and would love to know if you are going too so I can meet up with you and have a chat!
I have just watched John Arbon Textiles: The Movie again, and I cannot explain how excited I am about all of this!
So, on to the goodies. I asked on the off-chance that there was a spare skein of something kicking around, and was thoroughly spoiled by the package that Juliet sent me. With four skeins of yarn and two pairs of socks, there is some truly amazing wooly goodness to get your hands on!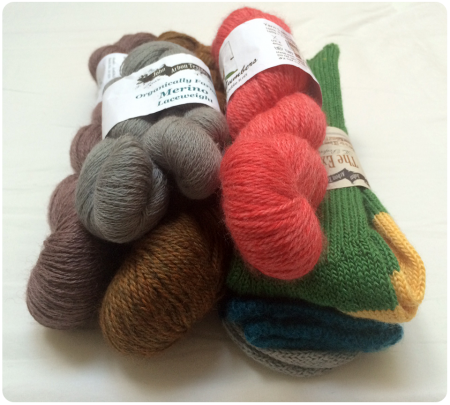 Exmoor sock yarn
A skein of delicious 85% Exmoor Blueface / 15% Nylon in the smoke colourway is on offer. This is a light 4 ply yarn, and with 400 metres to the skein, you'll get a good pair of socks out of this. In case the colours are different on your screen to mine, it's a purple-brown-grey colour, and would make a sturdy pair of comfortable walking socks! The yarn is on the John Arbon Textiles website here.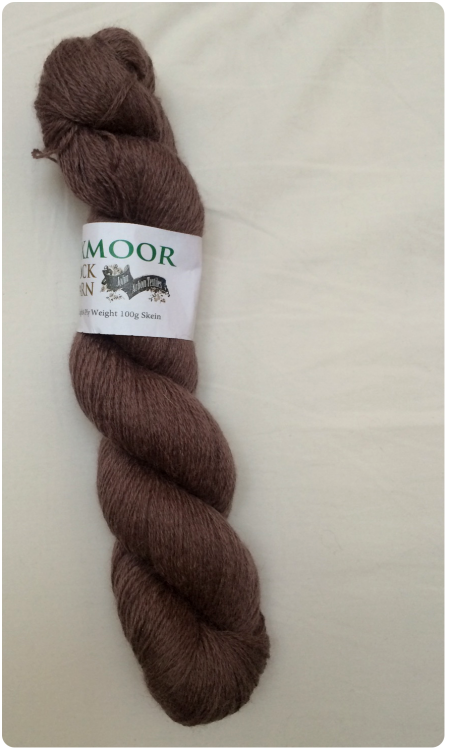 Organically Farmed Merino Laceweight
This is a skein of 100% merino wool. With 650 m of gorgeous lace-weight yarn to get the most out of, this is in the "Dove Grey" shade. It would make a beautiful delicate lace item, and I've found it quite hard to accept that I have to part with this! More info on the yarn specifics here.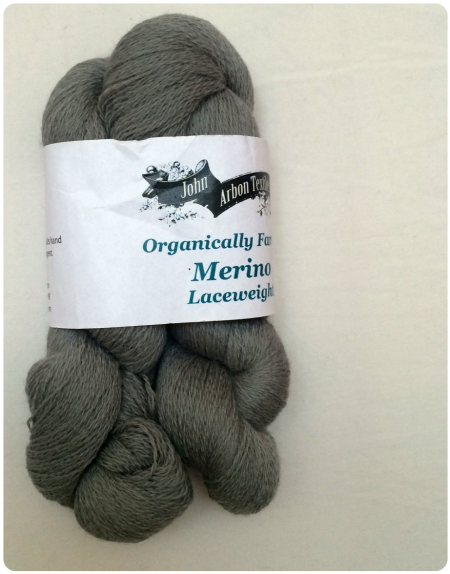 Viola
Another 100% merino wool, this is a relatively new range of yarns which are dyed by Emily Foden, using a dry-dyeing technique to create the most incredible depth of colour in the spun yarn. I have one skein of a limited edition colourway, Ginger Nut, available for you. This is the most stunning skein with tones of browns, reds, greens and greys to get lost in. You can't get this on the John Arbon website…just saying! There is 250 metres of double knit yarn in a 100 g skein – perfect for a cosy hat.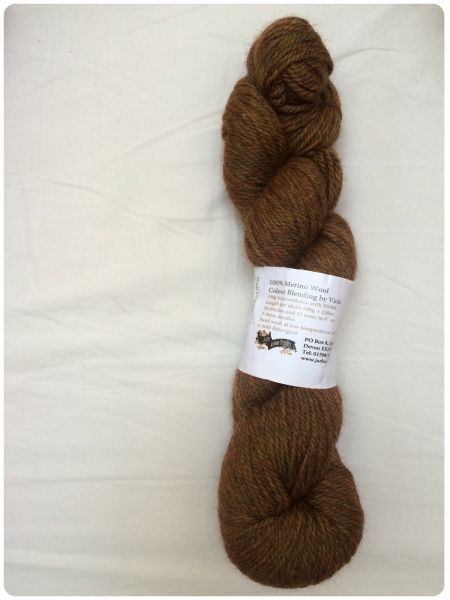 Knit by Numbers
As I am the world's biggest fan of this yarn, it would be a travesty if I didn't have any to offer to you. With over 85 shades available (let me refer you back to the photo of their display at Unravel, which just makes my heart sing), I have one skein in shade KBN 22. I would describe it as a candy pink, almost. You can see the range of colours here – there are no colour names because the range is so enormous, hence the name "Knit by Numbers". This is also pure merino, and you get 250 metres in your 100 g skein – I have made a hat from one of these skeins, and it is super comfy.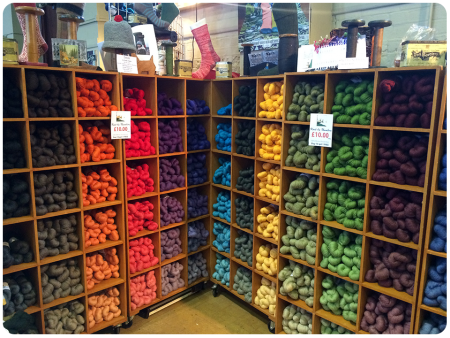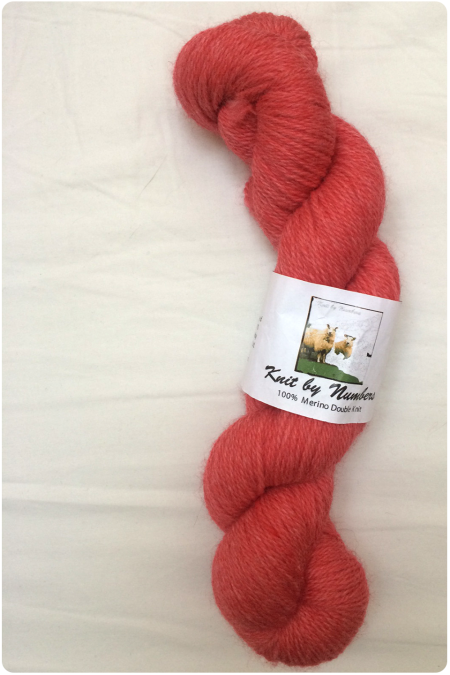 Socks
John Arbon Textiles are also well-known for their socks; I have two pairs of "The Exmoor Stroller" for you, in 75% Exmoor Blueface and 25% Nylon. The blue pair is a medium, or UK size 8 to 10, while the green pair is for small feet, at UK size 4 to 7. Find out more about the socks here.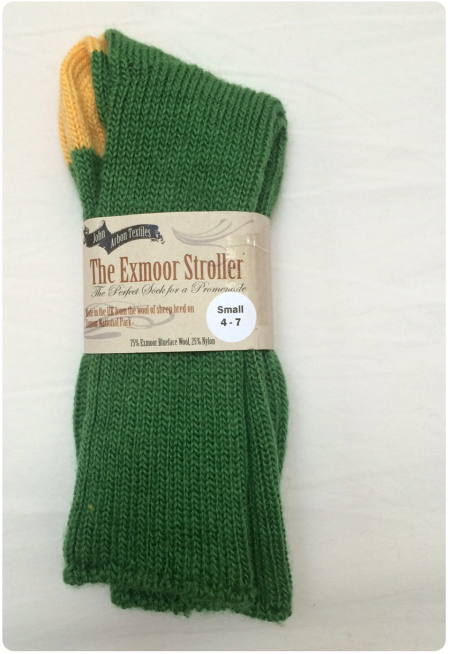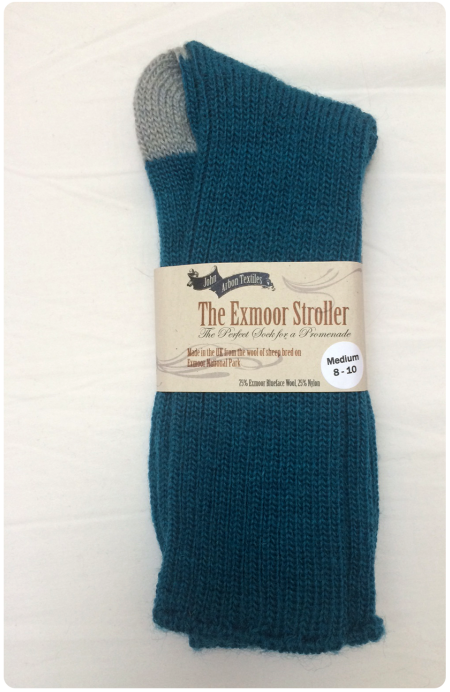 Entering the Giveaway
THIS GIVEAWAY IS NOW CLOSED.
So, how do you enter!? Please head over to the John Arbon website and let me know what your favourite product of theirs is – whether it's a specific colour and blend of roving, or a darning mushroom. Do this by commenting on this blog post – each of the six items constitutes ONE prize, and if you have any preference for what you would like, make sure you say what you would like if you win (ensure you include sock sizes if you go for those). Prizes are drawn randomly and I cannot guarantee that you will get what you would like, but I will correspond with the winners at the relevant time.
For an additional entry, watch the below video and let me know what your favourite part of it is via a comment on my blog (and not on YouTube as I have no way of getting notifications for that).
I'll give you a hand – at 0:52, brown and white roving is squished down into a barrel, and if I were given half the chance, I would love to do something like that. It looks like the most incredible, tactile experience – and I adore the way the colours blend together too, they look like icing on a cake or something.
For up to three additional entries, you can share this post on three different social media platforms of your preference and let me know about it, making sure to link to the shared item. So that's five possible entries for six possible prizes.
Anyone can enter, and the giveaway will close on the 15th of April 2015. Good luck!
Much love,
Corrie xx