14th November 2012 – THIS GIVEAWAY IS NOW CLOSED! The winner is Jenny L. You will have received an email about this, congratulations! Much love, Corrie xx
Do you remember the Towersey Shawl that I got from Knit 'n' Caboodle at Towersey Village Festival? This one?
I finished it and haven't yet done a post about it, so here is my final photo and a brief review.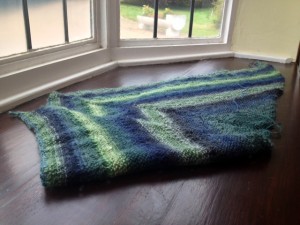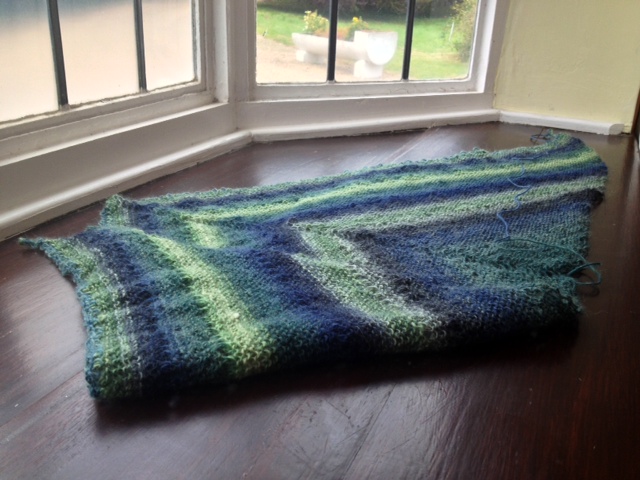 The project kit that I bought was the "Shawl from One Ball". I got to choose my colours, which was a variegated yarn in a mix of greeny-bluey-teal, and I was so thrilled with the way that it knit up. You get to customise the pattern a bit to your own choice with respect to the lacey-aspect of it, and I tried to do this in a fairly structured way. I love the way it came out. It was brilliant watching the ball unravel and guessing what the colours were going to look like when they were actually knitted – it was surprisingly different, but in a brighter, better way.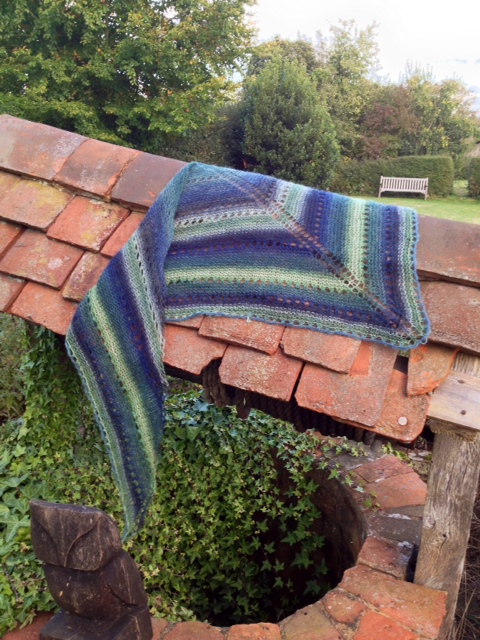 In terms of the actual knitting, it was pleasingly easy. There was a large amount of garter stitch, and I was worried I would get bored, but being able to customise the pattern meant that whenever I felt I was losing interest, I would just add another row of lace in.
All in all, it was fabulous. I blocked it really severely, and it grew a huge amount when I did so. I did it on the bed while JS was away for Saturday night, and it is ready and finished today. Unfortunately, I've been feeling ill and totally against the thought of taking photos of myself modelling it, so you will have to wait for that.

So, what next?
Knit 'n' Caboodle Giveaway
I am extraordinarily thrilled to announce that the gorgeous Julie & Sue from Knit 'n' Caboodle have offered one of you lucky people a kit of your very own! How do you take part in this giveaway? There are two ways to do so – comment on this blogpost telling me which of the kits you would like from this page and why, and share the giveaway on a social network of your choice. Each time you share the post, if you comment on the blog telling me that you have done so, you will have another entry, up to a maximum of three entries.
So, if I were to enter, for example, I would have a maximum of four entries:
1. Comment on the blogpost telling me which kit I wanted and why.
2. Tweet about the giveaway (for example) and comment here.
3. Share the giveaway on Facebook (for example) and comment here.
4. Pin one of the photos on Pinterest (for example) and comment here.
Anyone from anywhere can enter. The giveaway will end on the 14th of November – you must make sure you give me some contact details, whether an email address, Twitter account, Ravelry account, etc, so that if you win, I can contact you.
I'm very excited about this and I hope you are too! Good luck to everyone, I'm crossing fingers for you!
Much love,
Corrie xx