I am incredibly proud to present "Granny Squares Galore" to you all! This was a project I crocheted out of super-wash merino baby yarn for my colleague, who will be going on maternity leave while I am in South Africa.
Speaking of which: service announcement! I will be in South Africa from the 30th of April to the 12th of May and opportunities for accessing social media and blogging will be limited. I'll try…but just in case, I won't have given up on the blog…don't worry!
Granny Squares Galore
I got the blanket finished by the skin of my teeth. About two weeks ago I decided I was done – then measured the blanket and realised it was about flannel sized. Not good enough. I had enough yarn to double it – so I did, and ended up with a well proportioned blanket for a baby.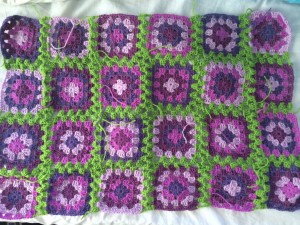 I finished joining all the squares on Easter Sunday, and started doing a scalloped edging by crocheting nine trebles into every second granny square gap. I really don't know how to explain that any better than I have. I didn't know what I was doing – just went for it!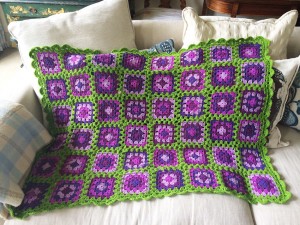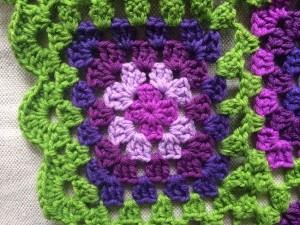 I washed the blanket in the washing machine (gasp) to double-check it was machine washable, as I didn't want to give it to her and find out she washed it once and it was wrecked, and blocked it on a double-bed overnight. It was still damp when I had to leave for work, so I had to hide it in another office drying until lunchtime.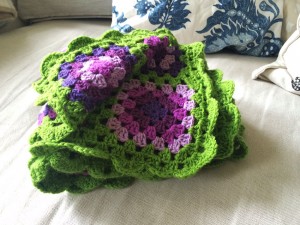 I presented it to my colleague at lunchtime. She absolutely loved it, and couldn't get over how much time it must have taken me…By lucky coincidence, the colour theme of the baby's room is…purple and green! I had no idea, and I am so full of joy for how everything has worked out.
It really makes me value being able to handcraft things for the people I care about – when someone says to me "isn't it much quicker and cheaper to just buy something?" there is no way to convey how it feels to hand over something you have toiled over for hours and hours, and the pleasure derived from that. It wasn't a chore either – I craft because I love the process of making, and I am always more motivated when making for other people…any projects for myself take years, while those for others take much less time.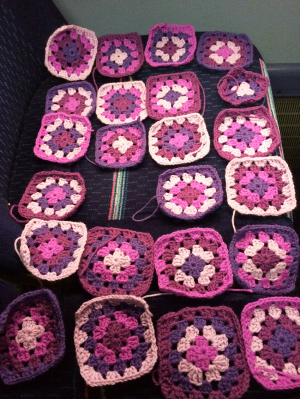 I had one major mistake, which I'm not going to point out to anyone, and I'm incredibly proud of myself. If you'd told me I would be finished my first ever crochet blanket three months ago, I would have laughed in your face. There was definite incentive to finish this one!
So, that's it. You'll see more crochet projects from me…although I am quite enjoying being back to two needles at the moment!
Much love,
Corrie xx
PS: This project got me the below badge:
---