The Monkey Socks were cast on on September the 25th last year, and I have finally finished them! I just do not know what took me so long – I managed to crack them out in no time.
Monkey, ooh ooh, ah ah
This pattern is designed by the inimitable Cookie A*, and can be found on Ravelry here. It is a paid pattern at $6 – but if you want to find it for free and not have the luxury of an instant download, as of the date of publishing this post it is still available on Knitty. I had heard so many good things about the pattern, and Cookie A, in a number of podcasts and blogs I read, and I decided that it was time to give this pattern a go.
I bought the pattern so I could store it in my Ravelry library, and was ready to go. It was was published in 2006, and has – wait for it – 18,710 projects on Ravelry! I lost at least an hour browsing the incredible projects that are on there. At least. Then I looked up what yarn I could knit it in so that it was suitably funky coloured, but the beautiful lace pattern came through.
Eventually, I decided to knit the socks in Crazy Zauberball; boy were 'they' right in their yarn recommendation! The colourway is 1151 U Boot, and it is all kinds of tones of blues, with a mixture of purple and grey; lovely and colourful, but subtle enough that I thought the lace would come through. I didn't bother with colour matching as I still haven't quite figured out if there is a colour repeat, so they have ended up nice and funky, with different coloured toes.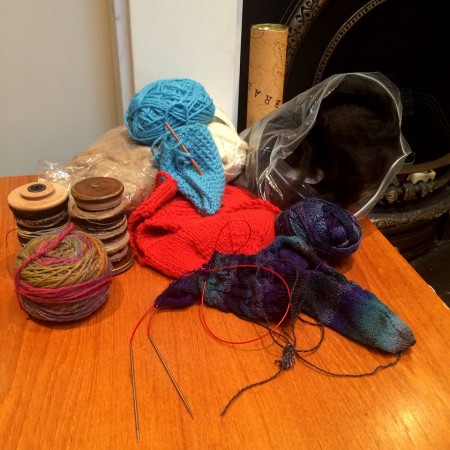 The socks themselves took me a long time to knit, because I got totally distracted by other projects and didn't really think about them for a long time. When I did finally pick them up, it had been so long that I had to start again – serves me right! The actual start date of the project could therefore actually be the beginning of January…but who's counting??
I have worn them at least three times since finishing them a month ago, and I was so in love with the pattern that I even bought a pair of sock blockers so I could make sure they were treated with the respect they deserved. The yarn has become a bit fuzzy and needs a shave so the definition of the stitches is regained, but I think I'm just being very fussy!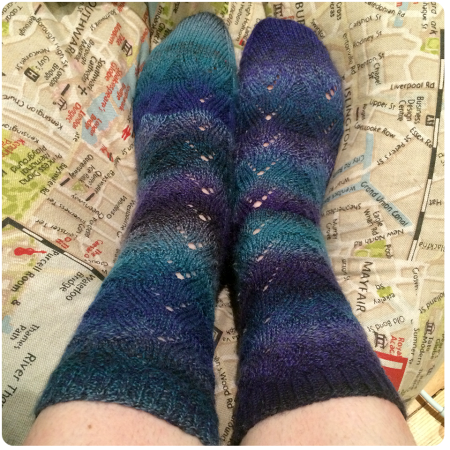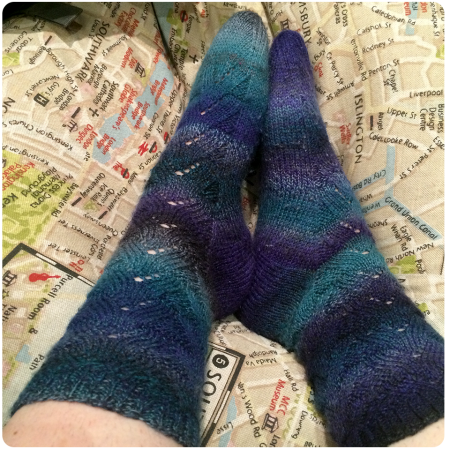 So, there we go! Pair one of socks completed.
Much love,
Corrie xx
---
* Go drool over Cookie A's designs. Go on. Nobody will judge you.