The challenge for today on the Knitting and Crochet Blog Week is to choose a mascot project that embodies the house or animal we chose yesterday – in my case, if you remember, the House of Monkey. Before I get started, a recap of what the House of Monkey is all about.
Intelligent and with a fun loving side, Monkeys like to be challenged with every project presenting them with something new and interesting.
Before I choose my project, I want to share another photo of Archie with you – this is him stretched out in the sun today while I sat knitting on the lawn for a few minutes. There's a video of him doing some bunny things at the end of this post. He is so unbelievably cute, don't you think!?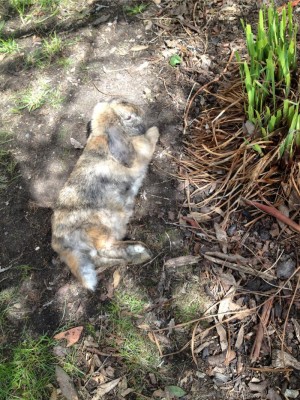 Mascot Project – Fairisle Mittens
On the 9th of May 2012 (last year) I wrote a WIPW post about my Fairisle Mittens. Clues to the fairly large jump I was taking in my knitting education were there – along with me trying to use circular needles instead of dpns (I hadn't heard of magic loop before, don't be silly). This was a shortcut attempt for me as I hadn't tried dpns before, and I was a bit scared of them.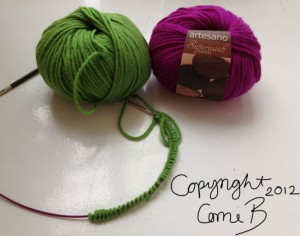 Normally this wouldn't put me off – however, I was also doing fairisle, which I also hadn't tried before apart from one small pair of gloves for Wonder-Gran, and I was trying to make a complicated pattern slightly more simple.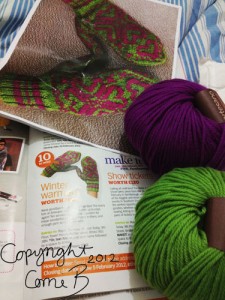 The cuff of the first mitten allowed me to get used to the dpns, and by the time I was on to the fairisle, I was off! They were fantastic. I loved following the pattern, I learnt to knit continental style and the fairisle was amazing. I finished the first glove, and nearly finished the second…until I ran out of green yarn!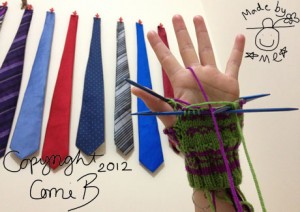 I won the kit through a Knit Today giveaway, and made another rookie error of throwing the ball-band away, so I have no idea which dye lot it is. I haven't bought a replacement – I'm not too fussed if the dyes don't match exactly, but knowing that they will not match makes me hesitate with the ordering yarn. The mittens have been hibernating for just under a year, and when I can afford more yarn, they will probably take about ten minutes to finish the knitting on. You can have no idea how frustrated I am!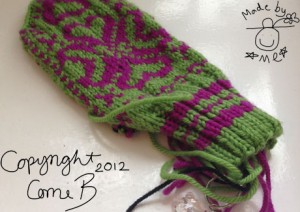 Have you got a mascot project? Are you participating in the Knitting and Crochet Blog Week? I'm trying to follow all my favourite blogs, but my reader has 650 unread posts in it at the moment and I'm feeling a bit overwhelmed, so you'll probably all get comments next year sometime for this week's posts!
Much love,
Corrie xx