Today the Knitting and Crochet Blog Week prompt is to create an infographic – my chosen one is my stash composition. I fervently hoped when I saw the prompt that it was just Mimi being creative and that we wouldn't all be doing them. I was sad to find out that some people have done some truly incredible infographics – I'm thinking of Sarah from Crafts from the Cwtch in particular. Sigh. I had to do one too.
I know what an infographic is – I do have a statistician boyfriend, after all. I do not have the graphic skills to make anything as glamorous as Mimi's Peamonkabeetee, nor Sarah's regular versus blogging knitters doodle. I decided to go old-fashioned, and used pens and paper.
Stash Composition
Having relocated from Kent to Devon, I know my crafting stash composition. Intimately. I am a multi-crafter, and although I have a number of other crafts that are not included in this infodrawing (cross-stitch, mosaic, wood-work, paints, beading…….), I wanted to finish this before next year, so I chose the three most numerous. Each box indicates the proportion of each material. You may notice a common theme running throughout.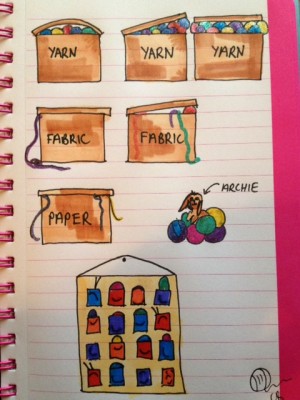 The diagram at the bottom shows the composition of my WIP basket (which is actually a pocket-thingy hanging on the back of my door). Needles indicate active projects, 'empty' pockets show those waiting to happen…they're definitely not used for yarn storage in RL, honest!
And, although Archie no longer uses my yarn as a bed, the proportion of straw to yarn is PERFECT from our cohabitation-in-a-flat days. I still find rabbit fur in some of my stash.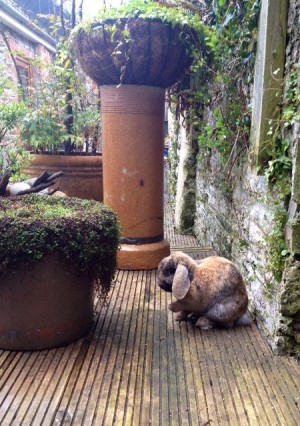 I sincerely hope that nobody is ever going to show this to JS. I may well be disowned – we all knew I wasn't great shakes with maths, but this cements it. Although I am quite pleased with my drawing of Archie, look at that cheeky little grin!
Much love,
Corrie xx