Yesterday I went to the Bluestocking Wool Shop, a brand new local yarn shop that opened in Stroud in December! We are staying in a cottage in Slad to celebrate some Big Birthdays, the start of 2016, and a 35th wedding anniversary – you can imagine my joy when I got an email from one of my news sources last month saying a new shop was about to open. I insisted we planned a trip there, and while the rest of the family were out at the farmers market, John and I took a walk down to George Street.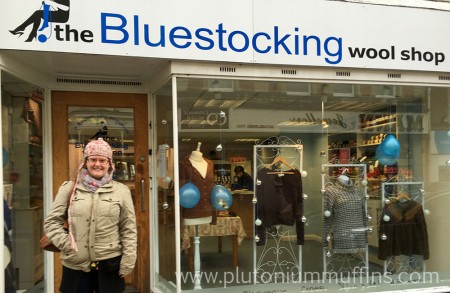 The Bluestocking Wool Shop
We were the only people in the shop when we first arrived. I walked straight up to the owner, Sunie Fletcher, got my customary permission to take photographs, and started chatting! While we were doing this, John went and got a couple of coffees from a nearby cafe giving me plenty of time to get to know Sunie.
It must be just about every knitter/crocheters dream to open a yarn shop. Here's a bit of background! Hailing from London, Sunie actually has a PhD in English Literature. She is an expert in the Victoria era (I believe), and after deciding the life of academia was not for her, moved in a different direction. Her interest in this subject is evident from some of the books that are stocked, including Susan Crawford's "A Stitch in Time Volume 2
". With plenty of experience running a yarn shop, Sunie got the opportunity to open her own when the Bluestocking Wool and Gift Shop closed after three years of running – a shop she created but didn't actually own. After investing all of her savings, a Kickstarter campaign and a long battle to get the lease for the shop, it opened on the 11th of December 2015.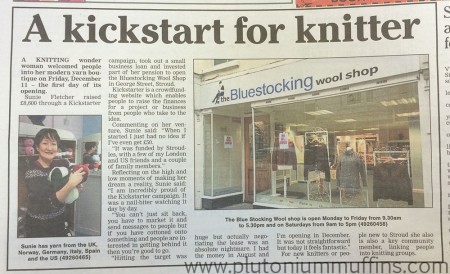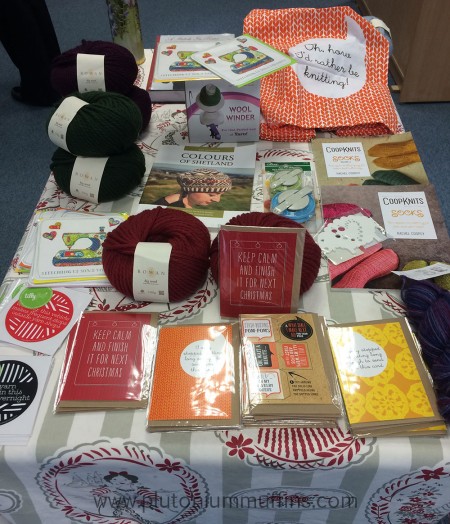 As well as stocking plenty of Rowan yarn, the more common brands on the shelves included Sirdar and Opal. There are also some more specialist yarns that I wasn't expecting to see. There is a selection of beautiful Fyberspates, some Coop Knits yarn and Adriafil, as well as some brands that I didn't recognise including Juniper Moon Farm yarn. I picked up a skein  of this as my intended souvenir yarn before deciding to stick with tradition and go with a sock yarn instead. I regretfully returned a gorgeous chunky red variegated yarn that has gone straight onto my wish list!
I always think it's important for shops to stock some budget brands, but budget doesn't necessarily mean poor quality, and Sunie has hit the nail on the head here. Her acrylic yarns are Red Heart, which are affordable yet an unusual find, and she also stocks those huge 400g balls of Hayfield Bonus Aran that I absolutely love.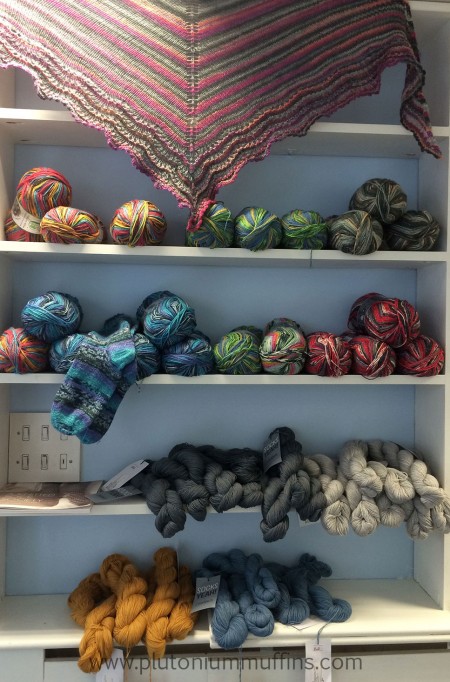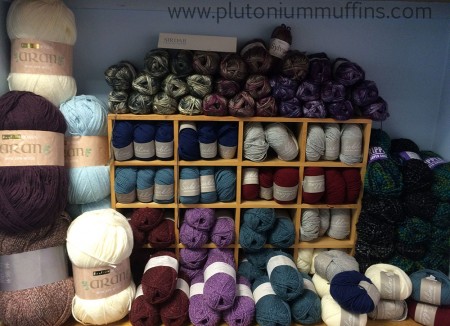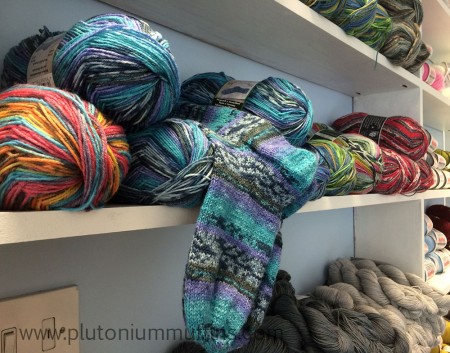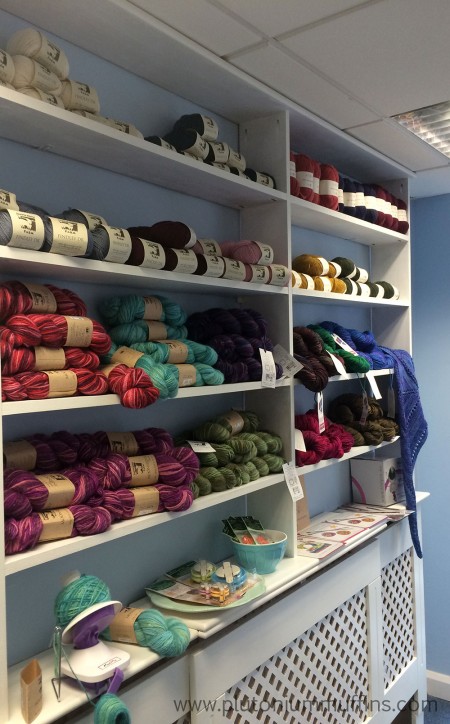 In terms of accessories, notions and bits and pieces that knitters enjoy, there are a few things of note. There was a small selection of KnitPro interchangeable points and cables, as well as straight needles and crochet hooks. Clover makes an appearance with pompom makers and stitch markers, and there were plenty of wool winders – huge points for this as I always find them hard to locate! Julie of Tilly Flop is a personal friend of Sunie, and her cards and products are in the shop, as well as a few other great cards that I didn't identify the designer of but are glittery, craft-oriented and lovely!
The book library is also well stocked. Some of my favourite books are present, including Kate Davies' "Colours of Shetland
", "Crocheted Wild Animals" by Vanessa Mooncie, some Rowan pattern books, and a nice selection of others that I haven't seen elsewhere – including some written to get kids knitting. As for events happening in the Bluestocking Wool Shop itself, there is a regular knit and natter, and Rowan instructors will be doing some classes at some point in the future. Sunie mentioned a half day of colourwork lessons – sounds fantastic!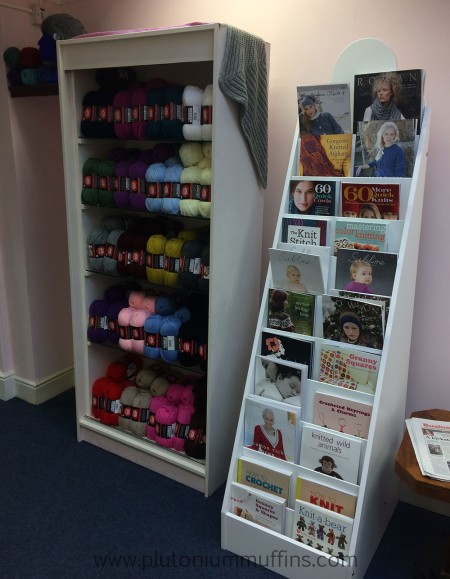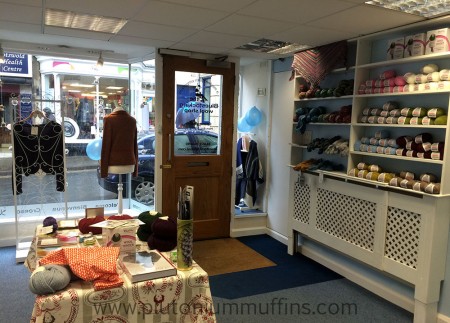 With all the great things going on, there were a few things that I felt could have done with some improvement. As good as the stock was, the shop felt a little empty for the size of it, and the number of needles, cables and other notions was a bit lacking. There are no buttons or beads in the shop, although when I asked about this Sunie said that there is an excellent sewing shop just down the road, and she felt she would rather recommend visitors go to her neighbour as they are so good. The walls were a little bare – it could have done with a few more pictures, posters or decoration, although the choice of paint colours was inspired as they were chosen months ago, and are actually in the Pantone colours of 2016! However, I'm sure the interiors and the amount of stock is something that will change as time goes on, and I am really looking forward to coming back in six months time to see how the shop has evolved.
Sunie was very clear on her aesthetics, and has a very defined plan on how she wants her displays to look. There were some beautiful dressers, drawer units, tables and cabinets – John was particularly impressed with her Rowan display. The samples on view were also lovely, and tied in with the whole scene wonderfully.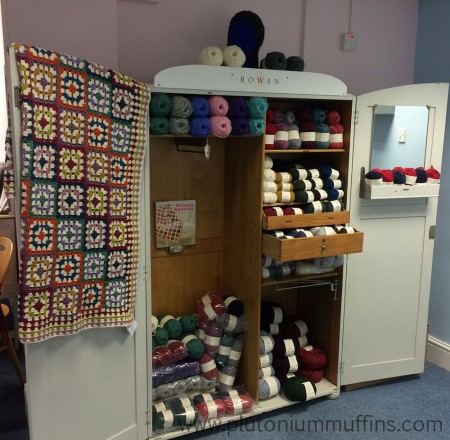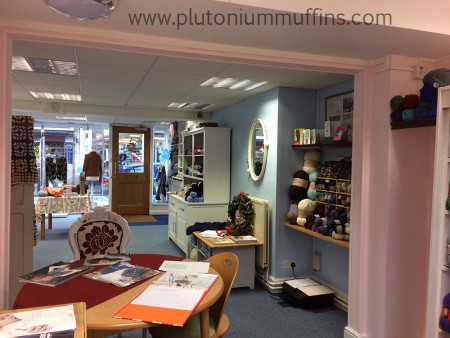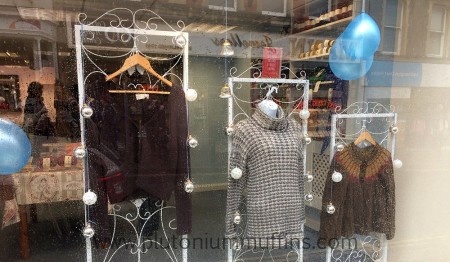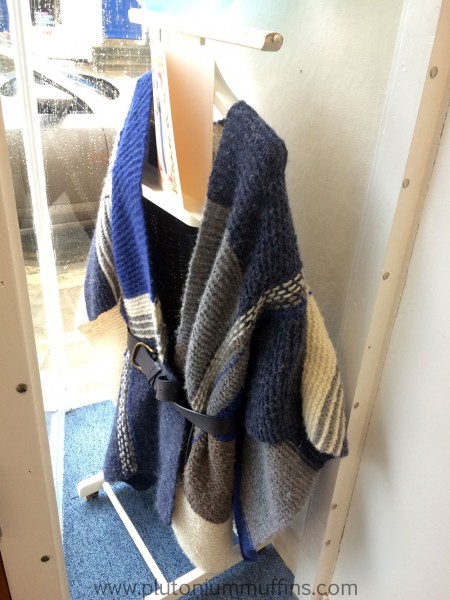 The Bluestocking Wool Shop got a big thumbs up from John, and I wanted to mention why. I must have spent about half an hour in the shop, during which time John got back with coffee. First of all, Sunie allowed us to bring them into the shop. This made me very nervous and I really appreciated it as it meant John could stay with me. I don't know if you are actually allowed food or drink in the shop, but when I asked if it was OK, she said it was as long as he didn't spill. Please do not assume you can take edibles and drinkables into the shop, or indeed any yarn shop as it's not a good combination.
John then installed himself on the sofa. No doubt this piece of furniture comes in useful during knit and natter sessions, but it is also a big bonus when it comes to non-crafty friends accompanying a crafter to any craft shop. The sofa was comfortable, Sunie told him to make himself at home, and he didn't feel like he was being a pain in the backside. I have taken him to other yarn shops where I have wanted to have a good look around, and he has felt so uncomfortable that he has left and gone to a nearby coffee shop to wait for me.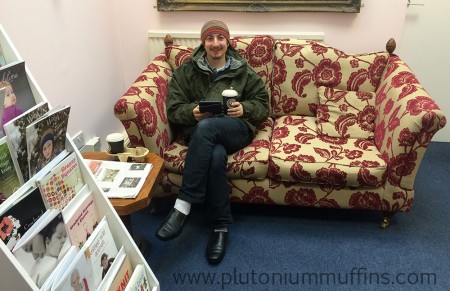 After leaving this mecca for a quick game of ten pin bowling with John's family, we then met up with some friends for a quick coffee. These two had also visited the shop, and had similar things to say about it. The non-yarny party felt that this degree of acceptance for 'the non-crafter' was good for him too, and this is definitely something I would like to see more of in other places. There were about 5 people who came in while I was browsing, and Sunie was a wonderful host – the whole place is welcoming and cosy, and I really hope she does well as the shop matures. I found the whole interaction really inspiring, the shop is beautiful, and I will be watching what goes on with interest!
The Bluestocking Wool Shop website is here, and has all the opening times and conversion tables on it. It is also on Facebook and Twitter, and you can find Sunie on Ravelry here.
Sunie was asking me what my favourite yarn shops were, and what I liked about them, and it made me wonder if you all have any recommendations and thoughts on what makes a good yarn shop. Any thoughts?
Much love,
Corrie xx