The bad news is that with the purchase of new yarn and having learned a new skill (more info here), I am now losing motivation to work on Hitchhiker and Garland. As much as I love these projects, I am so excited to move on to new things…
The good news is that I have made *some* progress – thank God for my commute and Time Team!
Hitchhiker
The last time you saw Hitchhiker, it looked like this: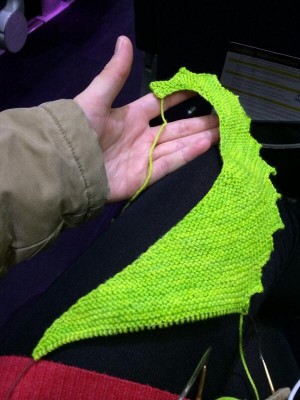 I have made quite a bit of progress – the majority because it is all garter stitch except each end, so it is nice and easy to blast through when I'm reading. I am enjoying knitting it, even though I am super keen to finish – I used to finish three points every tube journey, now it's more like three rows!
The yarn is from Desert Vista Dyeworks in the States, and one of their gradient yarns. When I ordered it, I had in mind a gradient that was very smooth, with the colours blending one into the other, similar to Whippoorwill by Sarah from Crafts from the Cwtch (this shawl has recently achieved fame – find out more here!)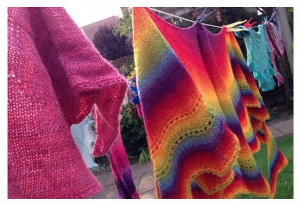 I'm a bit saddened by the fact that it is in fact not a smooth gradient, and given the choice I wouldn't order from them again. The yarn is really, really lovely to work with, but the way the colours work together aren't my cup of tea and I may actually gift Hitchhiker rather than keep it myself.
Do not let this put you off the yarn if you don't mind this type of colour change! Right, enough negativity.
Garland
Oh, Garland. Miles and miles of stocking stitch in the finest yarn I have ever had the pleasure of using. I can't really show you any 'progress' as such, as it won't be obvious in a photo – but I am very worried that I am just knitting FAR more fabric than I need.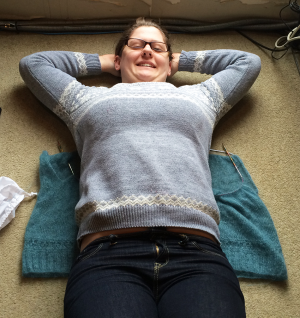 Even if it is too big, this is one item that will not be going anywhere but right in my cupboard at home. I love the fabric, I love the drape, I love the colour…I can't wait to finish it, even if the miles of stocking stitch are getting a little bit on top of me!
My March Resolution is to get to the sleeves – I anticipate I will reach that milestone tonight. Hurrah!
Does anyone else have any experience of working with Kidsilk Haze? It has to be one of my favourite ever yarns.
Much love,
Corrie xx