I have spent the last week working my way through a modified version of Renée Callahan's Naloa, a knitted shawl done in Kettle Yarn Co. yarns. I have made modifications to knitting in the past – but never anything as drastic as this. Renée is the creative brain behind East London Knit.
I'm now about three quarters of the way through my modified chart – I wasn't sure whether or not I should increase the size of it again, but I thought it was safest not to play yarn chicken too much…I may have to start another hexipuff quilt though!
A modified Naloa
I reached the end of Renée's charted instructions last week, and measured my leftover yarns, wondering if I could squeeze a few more rows out of them. It turned out that I had almost half the skein of my Electric Aramanth Beyul left, so I decided straightaway to go ahead with the modification.
Although the pattern is relatively straightforward – in essence, it is a slight modification of the cockleshell lace stitch – I did not feel comfortable going gung ho and just forging ahead without a chart. I opened up Excel and got charting, with three versions of my modification eventually making it into the programme, before I got what I wanted.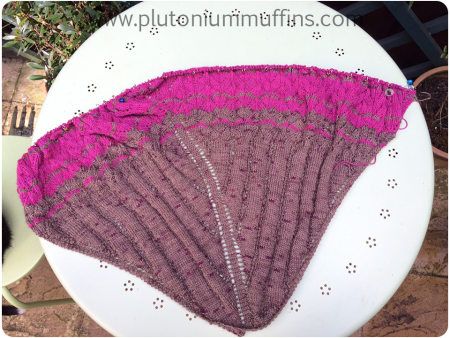 I managed to confuse myself immensely while I was doing this – I could not decide how many extra repeats I could fit in, and just could not reconcile the chart in my computer with that of the pattern. I was working on this very late at night, never a good plan, and poor Renée got a ton of texts from me, some in the middle of the night, asking for help.
Waking up the next morning, it was really obvious what I had been doing wrong, so I sent off an apology text and printed my new, extended chart off. It has been plain sailing since, although it is taking me a very long time to get through each row. I haven't counted how many stitches I have…I'm a bit too scared to! My stitch-marker box is really coming into its own, and I've learned a lot about my own preference for types of markers!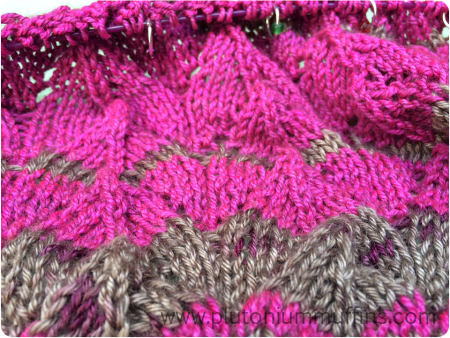 This is the first 'big' lace project I've tackled, and I thought it was safest to go with something that was stocking stitch on the whole before tackling the lace border. As it turns out, the lace section is the one I have extended, and I'm feeling much more confident with this type of work. This is just as well, as the next project in my queue is a monster piece of lace…stay tuned for more info!
I'm not well today, and writing up content for a travel blog about Canada while tucked up in bed with a Lemsip and a hot water bottle. It's quite pleasant being transported to another, more beautiful place while in (relative) comfort. I just hope I stop sneezing sometime before Christmas!
Much love,
Corrie xx