If you're a long-time reader of this blog, you'll know that I have been working on the alpaca yarn project "Follow Me Down, Cousin Jack" for the longest time. Today is a fire-in-my-belly inspirational type of post to give myself a kick and update you on where we are at.
This has been kick-started by spending time with the Ashfield Guild of Spinners, Weavers and Dyers over Wonderwool Wales – watching these amazing ladies do their thing and chatting to them has helped inspire me to get this project done!
Follow Me Down Cousin Jack
Here's the recap of the project as we have it at the moment. Before I tell you about the actual spinning, come on a journey with me.
My parents live in Devon, and I used to drive down to see them on a regular basis. One day, I stopped for fuel at Honiton Garage – I was stopped short when I went in to pay by a huge display of yarn, fibre, felting kits and made items. I think the people behind the counter thought I was quite mad…the excitement at finding fibre in a totally unexpected place was quite shocking.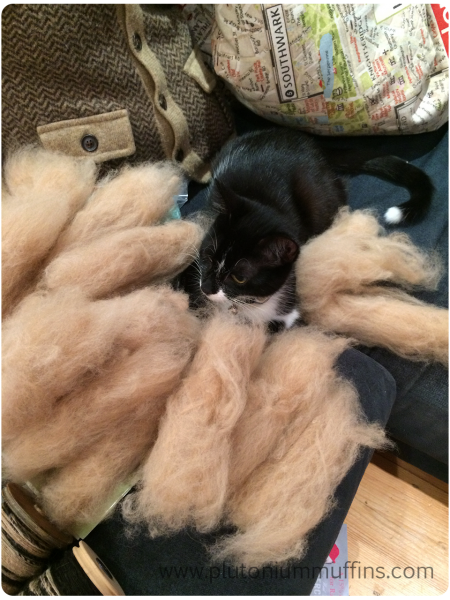 I bought two packs of Bearhouse Alpaca fawn fibre – for 200 grams I paid £6, which I thought was rather a bargain. This was unwashed and otherwise unprocessed – in order to get it into a form I could spin, I needed to pick the organic matter out of it. I decided to card it and make it into rolags that I could spin.
Meanwhile, at Unravel 2013, I found UK Alpaca for the first time and I bought a pack of assorted black alpaca fibre from them. This is spinning discard from their own mills – I'm not sure why they can't use it, and this is something that I should perhaps chat to someone about, but I'm finding it fine with regards to spinning it myself!
Both of these packs of fibre have been sitting around since I bought them, with occasional attempts to spin them. I had a really productive moment in February with my Dragon Yarn, which inspired me to get a whole bobbin of Follow Me Down Cousin Jack spun – that's the right bobbin in the below photo.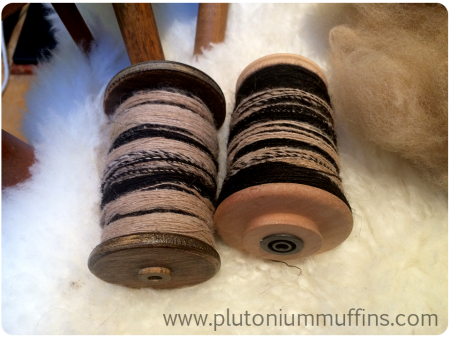 What had been holding me back was the need to sort the Bearhouse Alpaca fleece, and turn it into some sort of object that I could spin! For the last month or so, I have been sorting through the fibre for fifteen minutes per day. Yesterday in the time I was going to spend blogging, I spent just finishing off that pack of fibre. I then started spinning it, and now I'm all ready to go on getting it spun and out of my WIP basket.
It's amazing how this project has become this huge monster in my mind, because I've been worrying about it so much. I've bought some fibre this year, which I cannot wait to spin – but I've told myself I'm not allowed to spin anything else until I finish this project. Now that I've broken the back of it and have just the spinning left to go, I'm wondering what the heck has taken me so long – but that's always the way with projects that stagnate, in my experience.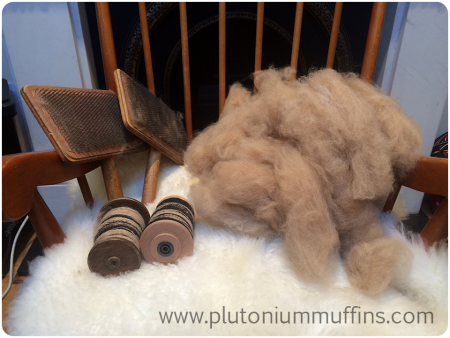 Once I've finished spinning the Bearhouse Alpaca fibre, I will work on the UK Alpaca pack, which I have used a bit to mix into the BA fibre, and the next set of yarn will be all black. I have a number of potential projects for the yarn lined up – one is Precious by Belinda Harris-Reid, the other Elijah by Ysolda Teague.
The next time I talk about this fibre, it's going to be a finished project. That's a promise!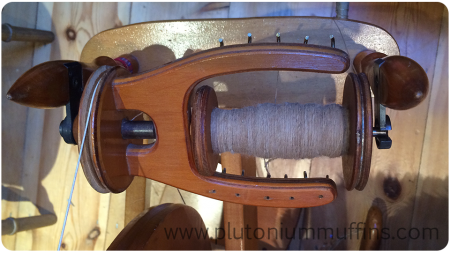 Has anybody else got projects that you're loving but just struggling to get through?
Much love,
Corrie xx