We were looking at some old posts on Plutonium Muffins last night and found this one on my first magic ball! The story has continued to develop, so I will enlighten you. Before I get started, though, I want to share some of the wisdom about magic balls so that you can understand them slightly better.
What is a magic ball?
This is updated from my last post, as with two years of experience of saving scraps, I now feel better qualified to talk about them! I always have at least one Magic Ball on the go – I like to leave long tails on my yarn, and it always feels like a waste having to throw that away when a project is done. So, I save the scraps, join them, and off we go.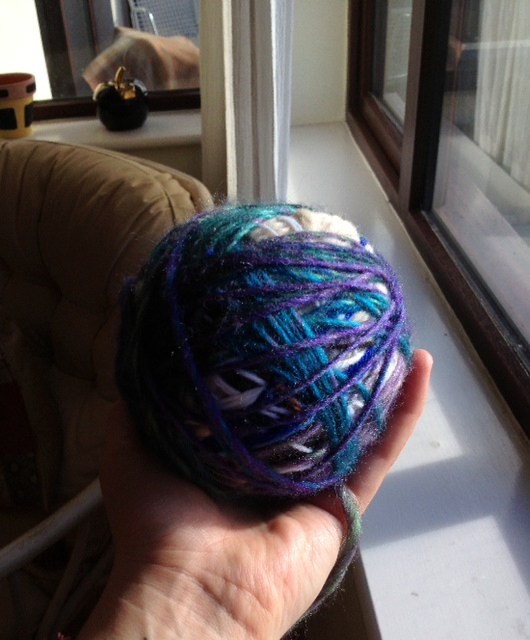 How do I join them? I tie them. There are so many other methods for joining yarn, and I'll pop links to tutorials for them below. Most of these would leave a knotless join – however, because of the way in which I use my magic balls, I don't need the yarn to be knotless.
What do you use your magic ball for?
The first one I made – the one referred to in the original post – eventually ended up in my Gigantic Blankie. This is what started the evolution of my magic balls – I realised that by knitting them up into projects with multiple strands, it didn't matter if there were knots. I originally joined them using the Russian join, which is typically my preferred method of joining yarn as I like the control I get through this method, but it can take a really long time – especially if you are very thrifty with your yarn scraps and they're short.
I now just tie them. Simple, easy and given the end use, it causes no problems with respect to the knots in the fabric. It should be noted that the Gigantic Blankie is now Tonks' bed, but that is more because she chose it, rather than for any other reason!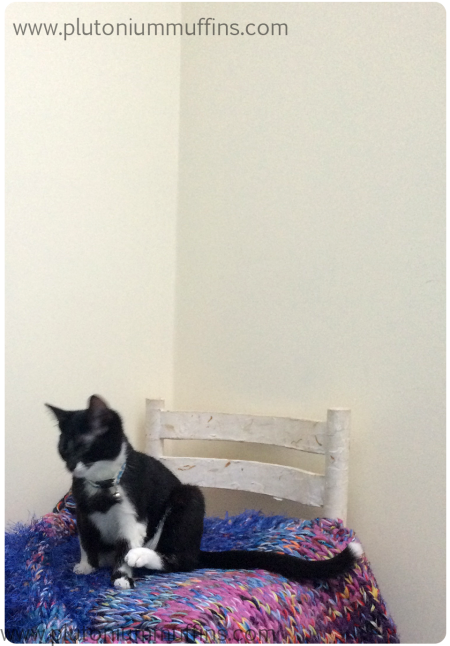 Using the yarn in this way also means that if I get any 'unwanted' yarn – i.e. samples with magazines, single skeins of something that don't fit in with my plans or just purchases made on the spur of the moment, I can just tie it into my magic ball and knit on the blanket.
At the moment we have a magic ball sitting in our lounge – it weighs 4 kg and is much, much larger than my head. I just need to get my needles out and I can get going on knitting it up!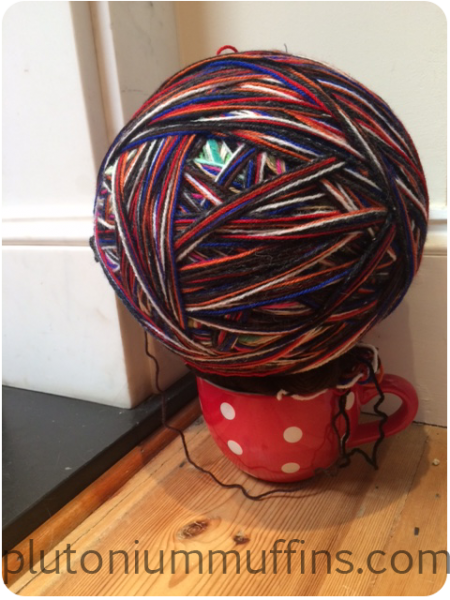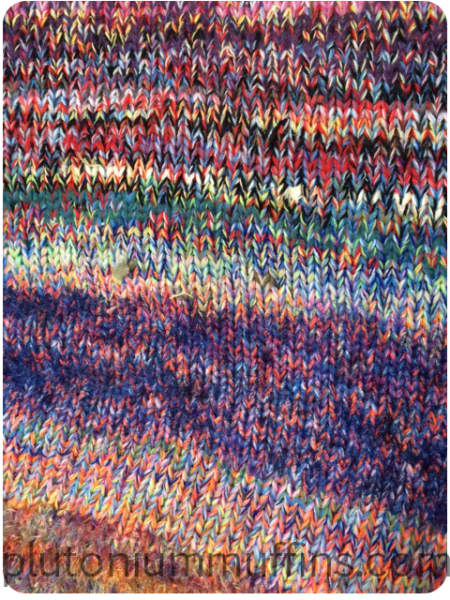 Thoughts? Comments? Concerns?
Much love,
Corrie xx