As spring gets warmer and things get more summery in London, I find myself wanting to knit really woolly and wintery items. I know this is the complete opposite to most people – there's no working out my own brain, sometimes. As a result, I'm back to knitting a shawl and a pair of socks.
Spring Shawl
The shawl pattern I'm working on is Naloa by Renée Callahan of East London Knit. It's a triangular shawl with 'rivulets' of lacework running down to a lacy border. I'm knitting it up in deep stash Kettle Yarn Co WESTMINSTER in Dark Media, and Kettle Yarn Co BEYUL in Electric Aramanth. The BEYUL is going to be my contrast colour, and I have not yet managed to get to a section where that is used – but I only have one repeat of the first chart left to do and I will be ready to go with the border.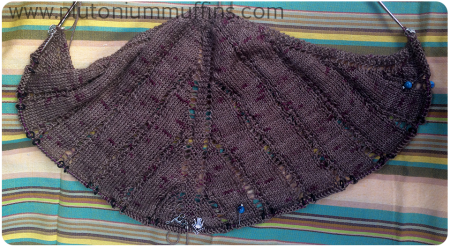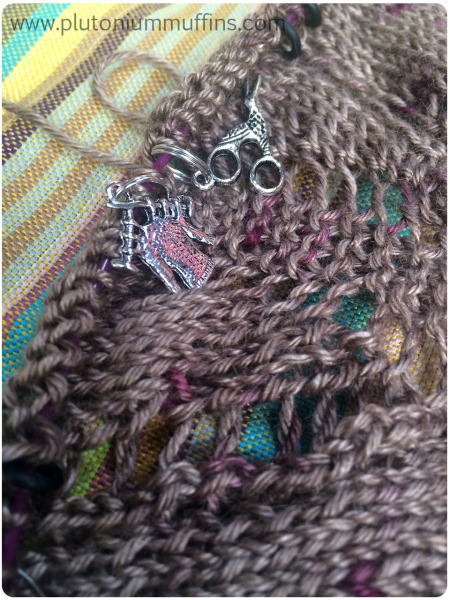 These yarns are seriously luxurious, with the Westminster a blend of 50% camel and 50% silk, and the Beyul 60% merino, 20% silk and 20% yak. The fabric is wonderfully drapey and I am just loving the way it feels as I work with it. I don't know what the two blends will do when combined together, but I'll keep you updated. Further information on the fibre content of each yarn can be found here.
Socks
The April socks I'm working on are plain vanilla socks which I'm not actually doing to a pattern. I'm doing them two at a time, as I have decided to give two at a time socks another go, and working from the toe up.
The yarn is Felix by Biscotte and Cie in the Hope colourway. I'm really enjoying it at the moment, it's a lovely and smooth fingering weight yarn and the colours are really striking together.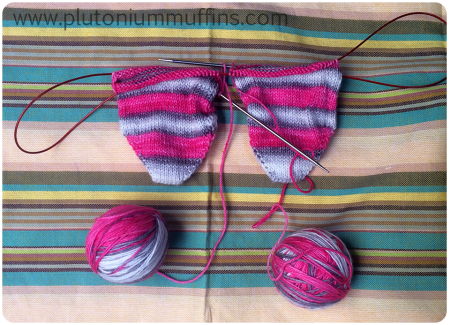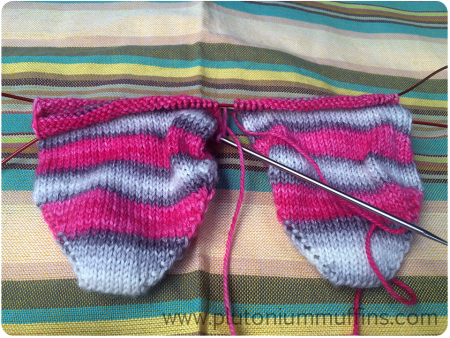 The sizing of the socks is a bit iffy – I have just got to a point where I am able to put them on, but I don't know if they are too big/too small/just right yet. I'm working on figuring out a plain vanilla sock pattern that works for me so that I can have a pattern that I can just cast on and go, thus churning out socks in a speedy fashion. (!!)
I have yet to decide what heel I'm going to do – I'm debating an afterthought heel, although I may just turn the heel by adapting the pattern in my first ever pair of socks, as I really enjoyed knitting those.
Anyway, I could pontificate about heels and patterns for the next 1,000 words, but I think I'd rather grab a cuppa and do some knitting in the sun! My tea of choice this afternoon is Earl Grey – what do you automatically reach for when you're enjoying a hot drink?
Much love,
Corrie xx