Last night I was just browsing through Facebook when one of my favourite textile artists, Sophie Long, asked if anybody would be going to The Spring Knitting and Stitching Show in Olympia 'tomorrow'. Despite having done a fair amount of research at the start of the year on shows I wanted to go to, I had missed this one (and also Unravel 2013, I must do more research, better).
I asked JS if I could go, and joy of joys he said yes. Not that I needed his permission you understand, but it's nice to agree these things in advance, and he drove me to the station! I messaged Sophie and told her I was going, and JS and I set our alarms.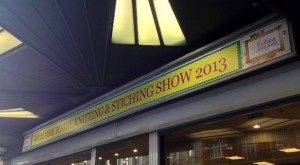 As an aside – the show is open for one more day tomorrow, Sunday the 17th of March, from 10 am to 5 pm. If you can make it, go!
The Spring Knitting and Stitching Show – Kensington Olympia
The show was held at Kensington Olympia, a venue in West London very close to where I lived and studied for four years. Sophie was teaching a class at 2:15. She had agreed to bring a copy of her amazing, awesome new book "Mastering the Art of Embroidery" for me so that I could buy it and have it in my hands instead of having to wait for it to arrive in the post. (It's on embroidery, so not knitting related…but awesome all the same, and I'm not just about knitting even though PM mainly is!)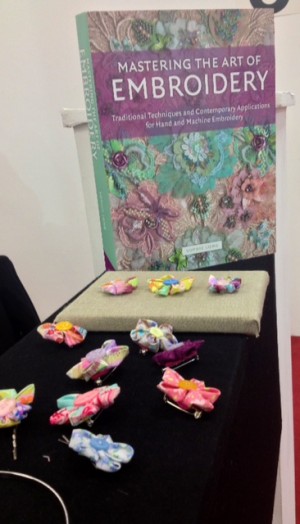 Of course, I was late and the class had started by the time I arrived, so I spent ages wandering. It was *incredible*. Not as niche and overwhelming as I found Unravel, but I was so glad I'd made the journey. On my travels, I picked up a few things, including making arrangements for not one, not two but three Plutonium Muffins giveaways! Keep your eyes peeled for these, I am going to be so jealous of the winners.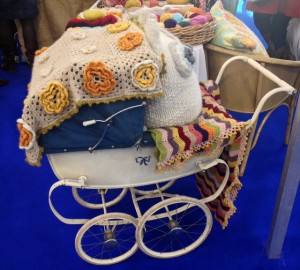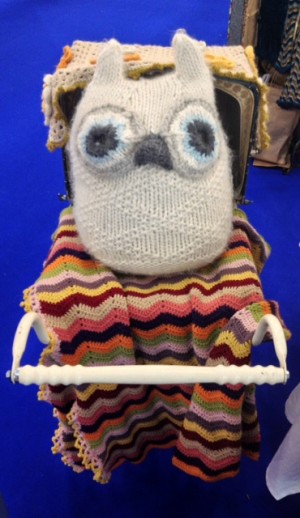 I got a starter embroidery kit – if I was to be getting Sophie's bible, I wanted something to practice on – and a few bits and bobs to enhance my already substantial collection of knitting paraphenalia. I ended up with two of the most gorgeous patterns, a selection of merino tops to keep practising spinning once the March Resolutions are over, and two silk tops that I am very excited about. (No, I haven't fixed my spinning wheel yet…maybe tomorrow?)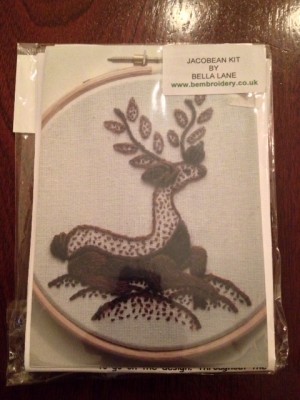 Now all nice and distracted, I suddenly remembered I'd agreed to meet Sophie at the end of the class and tried to speed my way through the absolutely packed exhibition hall. I made it just as she was packed up and looking ready to go…phew! She signed the book for me, I got a sewing starter kit from her to make a flower brooch, and headed off on my wandering.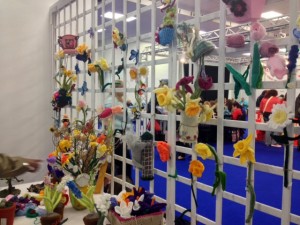 Despite the fact that I was attracted to the show simply for the joy of meeting Sophie, and hadn't done any research on it as I'd decided at basically midnight last night, and this morning was a whirlwind of getting ready for the trip up to London, I really enjoyed myself. JS asked me how I was and I answered in rather breathy tones over the phone "I am in actual heaven".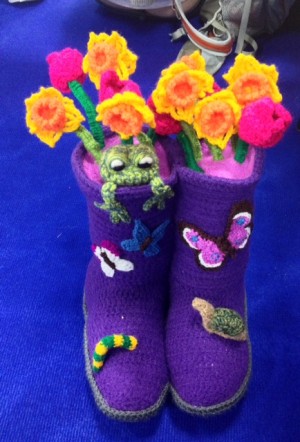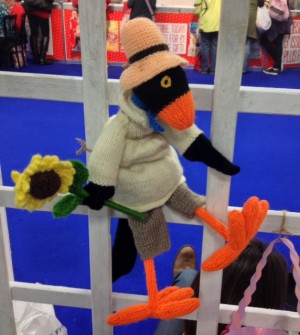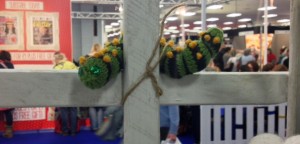 I think I managed to see most of the stalls, finally met the team from Toft, and also managed to meet some incredibly inspirational people who I will introduce you to in a giveaway…..oooh!
If you can make it to the next show, I thoroughly urge you to! The next is on the 10th to 13th of October at Alexandra Palace.
Much love,
Corrie xx