I promised a report on milestones a while back when I started my March Resolutions that I would give an update on the 14th. Well, today is the 15th and the only thing I can say is that I've had two early shifts today and yesterday, which meant getting up at 5 am and standing on my feet for 7 to 8 hours each day. Ouch. I'm late, sorry!
I'm also very pleased to say that I do have a finished object this week. I have even more exciting news though. Yesterday, the pattern I published in February, the Customisable Gadget Case pattern, reached FIFTH on the Ravelry pattern charts!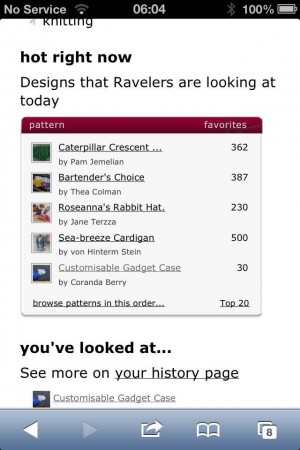 To celebrate, you can get it for 50% (£1.50) until Sunday the 17th March at 8 pm GMT by using the coupon code WEEKEND on Ravelry. The feedback I have received has been overwhelming, and I'm so grateful to those who have already bought and enjoyed the pattern. Thank you all!
Milestones
I will be as succinct as possible here – a recap of my goals, and how far I've gone towards achieving them.
Spin all of my personally prepared Cheviot fibre
I am about halfway there – the Sherbert Yarn was one of the most successful marks of this, and I was to be halted by nothing short of a tragedy. On Wednesday night I was happily plying my next set of singles together, when I felt something give way and the treadle collapsed to the ground. The leather that holds the footman to the had snapped!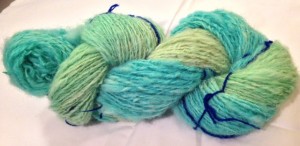 It was obviously rather worn out, and there was nothing I could do about it. I have now purchased a scrap of leather from a shoe-maker, and will hopefully be able to fix it this weekend. This could be a disaster towards completing my goal.
Spin some purple merino fibre using drop spindle
I have accomplished about ten yards, if that. No photos for now – need to work on it!
Learn to use spinning equipment properly
We are some-way there. I wish I'd set myself some measurable goal, but I feel a lot more capable of using all my equipment than I did at the beginning of March!
Join a spinning guild
Mission accomplished! I'm now a member of the London Guild of Weavers, Spinners and Dyers (or, I should be once my cheque clears!) Hurrah.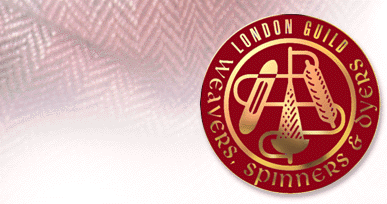 FO Friday
If you read the blog on days that aren't FO Fridays, you'll have seen my gorgeous Dracoalready. As a set, the Harry/Draco Wall-Hangings aren't done, but Draco has his tassels, is all bound-off and sewed in, and is to all intents and purposes, finished.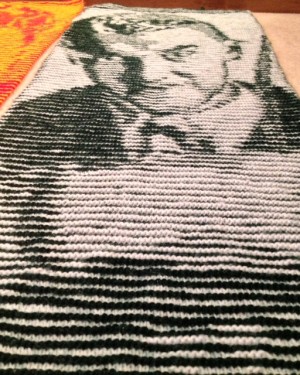 There are more photos in this post, but here is my favourite one for now!
Much love,
Corrie xx