Last weekend I visited Wonderwool Wales with two of my favourite people. Although John didn't actually come in to the show with me, he provided valuable moral support from the cafes of Builth Wells, in the form of encouragement and financial restraint. Ricky, however, did come in with me, and he made the day for me.
I haven't really talked about Ricky much on here. He used to do my job, so we worked with each other closely until I found my feet in the role. We have similar personalities, a love of craft, and importantly a mutual appreciation of the fabulous fun you can have with fibre. When I decided I was going to Wonderwool, it made less sense not to invite Ricky than it did to invite John. (Try wrap your head around that, I think it means what I mean but I'm not really sure!)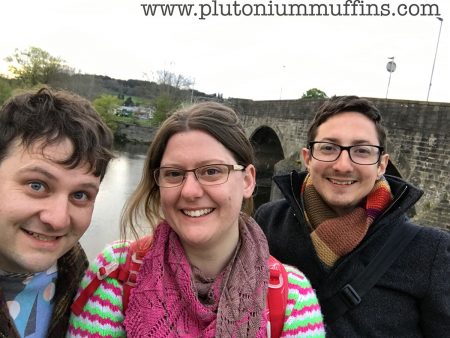 This is a truly monstrous post, so grab a cuppa and enjoy!
Walking in a Wooly Wonderland
So, Wonderwool. Three massive halls in an agricultural showground, filled with all the fun one can have with fibre in its many forms. Trying to follow my rules for visiting Wonderwool, we did a first sweep of the place, trying not to get lost. This took from 10am to 3pm, so it wasn't really a first sweep, and more an in-depth examination of as many stalls as we could manage before we dropped!
This is one of my absolute favourite shows. The size of the halls means that although there are tonnes of people, you don't feel too overwhelmed by everyone. There are also loads of exhibitors, with a huge variety of wares. The animals that make it are also a big draw for me, although I do feel sorry for them. This year there was the most adorable nanny angora goat with her twin kids. They were incredibly cute and we had more than one visit with them.
This slideshow requires JavaScript.
Llareggub
I particularly enjoyed one of this year's curated exhibits, a felt Llareggub made by a group of 30 crafters, with an intense amount of detail protected under a huge dome. Llareggub is the village from "Under Milkwood" by Dylan Thomas, and the exhibit was put together in 2014 to celebrate 100 years since his birth. Each felt building is augmented with hundreds of additional bits and pieces made using materials ranging from Fimo, to painted toothbrush lids, to shrink plastic.
This is an astounding piece of work. Each building was crafted by a different person and we spent a long time chatting to the lady who made the sweet shop! Find out more about the group here. I'm all inspired to make little cottages for house warming presents now. Watch this space!
This slideshow requires JavaScript.
Felt
Ricky is a felter, and as a result we paid a lot more attention to the felt than I would normally. I'm always astonished by what can be achieved with a bit of water, soap and time. The needle-felting also really caught my eye – this is probably why my photos are felting heavy! People whose stalls I particularly enjoyed included:
This slideshow requires JavaScript.
Knitting and Spinning
My eyes were not only for the felt, obviously. We headed over to John Arbon first to nab some Alpaca Supreme, as every year I leave it slightly too late and they run out before I get there. I also got some cut silk cocoons from Oliver Twists to make some art yarn.
We also made a point of going to Debonnaire and admiring her sparkly selection. I didn't want to just buy a skein that would languish in my stash. Instead, I spent some time carefully looking at the pattern samples and choosing one. The Silk Wave Shawl* is a simple pattern that only requires one skein of yarn. It's also easy enough for TV knitting, and I left a bright purple skein of lace to make that in.
A new to me vendor was Siobhans Crafts, with fibre and handspun yarn from Manchester. The fibres are influenced significantly by popular culture, and Dr Who inspired rolags were what drew me in first. Siobhan had a bargain bin, in which a OOAK braid of fibre was languishing. I snapped it up when I spotted it!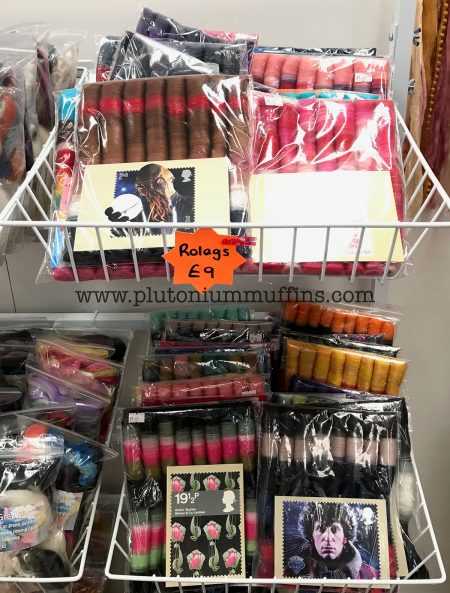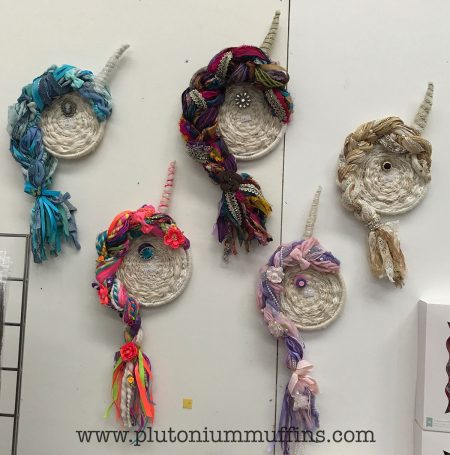 Friends at Wonderwool
I also took some time to catch up with old friends. Louise from Spin City got a flying visit as we were desperate for lunch. I managed a longer catch up with Kari and Tracy at Purl Alpaca Designs (they have big news, read it here). We also popped in to chat to Belinda Harris-Reid, and Ricky enjoyed looking at her samples. I spent a small amount of time with Tanya the Knitting Swede first thing, but didn't get to go back as we ran out of time. Finally, Wriggle Fingers got a visit as one of John's best friends from school was on the stall exhibiting some of the fibre that she sells through Velvet Sixpence.
Wandering around with regular breaks for tea, lunch and a scotch egg took basically all day. Ricky had bought loads of fibre for his felting adventures, and as well as my yarn and fibre, I had stacks of fibre for the needle felting group I oversee at work. Having added a few necessaries like new felting and knitting needles to my burden, I was completely overloaded. We were exhausted, and the biggest purchase was yet to come!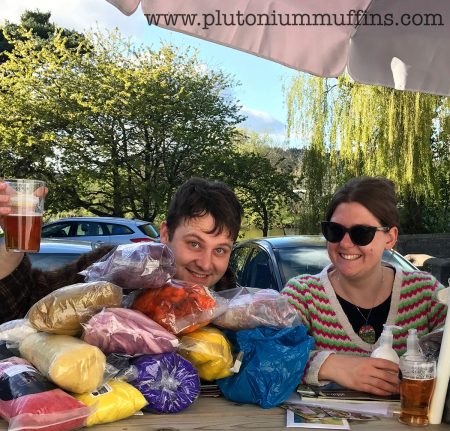 This blog post is already way long, so I'm going to leave it here for now! Wonderwool Wales Part 2 will go live soon. If you would like a sneak preview, I did video all my purchases for a haul video on YouTube.
Much love,
Corrie xx
This slideshow requires JavaScript.
*This shawl pattern isn't available online, but if you see Erica at a show, she'll have it there!