This weekend, JS and I went to Kent to go to the engagement party of his friend, Miss PhD Chemist, to her fiancé, Mr PhD Chemist. Original names, I know…it's relevant, honest! JS and I spent a while brainstorming about what to do for their engagement gifts, and eventually decided upon some of JS' incredible homemade chilli oil, and a knitted something.
We had a quick look through Ravelry for some inspiration*, particularly relating to chemistry (the names become clear now, right?), but didn't find anything we particularly liked. Eventually JS came up with the idea of molecules – so I set to work on some his-and-hers water molecules.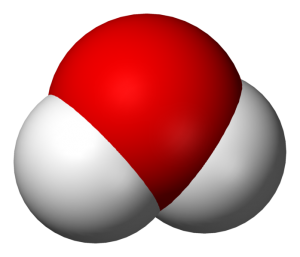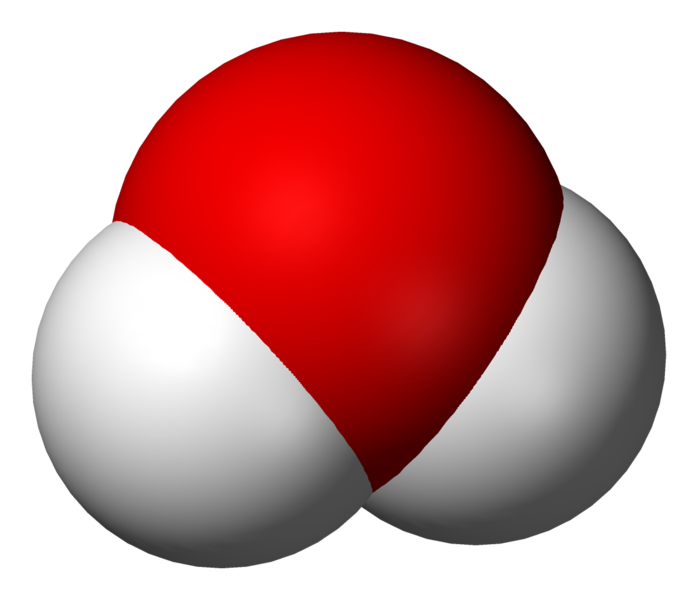 This was only the second thing I've knitted without a pattern, which makes it a big step in my knitting education, and in my opinion, a huge achievement! I started knitting it in a gig at a folk club the night before the party. JS was playing fiddle; I can think of no more pleasant way to spend a Friday than watching your superstar boyfriend being a genius, with a pint of cider and some knitting on the go. Nice, nice, nice.
It caused quite a stir, especially during the interval when I had a number of people questioning me on my knitting habits. I spent a long time inwardly debating how to represent covalent bonds versus hydrogen bonds. The idea was to put magnets in place where the H-bonds go, but I didn't have them on-hand, and I couldn't leave the various bits half-open because I didn't have enough time.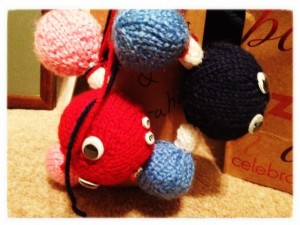 To be fair, I was cutting it a bit fine. At the party itself, JS and I were sitting in Miss PhD Chemist's kitchen, and I handed him a handful of beads with an 'E' printed on them to hold — to stand for the lone pairs, if you know anything about chemistry. She walked up to us, and I artfully hid what I was doing in the affectionately named "trouser bag". No such luck from JS — he sat there with his palm open and full of "E", and when she asked him what he was holding, he said "A handful of E**". Ugh!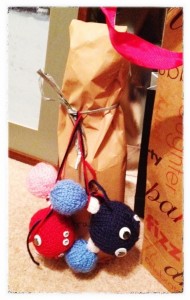 The worst part of the evening was as I was sewing on the final bead, I was using my teeth to grip the needle to pull it through the hole — having cunningly left my beading needles at home, and making do with a tapestry needle. I had, by this point, had several glasses of wine, and my common-sense had probably joined my ability to see straight in the other room somewhere. As I (triumphantly) pulled the needle through the bead, I heard a big 'crack', and upon running my tongue along my teeth, discovered not one, but two were cracked, with all the little bits now sitting in my mouth, which was…grim, to say the least.
I reacted coolly. Sewed up, took the presents through to the present room, then announced to JS that I had to go see a dentist.
Oops.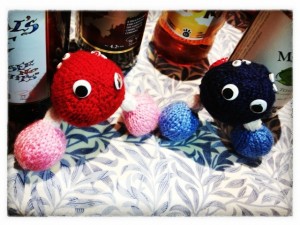 The rest of the night was completed in a bit of a haze, with much advertising of PlutoniumMuffins.com to the various guests who hadn't met me before. I ended the evening at midnight, sitting in bed, drinking many real water molecules and wondering why the room was taunting me so much by spinning so quickly and annoyingly.
I'd like to know — has anybody else ever broken their tooth/teeth on knitting, or am I the only idiot? What other stupid injuries have you done to yourself in the pursuit of art?
Much love,
Corrie xx
---
* That's right, my boyfriend trawled through Ravelry with me. For several minutes. I feel so lucky.
** If you aren't aware because of being foreign/unknowledgeable, this is a common nickname for the drug Ecstasy.